Description
In this two hour active learning workshop we'll practice basic meditation using the breath as an anchor for attention. We'll spend most of the time practicing, so you're very welcome to attend whether you're a beginner or experienced with meditation.
You'll walk away from this workshop with an understanding of:
Techniques and benefits of breath focus meditation. (If breath isn't working as a focal point, we'll try on other techniques.)
Contemplative science and what it can tell us about meditation. For example, what is the default mode network and is there an alternative? (yes :)
Spiritual perspectives on the mind and identity
How and why to set up and maintain a meditation practice
Workshop teacher: Aly Waibel, PhD, is a Senior Teacher of the Compassion Cultivation Training© (CCT) program. CCT was designed at Stanford University and is taught around the world by certified instructors.
Aly has been teaching meditation and CCT since 2013 and began practicing zen style meditation in 2000. She is the owner of the Bend-based company Compassion Education and works remotely as Program Director at the Compassion Institute.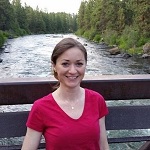 Workshop hosts: Compassion Education and The Hive