Sales Have Ended
Ticket sales have ended
Thank you for securing a seat at our Is Soulmate Real? singles event!
Sales Have Ended
Ticket sales have ended
Thank you for securing a seat at our Is Soulmate Real? singles event!
Spend 90 mins to immerse in a space for you to recharge with your inner self.
About this event
~ This event is organised by Xuan Healing Cove. All are welcomed to join ~
It's November! You have been working hard for a whole year.
Your body and mind may be feeling tired and in need of a good rest. Sometimes, we try to rest by partying, taking leave and spending time with friends. But the rest doesn't seem to go deep, and we still feel so tired and drained after that.
Sounds familiar?
True rest comes from within. In this season, let's refresh our energy and motivation through a meditation session by connecting with gratitude and joy. Let gratitude and joy seep deeply into your inner self. Immerse in a space for you to recharge with your inner self.
Benefits of this meditation:
Completing energy cycles (incomplete cycles are usually draining, so let's complete our cycles and regain our energy)
Regaining your energy
Feeling ready to rest and recharge in December
Giving yourself gratitude, love and compassion
This meditation class is designed to help you heal your mind, body and heart, with a practical and experiential session with us.
Class Details:
Date: 28 Nov 2021, Sunday
Time: 9.30am-11.00am
Place: Zoom
Ticket Price: S$18.00 (before EventBrite fees)
About the Instructor:
Li Xuan is a meditation instructor and emotion wellness coach. She has worked with over a thousand people in Southeast Asia, and specializes in enabling people to feel relaxed and in tune with their inner self that brings alignment and peace through meditation, coaching and sound/energy healing. Personally, she enjoys connecting with nature, having deep and sincere conversations with her loved ones, and being in quiet reflective moments.
What Past Participants Say:
"I've been attending meditation classes led by Xuan for more than a year. It has been extremely helpful especially during the pandemic period. The regular meditation practice led to more awareness of how "negative" emotion state blocks opportunities in life. With that mindful shift, I am able to move out of my comfort zone to take on bigger challenges in personal and professional space."
- Florence, HR Partner
"It drastically helped me with the challenging year I'm going through. I learned to step back from inner small problems and lot of stress, which helps me to focus on the bigger picture of things and life. I highly recommend the experience to anyone seeking for calm, clarity and energy."
- Bastien, Software Engineer
"I really feel very recharged and refreshed after the meditation sessions. I feel much more connected within and positive. I highly recommend these classes."
- Sanjana, Software Engineer
Please like our True Love Compass Facebook page and be kept informed of more exciting events coming your way.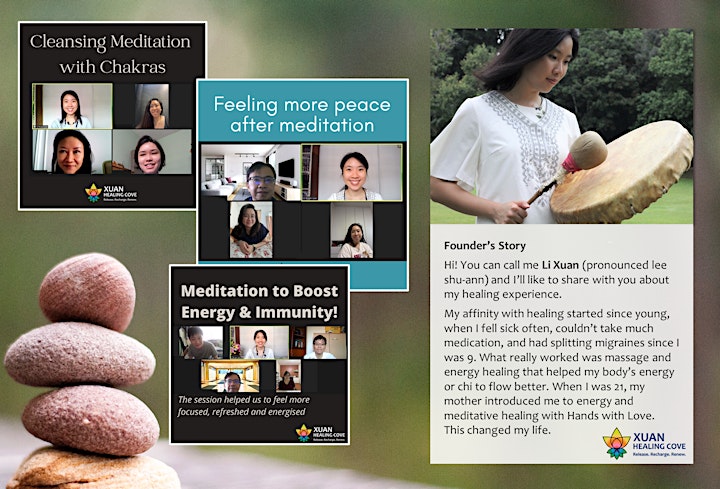 Organizer of Meditation with Xuan Healing Cove | Grateful and Joyful End of Year
Speed Dating Specialists | Meetup Organisers | Dating Company in Singapore | Social Platform Developer
True Love Compass was incorporated in Singapore in 2020. UEN: 53432879B
As Meetup organisers with 15,000+ members in our community, we are committed to bringing together more singles in Singapore via events hosted by True Love Compass, in collaboration with our expert Image, Branding, Relationship, and Personal Development partners. First time joining our events? Check out our Event FAQs here: http://tlc-dating.com/?page_id=473