Description
Meditation and Healing Circle
Meditation and Healing Circle by Donation is a charitable group healing experience with all proceeds benefiting a local organization helping to serve the community.
Each session begins with a group meditation to center and ground us and call-and-response chanting, followed by group and individual healing sessions and ending with a sound healing Gong bath. Each attendee will receive individual energy healing from certified Reiki and Intuitive Healing practitioners.

Please bring a yoga mat. You may also want to bring a blanket, water, pillow and anything else you may need to be comfortable and cozy.c

Healers include: Kara Breese, Angie Catanzaro, Rob Barsky, Joy Massicotte, Shelly Grande & Karly Nihal
Suggested donation of $25
We also accept Venmo. Please reach out to amylynfa@gmail.com.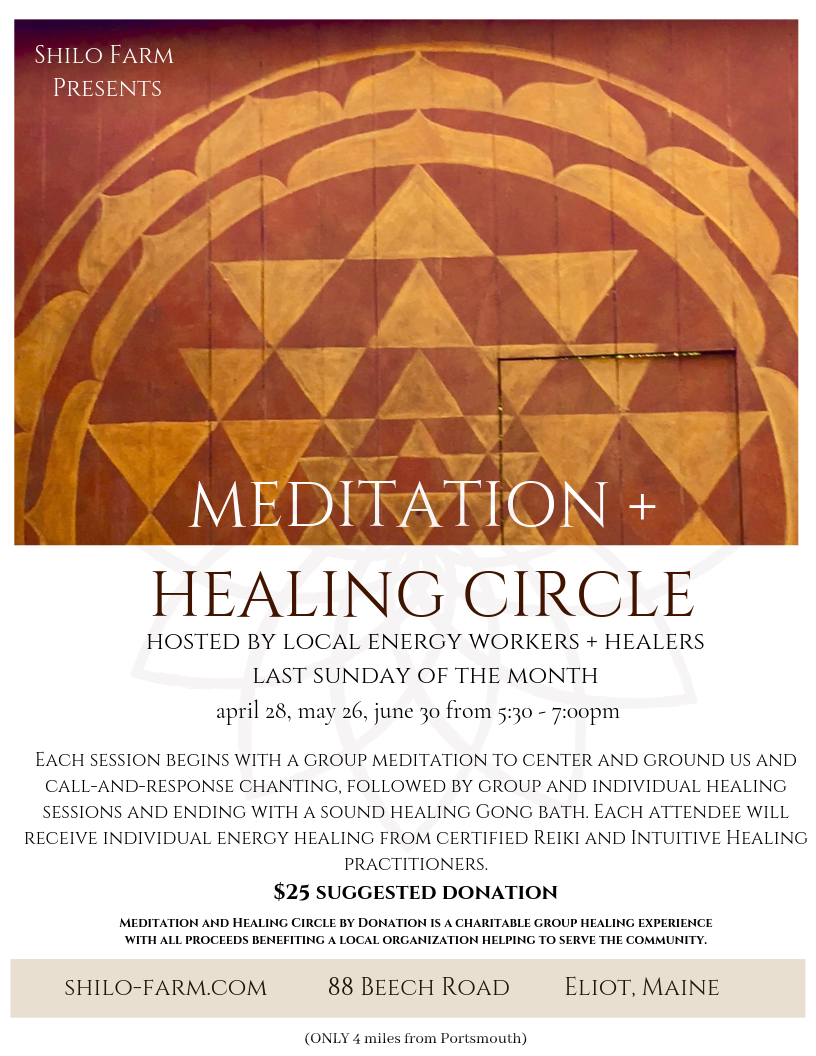 ---


Where will the proceeds be donated?
All proceeds will be donated to a local non-profit in need. Do you have a local non-profit that you would like to see recieve donations? If so, please email us at shilofarm88@gmail.com.
This month we will be donating to GATHER.
Gather
,
www.gathernh.org
, is truly a remarkable non-profit serving 22 towns on the Seacoast. It was started in 1816 by a small group of fisherman's wives who wanted to feed the families of fisherman in Portsmouth, NH. Today the organization has grown to be quite unique by not only serving as a food pantry but also salvaging perishable food and creating 2,000 healthy homemade meals monthly for our home bound seniors, hungry children on school holidays and summer vacations and just about anyone at food risk. In fact,
GATHER
recently helped the furloughed Coast Guard families with all food supplies.
Organizations that have received donations in the past are:
Namaste...