Description
As we say goodbye to summer, can we also say goodbye to all the body shame that came with it? Join us in our next #meditatingonwhatmatters gathering BODY TALK.
How can we stop harmful internal dialogue we might have around our bodies, and transform it into a more loving and kind narrative? With a powerhouse, expert panel of body positive advocates, we talk through key methods on how to eradicate feelings of body shame, tools on listening deeply to your body, and ways to celebrate every part of it.
This event is for anyone of any size, shape or form who is looking to reconnect with their bodies in a kinder, deeper way through the practice of breath, movement and reflection.
This #bopo program will include:
Meditation, led by Roque Rodriguez

Panel discussion with Cathleen Meredith, Founder of Fat Girls Dance, Sarah Chiwaya of Curvily, Lisa Samuels, founder of Happie House and Roque Rodriguez, founder of Suryaside Wellness. Moderated by Melissa Rosenfield, founder of This Vibe Life.

Guided Movement by Cathleen Meredith
Note: Please come in comfortable clothing and be prepared to move, shake and maybe sweat a bit.
Ticket Pricing and Transparency
- General Admission tickets are priced at cost. Your fee covers the cost of your attendance.
- Our "Share the Love" ticket is formed out of the belief that two is better than one. We're all about building community so we offer this discounted price for two tickets so that you can bring a friend!
- Little Extra Love tickets are discounted for those who might not have the financial means at this time to afford the general admission ticket. We believe that your perspective is as valuable as anyone else's and we never want economic challenges to be a barrier for entry.
- #UnityinAction tickets cover the cost of your attendance plus a little extra to support an underserved community member. Your ticket makes a Little Extra Love ticket possible, allowing us to offer flexible pricing in support of our mission to create an inclusive community.
- Good Karma donation goes towards Ganesh's overall fund to continue to create safe spaces for audiences from any background or need.

Media Release Disclaimer
By purchasing a ticket, you grant permission to Ganesh Media and its agents and employees the irrevocable and unrestricted right to reproduce the photographs and/or video images taken of me, or members of my family, for the purpose of publication, promotion, illustration, advertising, or trade, in any manner or in any medium.
Newsletter release form
By purchasing a ticket, you will automatically receive updates about Ganesh and its upcoming gatherings.
About our panel
Cathleen Meredith
Cathleen Meredith is a writer, influencer, public speaker and positivity ignitor originally from Sacramento, California. In addition to completing her first novel, she is passionate about theatre, dance, Mexican food, non-profit work, unicorns, traveling, bacon, and all other things awesome sauce. Some of her plays include titles such as: Aunts, Forgotten, 3 Days, 3 Girls, and an Angry Asian Man, The Infinites, and The Groomsman.
In August of 2016, she launched FATGIRLSDANCE™ (fatgirlsdance.com), "A Worldwide Movement Bent on Trashing Body Image Stereotypes through the Universal Language of DANCE." It has gone viral. In May 2017 released a 3-minute film on the project with Dove Real Beauty Productions and Shonda Rhimes. In January 2018, she launched The Naked Podcast with Dr. Stacy Berman and producer Raveen Battee, which discusses bodies, minds, and the science behind what we think. She is currently working with The Ohio State University on a media project that works towards the eradication of obesity bias in the medical community.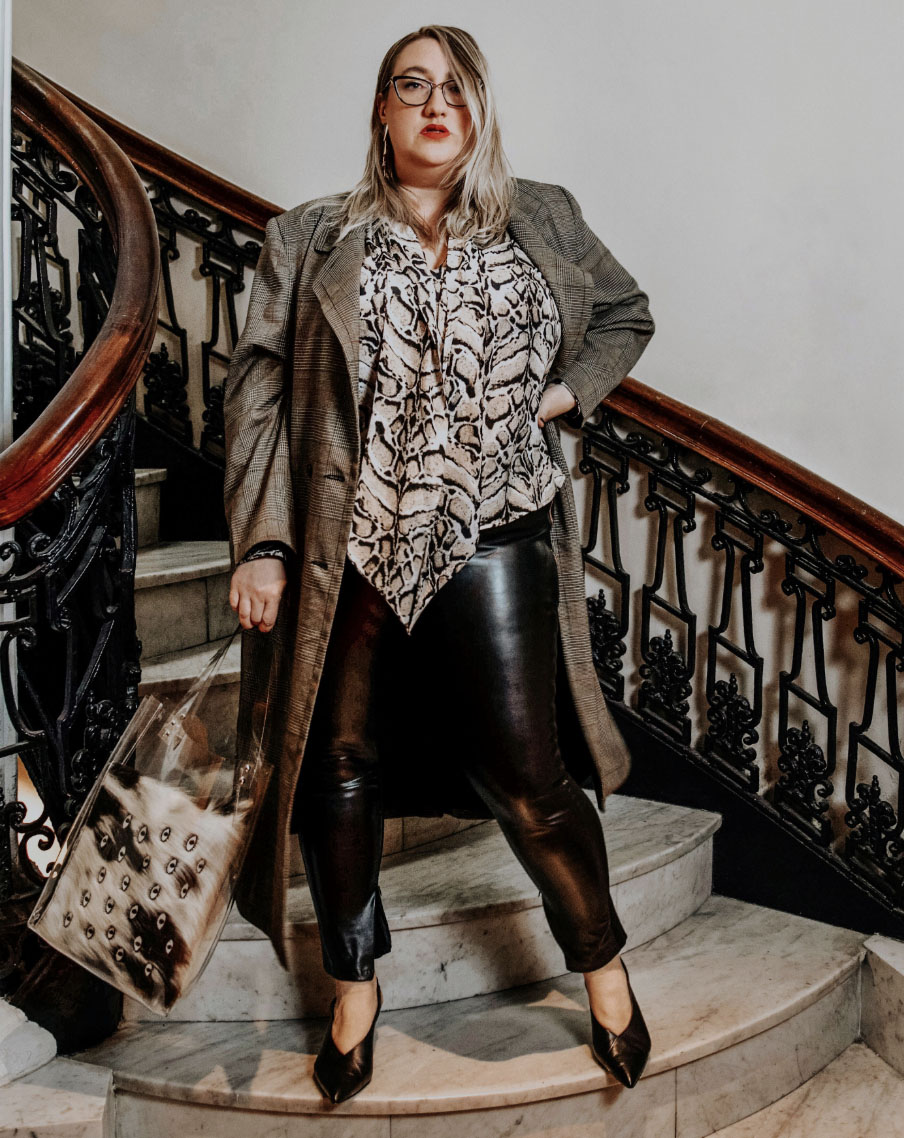 Sarah Chiwaya
Sarah Chiwaya is a body positive blogger (https://curvilyfashion.com) and brand consultant specializing in plus-size fashion and inclusion. With almost a decade of experience in plus fashion, deep connections throughout the plus press and influencer community, and an active following of young professional women, Sarah had pushed the industry toward a more inclusive future. And her viral #plussizeplease hashtag has inspired brands to take concrete steps forward.
Sarah's push for inclusion continues behind the scenes as she advises companies moving into the plus market, helps them avoid common pitfalls, and primes their plus business for success.
Sarah has been featured in the New York Times, Teen Vogue, Glamour, InStyle, Cosmo, Business Insider, Bustle, Buzzfeed, Refinery29, ManRepeller, Who What Wear and more.
Roque Rodriguez
Roque Rodriguez is the proud Co-Founder of Suryaside Yoga (http://suryasideyoga.com). He is Co-Director and Co-Lead Trainer of both the Suryaside Yoga and Hosh Yoga 200 hour Teacher Trainings. He received his first Yoga teacher Certification from Yoga To The People in 2009 and continued his studies with the Ishta Yoga 500 Hour level course and at Jason Brown's Anatomy.
Roque believes that a yoga practice is the most effective way to bring yourself, and in turn the world, in to balance. Whether it's to become a better athlete, more successful at business, recover from an injury, or improve your relationships with others, a yoga practice can provide you the tools necessary to meet your goals and better honor your intentions. He is honored to share this practice with the world; especially people and communities who have not traditionally had access to the teachings. He is particulary passionate about body positivitiy, speaking openly about his challenges with his own body and is working on holding workshops specifically for men to speak about this normally stigmatized and often buried topic.
Lisa Samuels
Lisa Samuels, the proud founder of The Happie House (https://www.thehappiehouse.com), is a 200 hour registered Hatha yoga teacher and registered dietitian based in Queens, New York. Lisa's passion and dedication to nutrition and yoga stems from a deep realization that healing one's body leads to healing one's mind, eventually leading to self-acceptance and self-love. She founded The Happie House with this concept in mind. Lisa loves helping her clients discover how to get in touch with themselves while connecting with and understanding the world around them. Her nutritional approach encourages a more natural, organic way of eating with limited processed foods and sugar. Her yoga classes help all practitioners build strength, find their inner determination, and sink into a deep moving meditation. Lisa can't wait welcome everyone into The Happie House, and is sincerely looking forward to being a part of the community of strong and empowered people who walk through The Happie House's doors!
Our discussion is moderated by Melissa Rosenfield
As a born and bred New Yorker (by way of Brooklyn to be exact), Melissa Rosenfield (http://www.melissarosenfield.com/this-vibe-life) has always been a connector. Her affinity for the most cutting-edge, unique and thoughtful cultural experiences and things has led her to a life defined by well-seeded relationships with movers and shakers in a variety of lifestyle verticals, including but not limited to hospitality, fashion, art, music and food. Being around trailblazers throughout her life, Melissa naturally decided to forge for herself a new and unknown path. As the world's first "Director of Vibe," she is a lifestyle innovator, luxury travel expert and social director all rolled into one. She connects brands with the right people, in the right places, at the right times and establishes partnerships that are authentic, and most importantly, alignments that drive business and yield a strong ROI. In her spare time, Melissa is incredibly active – both figuratively and literally. She is an engaged member of The Wing, feels No Kid Hungry is a major cause everyone should be paying attention to, and partakes often in workout sessions at Y7 and The BRRRN. And she believes in the power of doing things with swagger and a smile.