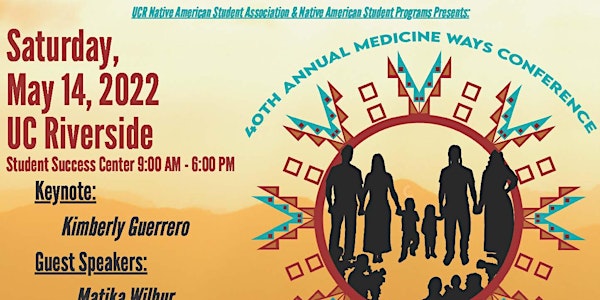 Medicine Ways Conference: Native American Representation in Media
This year's theme, Native American Representation in Media, will showcase Indigenous voices from a the fields of film, writing, and art!
When and where
Location
Student Success Center - UCR 900 University Ave Riverside, CA 92521
About this event
For four decades, UCR's Native American Student Association and Native American Student Programs have hosted the annual Medicine Ways Conference. Featured guests from across the nation are invited to partake in this event and admission is free to our students, faculty, staff, and community. During the pandemic we were able to successfully adapt to a virtual conference, and now as current events look to be progressing in a positive direction we are organizing an in person conference again after 2 years!
With the rising popularity of the likes of Reservation Dogs, Rutherford Falls, Chambers, and other great Native storytelling with positive and real representation, NASA student members have questioned what Native representation was like growing up, where it is now, and what the possibilities are for the future. With these heartfelt discussions we knew this would be the opportune moment to build upon this momentum and shape this year's theme around "Native Representation in the Media". We look forward to showcasing Indigenous voices from a variety of media, including film/tv, music, art, and writing, that are enriching the strong representation of Native/Indigenous lives and stories. We would be honored for you to share your time, knowledge/experience, and presence with us for this year's Medicine Ways Conference.