Description
PLENTY OF TICKETS WILL BE AVAILABLE AT THE DOOR TONIGHT at 9PM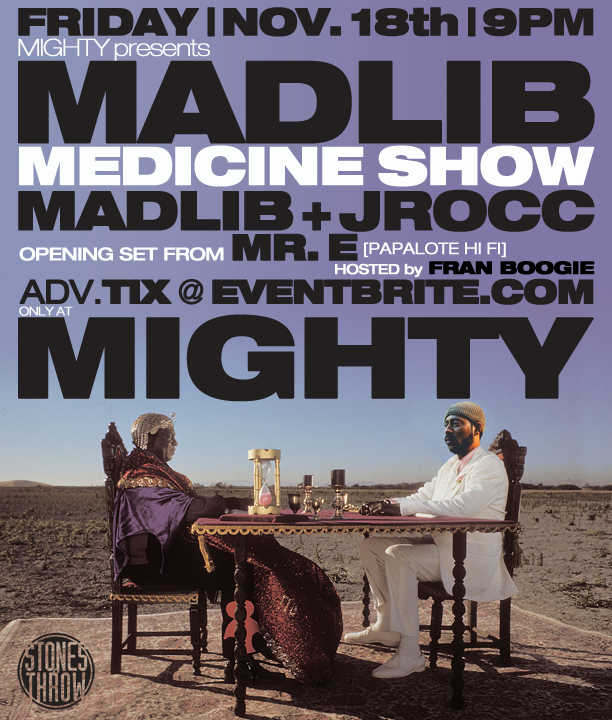 Friday, November 18th, MIGHTY is proud to present Madlib's Medicine Show with Madlib & J.Rocc. Madlib's Medicine Show is a 12 part series of albums and mixtapes released through his own imprint, Madlib Invasion, throughout 2010 and into 2011. Odd month releases featured Madlib's production work, while even month releases showcased his DJ work and mixing skills. Opening set from DJ Mr. E of Papalote HiFi, hosted by Fran Boogie. Advance tickets are now available at medicineshow.eventbrite.com
Madlib, is a Los Angeles-based DJ, multi-instrumentalist, rapper, and music producer. Known under a plethora of pseudonyms, he is one of the most prolific and critically acclaimed hip hop producers of the 2000s and has collaborated with myriad hip hop artists, including The Alkaholiks, Mos Def, De La Soul, Ghostface Killah, Talib Kweli, A.G., MF DOOM (as Madvillain), and the late J Dilla (as Jaylib). He is also the one man force behind the ensemble Jazz collective, Yesterdays New Quintet. Madlib has described himself as a "DJ first, producer second, and MC last", and he has done several projects as a DJ, mixer, or remixer. Madlib has been an influence on an upcoming generation of producers and musicians, many of whom prefer Madlib's abstract styles.
One of the original turntablists, J. Rocc founded the Beat Junkies in 1992 with Melo-D and Rhettmatic, but has done just as much on his own as in a group setting. He began DJing in the mid-'80s with a California group named PSK. Soon after forming, the Beat Junkies became a seminal force in the rise of instrumental hip-hop, including core member Babu plus future stars Shortkut and D-Styles.
Here's a quick rundown of the releases, click on the link for more:
MADLIB MEDICINE SHOW #1: BEFORE THE VERDICT
Hip-hop Album feat. Guilty Simpson. Full-length, 17-tracks, combining new material and remixes.
MADLIB MEDICINE SHOW #2: FLIGHT TO BRAZIL
Mixtape. 80-minutes of Brazilian psyche, folk and jazz.
MADLIB MEDICINE SHOW #3: BEAT KONDUCTA IN AFRICA
Hip-hop Album. Inspired by and based on African records of the early 1970s – obscure & independent vinyl gems from afro-beat, funk, psych-rock, garage-rock & soul movements from Africa.
MADLIB MEDICINE SHOW #4: 420 CHALICE ALL-STARS
Mixtape. All Jamaican sounds, 80 minutes. Complete with Los Angeles medicinal marijuana guide.
MADLIB MEDICINE SHOW #5: HISTORY OF THE LOOP DIGGA
Hip-Hop Album. Madlib's early years, 1990-2000, from beat cassettes produced for local rap crew Crate Digga's Palace.
MADLIB MEDICINE SHOW #6: THE BRAIN WRECK SHOW
Mixtape. Psych-prog-avante-freak-out-funk rock mix CD.
MADLIB MEDICINE SHOW #7: HIGH JAZZ
Jazz Album. All new Madlib productions from his collective of jazz groups and musicians known as Yesterdays Universe.
MADLIB MEDICINE SHOW #8: ADVANCED JAZZ
Mixtape. A jazz music course with no grades, lecturer or tests - just a room of dusty jazz vinyl and Madlib at the turntable.
MADLIB MEDICINE SHOW #9: CHANNEL 85 PRESENTS NITTYVILLE
Hip-Hop Album feat. Frank Nitt. Loosely-based concept album around an obscure TV show, Nittyville, running on Channel 85. Full-length, 14 tracks.
MADLIB MEDICINE SHOW #10: BLACK SOUL
Mixtape. The Disco era, 80 mins, mixed by Madlib.
MADLIB MEDICINE SHOW #11: LOW BUDGET HIGH FI
Hip-Hop Album. Dirty Demos produced by Madlib, with The Professionals (Madlib+Oh No), MED, Strong Arm Steady, AG, Guilty Simpson, J. Rocc, Supreme Team (Madlib+Karriem Riggins), and Jaylib.
MADLIB MEDICINE SHOW #12: RAW MEDICINE (MADLIB REMIXES)
Hip-Hop Remixes/Mixtape. Part mixtape, part beat tape, featuring a host of un-suspecting collaborators that run the gamut from thugs, street poets, star emcees and underdogs.
TICKETS are NON TRANSFERABLE & NON REFUNDABLE. All events at MIGHTY are 21+....