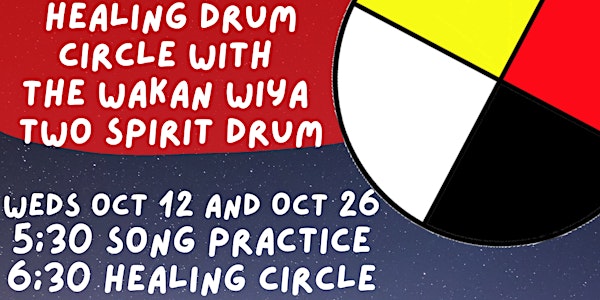 Medicine Drum Circle with Wakan Wiya (Weds Oct 12)
Join us for our Native Drum Circle with Wakan Wiya Two Spirit Drum. Join our collective healing work.
When and where
Location
Fruitvale, Oakland 77777 Fruitvale Area Oakland, CA 94619
About this event
Medicine Drum Circle with Wakan Wiya Two Spirit Drum
Weds Oct 12 * Song Practice @ 5:30 * Healing Circle @ 6:30pm
Location: Mills College, Oakland (register for details & directions)
This is an in-person outdoor circle | All Are Welcome
Fall Fundraiser: Please consider a donation to our drum if you are able. Zamora will be taking the drum in November to meet with our Native women drum elders and other drumming communities. All are welcomed to join the Native Women's Drum Retreat, Nov 11-13 in Grass Valley. Please ask for their registration form at our next circle.
Please join our drum community for our sext drum circle at Mills College. We will move indoors as we feel the chill of the evening these days. Come learn more about this traditional healing and wellness way. We invite everyone to put tobacco down on the drum: our intentions, our gratitude, our prayers, and our hopes for the coming months. This is the time we make for ourselves to dream and vision our wellness as communities, as families, all under these skies here in Huichin, land of the Lisjan Ohlone people. Healing Drum Circles with the Wakan Wiya Two Spirit Drum and drumkeeper Zamora are a chance to tap into collective healing/prayer/ meditation work through song and heartbeat.
Our drum is held by Two Spirit community and is open to all. Sit with us at the drum, or circle up and let the heartbeat medicine help you lay down tobacco prayers/intentions for the future. This is the manda for our drum, to bring drum medicine to the people. Help us continue that good road with our growing Wakan Wiya community. We will take turns sitting at the drum and learning more about how the drum helps us Hold the Form for each other. We will share palabra and share songs as we give thanks for the ways in which our full selves, especially our Two Spirit selves, can and do make our way in this world.
Our protocol : Please consider a small donation during this Fall season. We do not charge for medicine, all are welcomed. And, we are encouraging folks to make a small donation at this time to help Zamora take our drum to Northern California Native Women's Drum Retreat so that we can all sit with drum elders and other drumming communities. If you wish to attend the Drum Retreat in November, please come to our next October circles and we will get you their registration form.
For our circles, please always bring a small gift of tobacco or a medicine offering from your tradition for the drumkeeper. We also ask you to bring your waterbottle and snacks/food to share afterward, as is our tradition.
*Wakan Wiya (Sacred Woman) Two Spirit Drum is our Native American drum founded and led by Indigenous Two Spirit women in the Bay Area. Our drum was gifted to us to support access to drum medicine for our Two Spirit communities, our friends and familia, so that Two Spirit people might return to our Native drum traditions where healing medicine is for all. Our circles will always center Indigenous Two Spirit TG/GNC LGBQIA+ peoples, and we ask everyone who attends to respectful of this focus. If you have questions or would like to invite the drum to your community or organization, please contact us at tialuna415@gmail.com.
*Drumkeeper M. Zamora is a Chicana, Tongva and Yaqui Two Spirit feminist community organizer and teacher. Their ancestors come from the Los Angeles Basin and northern Mexico's Sonora and Chihuahua regions. In their prayer communities she is a ceremonial singer/drummer. They have also led Native women's drum circles with Turtle Women Rising, Bay Area American Indian Two Spirit (BAAITS) Drum, and is currently the drum keeper for the Wakan Wiya Two Spirit Drum at Casa Tía Luna. Zamora has taught Ethnic Studies, Chicana/o Latina/o Studies, and Gender Studies and Feminist Theory at California State University East Bay, University of San Francisco and Stanford University. They are currently the department administrator for Race, Gender & Sexuality Studies at Mills College.