Sales Have Ended
Registrations are closed
Thank you for registering. We look forward to your participation in this auspicious occasion.
Sales Have Ended
Registrations are closed
Thank you for registering. We look forward to your participation in this auspicious occasion.
Come light a candle to bequest healing from the Medicine Buddha to improve quality of life for you and your family and friends.
About this event
The Medicine Buddha (aka Bhaisajyaguru Buddha, Bhaisajyaguru Tathagata, Bhaisajyaguru Lapis Lazuli Tathagata, the Great Medicine King Buddha, and the Buddha of Twelve Great Vows) is a healing Buddha of the Pure Land of Lapis Lazuli - Light in the East). The Medicine Buddha is a profound practice for healing physical, mental, and emotional ailments as well as to pacify the obstacles to the achievement of even temporary happiness, and especially the ultimate happiness of full enlightenment. It is even more powerful when a group practices together, focusing on the loved one or person who needs healing. The seven Medicine Buddhas are not only very powerful in healing disease, but in purification, for both the living and the dead.
9:30 AM Medicine Buddha Dharma Service
There will be a 1000-candles lighting ceremony during the assembly to pray for health, longevity and happiness. Participants can dedicate a candle for themselves or a loved one for a donation of $10.
12:00 PM Lunch
2:00 PM Dharma Discourse
This is a prerecorded discourse expounded by H.H. Dorje Chang Buddha. It will be in Mandarin but on site translators are available on request.
3:00 PM Discussion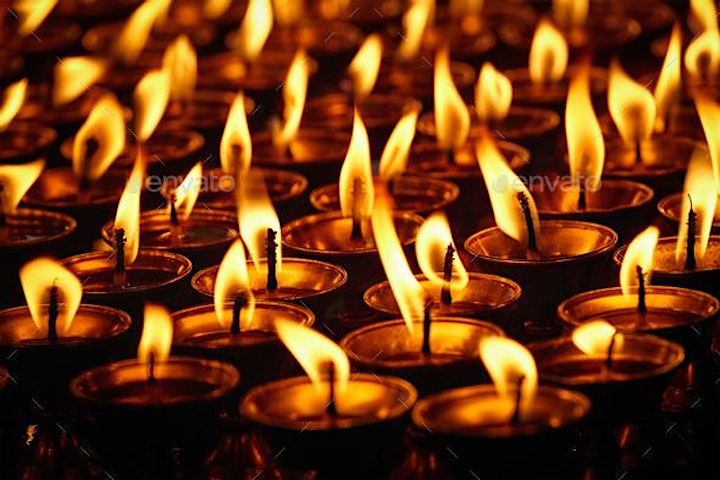 "Thousands of candles can be lighted from a single candle, and the life of the candle will not be shortened. Happiness never decreases by being shared."
When the Medicine Buddha was practicing on the Bodhisattva path, he made 12 great vows, wishing to relieve sentient beings from suffering and to have sufficient capacity to enter the way of liberation. Those who follow his vows in the practice to Buddhahood can be reborn in the Pure Land.
I vow that my body shall shine as beams of brilliant light on this infinite and boundless world, showering on all beings, getting rid of their ignorance and worries with my teachings. May all beings be like me, with a perfect status and character, upright mind and soul, and finally attaining enlightenment like the Buddha.
I vow that my body be like crystal, pure and flawless, radiating rays of splendid light to every corner, brightening up and enlightening all beings with wisdom. With the blessings of compassion, may all beings strengthen their spiritual power and physical energy, so that they could fulfill their dreams in the right track.
I vow that I shall grant by means of boundless wisdom, all beings with the inexhaustible things that they require, and relieving them from all pains and guilt resulting from materialistic desires. Although clothing, food, accommodation and transport are essentials, it should be utilized wisely as well. Besides self-consumption, the remaining should be generously shared with the community so that all could live harmoniously together.
I vow to lead those who have gone astray back to the path of righteousness. Let them be corrected and returned to the Buddha way for enlightenment.
I vow that I shall enable all sentient beings to observe precepts for spiritual purity and moral conduct. Should there be any relapse or violation, they shall be guided for repentance. Provided they truly regret their wrong-doings, and vow for a change with constant prayers and strong faith in the Buddha, they could receive the rays of forgiveness, recover their lost moral and purity.
I vow that all beings who are physically disabled or sick in all aspects be blessed with good health, both physically and mentally. All who pays homage to Buddha faithfully will be blessed.
I vow to relieve all pain and poverty of the very sick and poor. The sick be cured, the helpless are helped, the poor be assisted.
I vow to help women who are undergoing sufferings and tortures and seeking for transformation into men. By hearing my name, paying homage and praying, their wishes would be granted and ultimately attain Buddhahood.
I vow to free all beings from evil thoughts and its control. I shall lead them onto the path of light through inculcating them with righteousness and honor so that they will walk the Buddha way.
I vow to save prisoners who have genuinely repented and victims of natural disasters. Those who are sincere will be blessed by my supreme powers and be freed from sufferings.
I vow to save those who suffer from starvation and those who committed crime to obtain food. If they hear my name and faithfully cherish it, I shall lead them to the advantages of Dharma and favor them with best food and eventually lead a tranquil and happy life.
I vow to save those who suffer from poverty, tormented by mosquitoes and wasps day and night. If they come across my name, cherish it with sincerity and practice dharma to strengthen their merits, they will be able to achieve their wishes.
Organizer of Medicine Buddha Dharma Service
This is a collaborative event between CJ Yao Gallery and Purify Karma Dharma Center. We believe that through cultivation and meditation, we can increase good karma and harness our innate potential to profess in the 5 vidyas, one of which includes art, not just paintings, but photography, creativity, speech, music, etc.