Description
---
Aloha Beloved Sistah...
It's your girl Dev, here, and I'm so glad you've landed on this message I created just for you.
Do any of these scenarios resonate with you?
~ You've struggled with articulating your gifts in the past and as a result you've kept them hidden from others
~ You've dimmed your own light out of concern for others or fear of being outed as "too big for your britches"
~ You've felt confused about which gifts to cultivate and share and uncertain about how they'd be received
~ You've secretly kept your gifts underground as they seem so left field from your current life/work focus
~ You've hesitated to fully claim your gifts or talk about them with others due to shyness
If you can relate to any of these, you're not alone.
I have danced with these experiences like many other women I've encountered.
I've procrastinated and pondered, delayed and debated, and have made excuses and distractions a priority.
And those choices led me to feel unfulfilled, unseen, misunderstood and frustrated AF.
Today, I have a clear sense of my gifts and I no longer feel a need to delay or diminish sharing them!
I consciously create my day and take the actions that advance me forward on my personal and planetary missions.
And I want this for you, too!
I'm hosting an Intentional Creativity™ experience called Medicine Basket especially for women who are ready to (re)discover, claim and catalyze their gifts, and you're invited!
Are. You. Ready?
I'll be sharing some of the magic that now flows through me via a container of support that's near and dear to my heart called Intentional Creativity™.
Allow me to be your guide to assist you to tap into the field of your Infinite potential in a safe and inclusive environment where your signature expression is welcome and celebrated!
Your Medicine is totally unique to you and it's up to you to own it.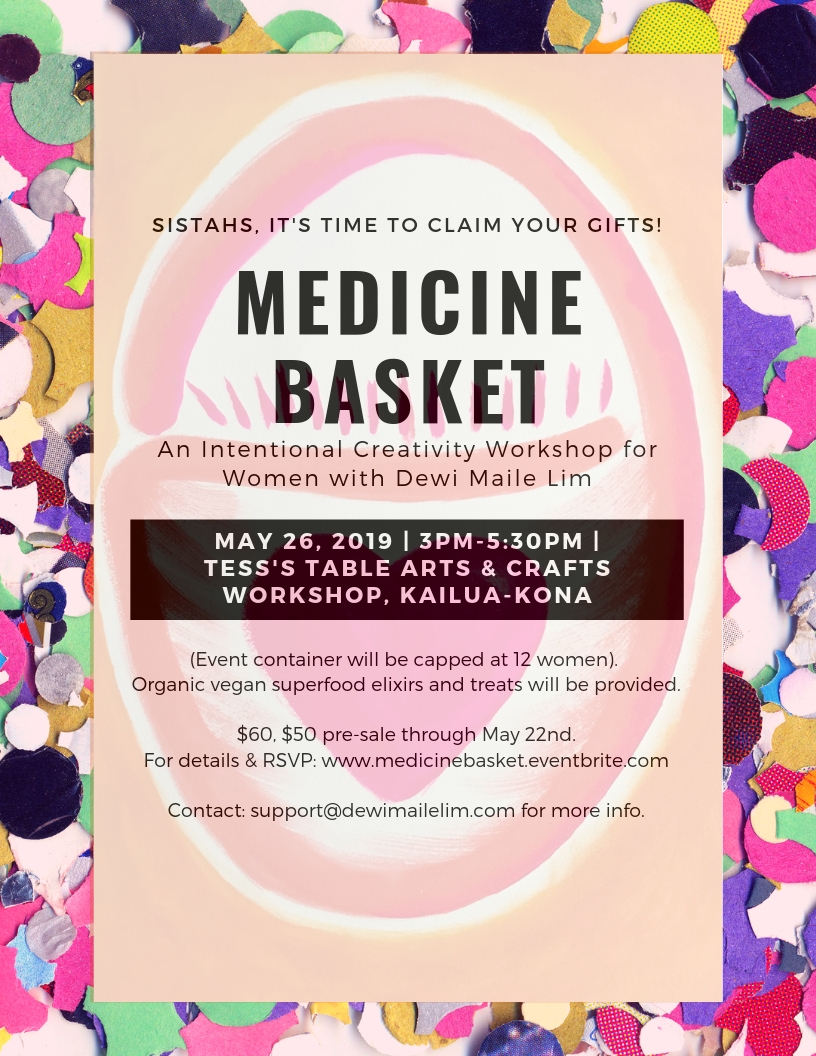 In this 2.5 hour workshop you will:
~ Circle with fellow high-vibe women during a powerful intention-setting process
~ Connect with your innate well of creative wisdom and inherent gifts
~ Receive unwavering encouragement and be witnessed with Loving Acceptance and Sister Support
~ Capture an inspired vision of yourself fully expressing your gifts through a guided experience with journaling
~ Create a painted representation of your Medicine Basket and gifts (no previous art experience necessary)
~ Leave with a colorful visual reminder of your uniqueness for you to be inspired by for years to come
Imagine...
~ Being centered in Confidence around that which you carry
~ Drawing from crystal-clear Clarity that comes from fully embracing who you are and what you have to offer
~ Reveling in Connection with heart-centered women committed to shining their light and who welcome yours
~ Feeling empowered when vocalizing "I am really good at..." and "you can count on me for..."
~ Peace of mind and strength of heart that comes from having the foundational elements of your gifts in full focus!
So, Beloved Sistah, do you feel that Medicine Basket is an aligned next step for you?

Are you ready to claim your gifts, once and for all?
If you're ready to say YES to this (really, to yourSelf), be sure to save the date and secure your spot now.
There is magic in making a decision and taking swift, inspired action once you know an experience is for you!
If you feel inspired to join us, I'd love for you to be a part of what is sure to be a fun and meaningful experience .
I also would love for you to invite other women you know to attend this event if you sense they may be a fit!
With Gratitude, Love & Awesomeness, Dewi Maile Lim, aka Dev


PS. Follow me on Instagram if you'd like to learn more about me and connect on that platform and/or email me at: support@dewimailelim.com
PPS. Yummy vegan organic superfood elixirs and treats will be served for workshop attendees.