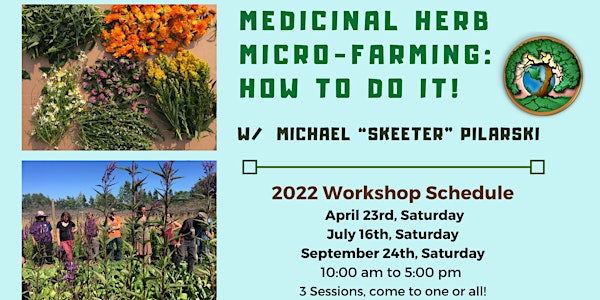 Medicinal Herb Micro-Farming Workshop - Chimacum, WA
This hands-on workshop will show you how to get into small-scale medicinal herb production.
About this event
2022 Workshop Schedule
 April 23rd, Saturday - Spring Session -
July 16th, Saturday - Summer Session -
Sept 24th, Saturday - Fall Session -
 10:00 am to 5:00 pm  
3 Sessions, come to one or all!
This workshop will be geared towards small-scale, commercial production and will include hands-on activities and tool demonstrations. Useful for those already growing herbs as well as beginners and those who just want to expand their garden. The main focus will be on what tasks need to be done at this time of year.  Our systems are influenced by agroforestry & permaculture. This is the 5th year that we have offered this seasonal series of workshops.
Topics Include: Design, planting, species, harvesting, irrigation, weeding, marketing and so much more. We will look at examples of rhizomatous bed crops, annuals, biennials, 4-year root crops, long-term perennials, sub-shrubs, trees, etc. We will discus how to start new plots using a tractor or hand tools. How to achieve good production starting in year one and every year thereafter.
LOCATION DETAILS
We will be meeting at the Friends of the Trees Library at 10 am.
10644 Rhody Dr. (HWY 19). Port Hadlock, WA 98339
Then we will go on a field trip to our Medicinal Herb Farm patch located at Finnriver Farm/ Cidery in Chimacum (just 2 minutes away).
This is an outside event for the most part with some time in the classroom space.
Bring:
Brown bag lunch
Water bottle / Thermos
Garden gloves
Come prepared for the weather
Umbrella if rainy, so you have a dry place to take notes
Notebook and Pen
Brown paper shopping bags (for you to take home some of the plants we will be harvesting.)
We will have farming/ herbal books, herbs, plants and seeds available for purchase.
About the instructor:
Michael Pilarski "Skeeter" is a farmer, educator, author and permaculture instructor who has devoted his life to studying and teaching how people can live sustainably on this Earth. He grows a diversity of medicinal and food plants in complex, agroforestry systems. Blending permaculture, restorative ecology and ethnobotany to enhance restorative land practices. His Herb Farm, Friends of the Trees Botanicals, has grown a wide diversity of crops in permaculture and agroforestry systems since 1972. He has been farming medicinal plants for the last 34 years in Eastern and Western Washington with a focus on small-scale and low capitalization. Pilarski's 1/4 acre micro-farm in Chimacum, WA grossed $45,000 in 2020 (year 3).