Sales Have Ended
Ticket sales have ended
Sales have ended but visit medshadow.org and sign up for our newsletter to stay up to date on our future events and health & wellness articles.
A breathtaking award-winning film and discussion with participants about the dangers of medication and the impact of medical harm.
About this event
Enjoy this amazing documentary and gain access to an exclusive discussion with experts and participants.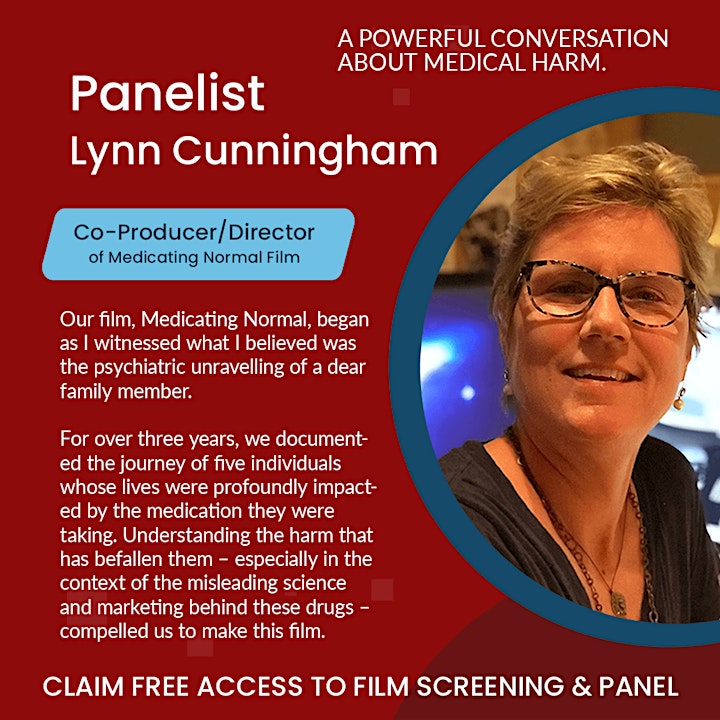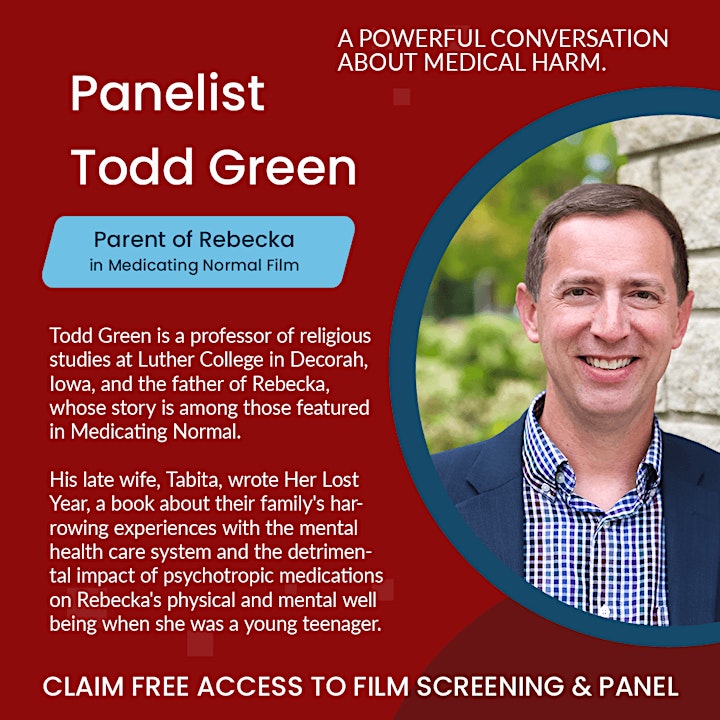 Todd hopes to continue promoting Tabita's work and sharing his family's story in the hopes of helping to transform our educational, political, and health care institutions into systems that optimize mental well-being without over-dependence on medication.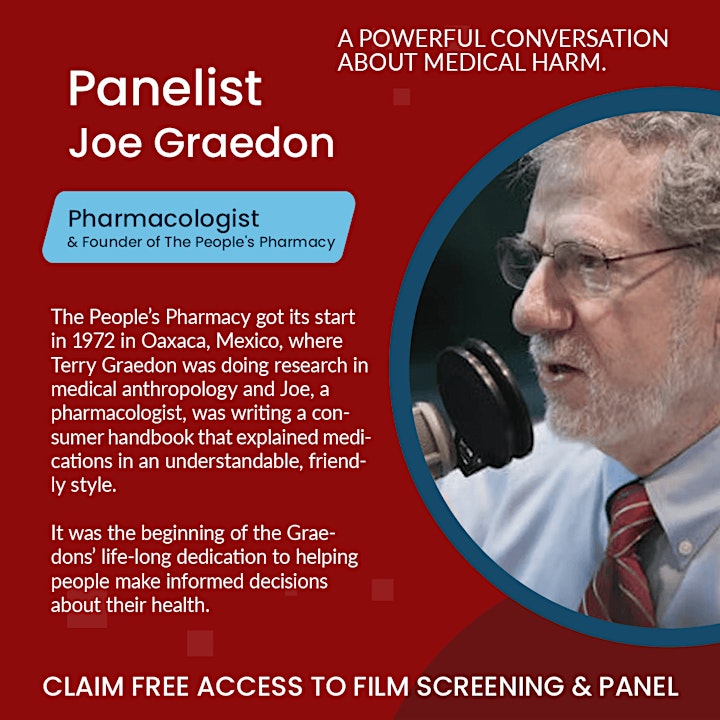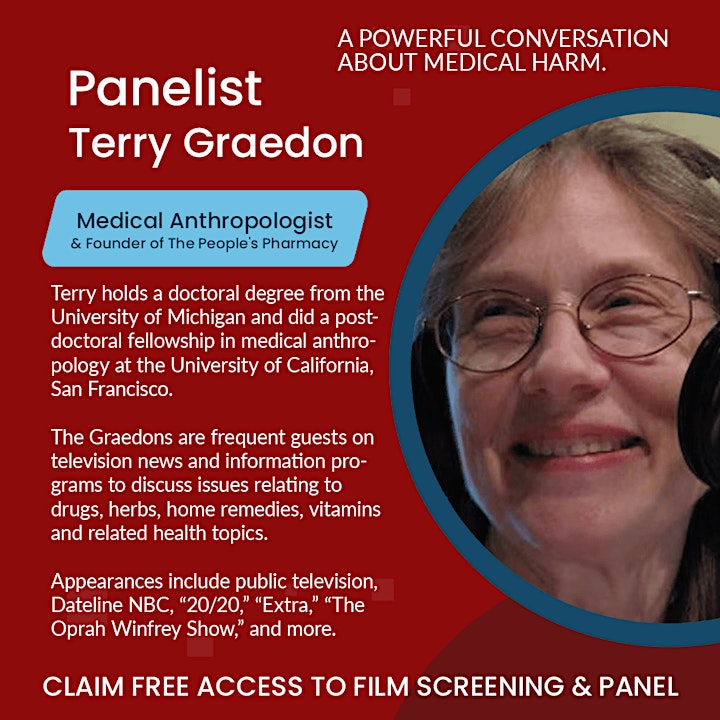 Joe and Terry Graedon, The People's Pharmacy
Today, Joe and Terry Graedon are co-hosts and producers of The People's Pharmacy national call-in program, airing weekly on public radio; authors of a weekly newspaper column widely distributed in the U.S. and abroad; and authors of many more books in the People's Pharmacy series.
Terry holds a doctoral degree from the University of Michigan and did a postdoctoral fellowship in medical anthropology at the University of California, San Francisco. Joe earned the master's degree in pharmacology from the University of Michigan. He has taught at UCSF School of Pharmacy and is on the Board of Visitors at the University of North Carolina, Chapel Hill, School of Pharmacy, where he also holds an adjunct clinical appointment. Both Joe and Terry have taught at Duke University School of Nursing, where they were Harriet Cook Carter distinguished lecturers in 1999.
The Graedons are frequent guests on television news and information programs to discuss issues relating to drugs, herbs, home remedies, vitamins and related health topics. Appearances include public television, Dateline NBC, "20/20," "Extra," "The Oprah Winfrey Show," "Good Morning America," "CBS Morning News," and "NBC Evening News with Tom Brokaw."
Books by Joe and Terry Graedon include:
The People's Pharmacy (four editions since 1976)
Graedons' Best Medicine: From Herbal Remedies to High-Tech Rx Breakthroughs (Bantam, 1991)
Aspirin Handbook: A User's Guide to the Breakthrough Drug of the '90's (Bantam, 1993) with Tom Ferguson, M.D.
Dangerous Drug Interactions (St. Martin's Press, 1999)
The People's Pharmacy Guide to Home and Herbal Remedies (St. Martin's Press, 1999)
Best Choices From The People's Pharmacy (Rodale Books, 2006)
Favorite Home Remedies From The People's Pharmacy (Graedon Enterprises, 2008)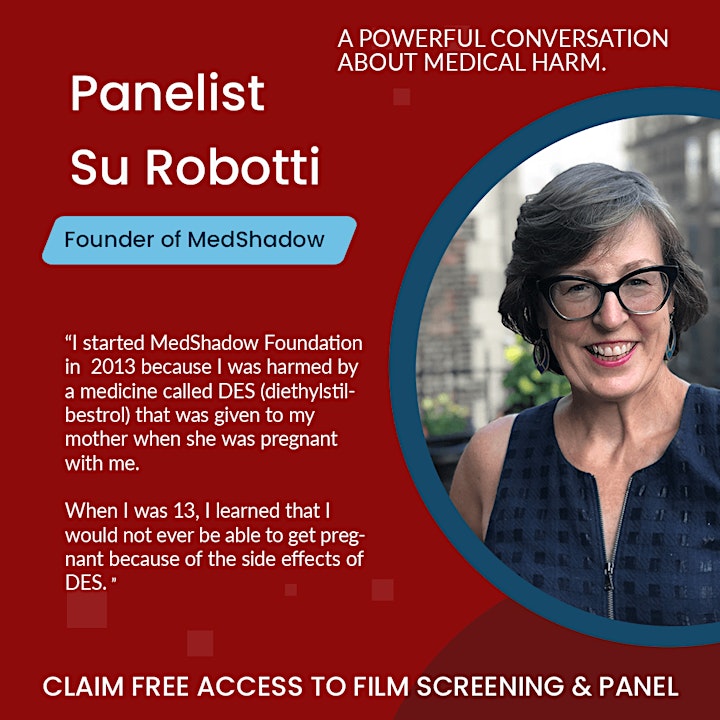 Suzanne Robotti is the Founder and President of MedShadow Foundation, the Executive Director of DES Action USA and a member of the FDA Drugs Safety and Risk Management Advisory Committee. Medshadow is the leading non-profit organization dedicated to shining the light on the side effects of medicines. The independent health news media site MedShadow.org reaches millions, impacting the healthy decisions of readers empowered with balanced science-based research on side effects. By reaching beyond spontaneous reporting, integrating data from multiple sources, and rejecting funding and influence from pharmaceutical companies, MedShadow.org is a leader in a more patient-centered approach to medicine safety.
Robotti founded MedShadow Foundation in 2012 because she was exposed in utero to DES (diethylstilbestrol) which was prescribed to her mother. When Robotti was 13, she learned that she would not ever be able to get pregnant herself because of the side effects of DES. The FDA instructed doctors to stop prescribing that drug to pregnant women in 1971, but between five and ten million pregnant women had already been given it. This profoundly personal experience led her to a lifetime of leadership in consumer advocacy for scientific based evidence on side effects of drugs.
In 2015, DES Action USA joined MedShadow Foundation after 35+ years as one of the most effective grassroots health education and advocacy groups in history. DES Action's work continues as Robotti serves as executive director for the membership organization for the five million pregnant women exposed to DES and for the generations of their children and grandchildren affected by the drug.
Because of her work with MedShadow, Robotti learned a lot about how the FDA approves drugs, while integrating patient perspectives on the challenges of often conflicting messages around medicines safety, and holding the science and the messaging accountable.
In 2017, Robotti applied to and was appointed to the FDA Advisory Committee on Drug Safety and Risk Management. She joined a panel of doctors and pharmacists as the lone consumer representative on the committee. In 2021, her position was renewed at the request of the FDA, a testament to Robotti's achievements and leading role as a consumer representative. In the face of the rigorous metrics in testing and financial might, Robotti is especially excited to have a seat at the table when the FDA is deciding if a drug is safe and effective enough to approve.
Understanding the role of community and partners in change, Robotti serves as a Trustee of Springfield College; as co-chair of the Transportation Committee of NYC Community Board 7 Manhattan; on the Advisory Board of Pace University Masters in Publishing program. Her present success is built on a foundation of journalism and service. Prior to founding MedShadow Foundation, she had a successful publishing industry career as founder first of Cradle Publishing, which grew into Baby Publishing LLC which she later sold to Gruner+Jahr Bertelsmann. She holds a Bachelor of Arts degree in Communications from the University of Maryland at College Park. Robotti has been honored for her extensive contributions to community service from the US President's Council on Service and Civic Participation.
JOIN THE CONVERSATION AND GET TICKETS NOW TO SHOWING & PANEL DISCUSSION
Talk to your healthcare provider about any concerns you have about your medicines. MedShadow Foundation & panelists do not provide medical advice, diagnosis, or treatment.