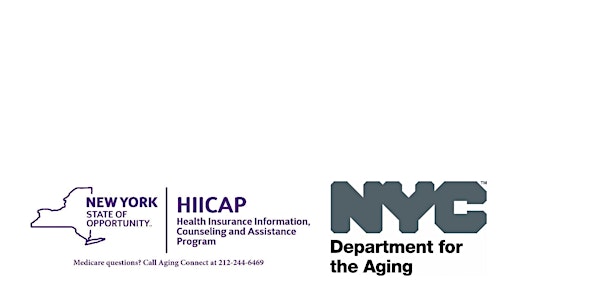 Medicare Orientation - Understand Your Costs and Choices in Medicare
Join the NYC Department for the Aging's HIICAP Program to learn about the Medicare program - eligibility, enrollment, costs, and more!
About this event
Are you new to Medicare or want to better understand how Medicare works? Come join the NYC Department for the Aging's Health Insurance Information, Counseling and Assistance Program (HIICAP) at one of our bi-weekly Medicare orientation sessions. You'll learn about eligibility and enrollment rules, choices in Medicare, when you can make changes to your coverage, and ways that you may be able to save money on Medicare costs.
This session is intended for New York City residents who are new to Medicare but is available for anyone who wants to learn more about Medicare and related health insurance.
Due to space limitations, if you register for this event and are unable to attend, please cancel your registration or email us through EventBrite so someone else can attend in your place.