About this Event
Description
Mastering complex medical terms can be hard. UMHS Interpreter Services' Medical Terminology and Body Systems course makes it easier.
This great 40-hour course is ideal for medical interpreters, and everyone who works in the medical field. It teaches the Word Building Technique, which helps decipher medical terms by dividing them into three basic parts: the prefix, root and suffix. By learning common prefixes, suffixes, and root words, you can easily make sense of even the most complex terms. It's a quick, efficient and amazingly easy way to learn medical terminology.
Medical Terminology and Body Systems is open to everyone. It is language neutral, and all materials and instructions are presented in English (some of the materials are presented in other languages too). If you're a medical interpreter, the course is an ideal way to prepare for the National Certification exam and/ or to earn continuing education hours.
Course Objectives
You will master word building technique of medical terms
Each class covers a different body system, including terms and phrases used during specific appointments, diagnoses, tests and procedures
The course includes weekly homework, tests, games, role playing and a final exam that students must pass to receive a Certificate of Completion
We will talk about nature of the medical encounter, art of prediction and even differential diagnoses
Date, Time, and Location
Date: Saturdays, April 18 and May 2, 9, 16 and 23 2020
Time: 8:30 am – 5:00 pm
Location: 2025 Traverwood Dr. STE A4 Ann Arbor, MI 48105
Course Tuition
The cost of this course is $325.00 (US). Course materials, light breakfast and afternoon refreshments are included. Lunch is on your own (there are many restaurants nearby).
* Please indicate on registration form if you have special dietary needs
CEU Information
This workshop is intended for spoken and signed language interpreters, both students and professionals will count as:
CCHI - 35 hours
Michigan Medicine Interpreters Services is an Approved RID CMP Sponsor for continuing education activities. This PS program is offered for ?? CEUs at the some Content Knowledge Level.
MI BEI units - ?? ( pending)
Accommodations
This training complies with the University of Michigan's Nondiscrimination Policy. Please refer here for any policy questions: https://hr.umich.edu/working-u-m/workplace-improvement/office-institutional-equity/nondiscrimination-policy-notice.
To request reasonable accommodations, please contact Vivian Yu at MITrainingAcademy@med.umich.edu
Hotel Accommodations
We want to make it as convenient as possible for students who need lodging in the Ann Arbor area while taking our classes.
Call 800-544-8684 or 734-936-0135 for the UMHS Patient and Visitor Hotel Accommodations
Cancellation Policy
Cancellations will be permitted four or more weeks prior to the start of a training course without incurring a fee. Due to the cost of establishing, holding, and refilling participant slots, along with the associated costs of language assessments and course materials, the following cancellation fee schedule applies:
• For 2 to 4 weeks prior to the start of a training course, a cancellation fee of 25% of the training course price will be assessed.
• Between 8-13 days prior to the start of a training course, a cancellation fee of 50% of the training course price will be assessed.
• Within 7 days of the start of a training course, a cancellation fee of 75% of the training course price will be assessed.
• No show on the first day of the training course will incur a cancellation fee of 100% of training course price.
Questions
Questions about UMHS Interpreter Services Medical Terminology and Body Systems? Contact MITrainingAcademy@med.umich.edu (please put the course title in the subject line) or call the Medical Interpreter Training Academy at 734-998-2183.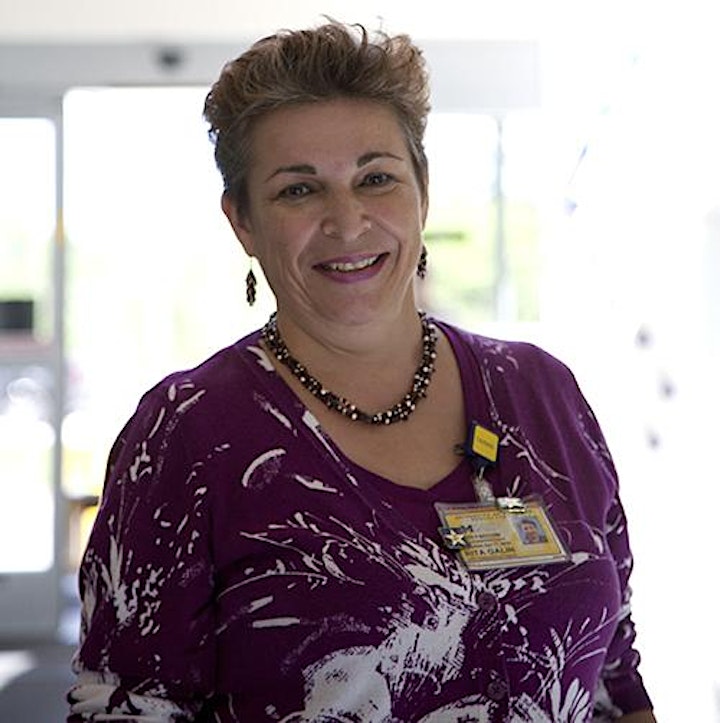 Rita Galin is Nationally Certified Medical Interpreter, CMI-Russian. Rita was born in Estonia, but her native language is Russian. She has a medical degree from Tartu State University (Tartu, Estonia), one of the oldest universities in Europe. She completed an internship in Neurology and Neurosurgery, attended and completed Adolescent Pathophysiology courses in Continuing Medical Education Institute, and worked as a Neurologist at the Adolescent Outpatient Clinic in Tallinn, Estonia. Rita's clinical interests are in Adolescent Neurologic Pathophysiology as well as Young Adult Psychology and Geriatrics.
Rita has worked for the University of Michigan Health System since 1995 as a Medical Interpreter, and was one of the first two staff Medical Interpreters at UMHS. She is also a supervising staff interpreter since 2007.
She has presented multiple times on Cultural Specifics and Differences between medical systems in the former Soviet Union and the US. She has assisted in the creation of a video training on clear communications with LEP patients through an Interpreter for medical students at Michigan Medicine.
Rita is one of the creators, developers and the only instructor of the UMHS Interpreter Services course Medical Terminology and Body Systems, a 40-hour training that is nationally accredited by CCHI. She is also a creator, developer and instructor of Medical Terminology Intensive 8-hour training and Interpreting for Older Adults 3-hour workshop. In her classes, Rita shares her deep knowledge of the Medical Science and field experience with her students.