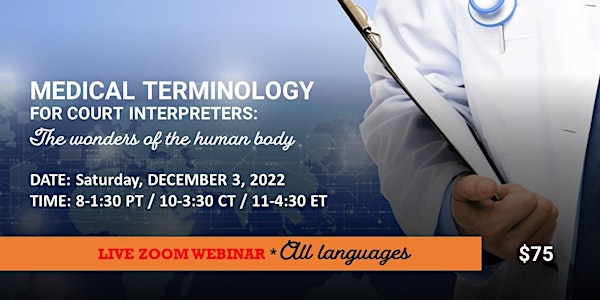 MEDICAL TERMINOLOGY (*All languages) LIVE WEBINAR
Handy review of common medical terms used in legal settings while talking about the wonders of the human body (*All languages)
Refund Policy
Contact the organizer to request a refund.
Eventbrite's fee is nonrefundable.
About this event
MEDICAL TERMINOLOGY FOR COURT INTERPRETERS: 
"The wonders of the human body"
LIVE ZOOM WEBINAR (*All languages)
This webinar will be offered on:
SATURDAY, DECEMBER 3rd, 2022
TIME: 8-1:30 PT/10-3:30 CT/11-4:30 ET
All languages are welcomed!
DESCRIPTION OF THE COURSE
Handy review of common medical terms used in legal settings while talking about the wonders of the human body.
Refresher course on:
ANATOMY
MEDICAL CONDITIONS
MEDICAL SYMPTOMS
DIAGNOSTIC PROCEDURES
MEDICAL ACRONYMS
SPECIALISTS & SPECIALTIES
Once you register, you will receive A LINK TO JOIN THE ZOOM MEETING
This 5.5-hour webinar will be presented in ENGLISH (5 hours of instruction + a 30-minute break)
REGISTRATION FEE: $75
*FULLY REFUNDABLE TICKET: You may cancel or make changes at anytime for any reason
APPROVED FOR CONTINUING EDUCATION CREDITS IN:
CALIFORNIA
TIME: 8:00 AM - 1:30 PM PT
5 CIMCE credits (Instructor-led)
COLORADO
TIME: 9:00 AM - 2:30 PM MT
5 CEU credits
FLORIDA
TIME: 11:00 AM - 4:30 PM ET
6 CIE credits
NEVADA 
TIME: 8:00 AM - 1:30 PM PT
5 CEU credits
TEXAS 
TIME: 10:00 AM - 3:30 PM CST 
5 CE hours (Non-Ethics: 5.0)
OREGON 
TIME: 8:00 AM - 1:30 PM PT
5 CEU credits (Lang credit 2.5 + General 2.5)
WASHINGTON STATE
TIME: 8:00 AM - 1:30 PM PT
5 CEU credits (Performance 5)
ARIZONA & IOWA
5 CEU hours - PROFESSIONAL DEVELOPMENT
Certification renewal is not mandatory
CERTIFIED MEDICAL INTERPRETERS
  IMIA/NBCMI CERTIFIED MEDICAL = 0.5 CEUs (5 hours)
SOME WONDERFUL COMMENTS FROM OTHER INTERPRETERS (Medical webinars):
"Thank you so much, Maribel. What a great webinar, content and amazing instruction! I look forward to your next series as I still have another 6 units pending for 2021. Mil gracias!"
❤️Pamela G., State-Certified Spanish Interpreter (California)
Thank you, Maribel. I thoroughly enjoyed and benefited from your medical terminology seminar. The 5 hours went by very fast. Wish we had 2 more hours.
❤️ Nabil A., State-Certified Arabic Interpreter (California)
Thank you Maribel for your professionalism and kindness. Your comments about the creation of a perfect human body hit home. As a Muslim, I believe that Allah's creation has been designed and created according to the highest heavenly standard of splendor and order impossible to be ever emulated by anyone.
❤️ Zineb K., State-Certified Arabic Interpreter (California)
Thank you so much for the certificate and a fantastic series of webinars.
❤️ Mariam M., Registered Farsi & Dari (Afghanistan) Interpreter (California)
Thank you very much for providing this seminar for us. Thank you also for sending these word documents to me. I have done some translations from either Chinese in English or English into Chinese regarding health and self-healing. I was somewhat familiar with some of the medical terms written form. Once I get them translated, I can forget the terms easily. Your seminar helped me a lot. I will work on these documents to better myself with basic medical terminology!
You have worked very hard to put this seminar together. Please know that your work is greatly appreciated! Respectfully,
❤️ Ms. Dongxiao Zhu., Freelance Mandarin Interpreter/Translator Texas Licensed Court Interpreter
Hi and thank you very much Maribel for your engaging and interesting presentation. I enjoyed it. I am also grateful for your prompt emailing the certificates. All the best,
❤️ Cyrus K., Registered Farsi (Iran) Interpreter (Washington State)
Your class was excellent! You are so knowledgeable and your material is not only complete and accurate; it is a terrific resource of information for learning about the human body as well as terminology. Thank you. I recommend this webinar. I would take it again. Fue un gusto conocerte y aprender de tu clase.
❤️Flavia M., State-Certified Spanish Interpreter (California)
It was really nice to be part of such wonderful seminar. I liked everything about your class. The power point slides, the content, the interaction and the print outs were all of great help and useful and it was a comfortable environment where I didn't feel embarrassed to make mistakes. But more importantly you are a very nice person and very approachable and knowledgeable. I'll definitely recommend your class to my interpreter friends.
❤️Martha E., State-Certified Spanish Interpreter (California)
" Thank you so much. I have never enjoyed a webinar as much as I did yours and I am being totally honest. I know that you worked hard to prepare for it and you did an incredible job. I thought "She knows as much as a doctor" – very impressive!!.♡"
❤️Martha K., State-Certified Spanish Interpreter (Washington State)
"I just finished up taking my first class with Maribel Alonso, with the focus of the class on Medical terminology. Maribel remains an exceptional teacher because she manages to take a technical subject (medical vocabulary) and by engaging everyone with her enthusiastic delivery, make it fun for everyone to learn from her, and each other. I just sat through a 5 hour zoom session and I never felt bored or distracted at any point. We all had worksheets that we were filling in as we went along, so when we were not engaged directly in the class, we were each filling in our worksheets with terms.
Great job Maribel and thank you for sharing the gift of your knowledge, training and experience with those of us who are eager to learn and develop our skills to their fullest potential".
❤️Anthony Valle (Resource Center Forum) State-Certified & Medical Spanish Interpreter (California)
"Muchísimas gracias por todo! Se me pasó el tiempo volando y habría podido estar cinco horas más J Tienes un estilo muy ameno en tus presentaciones, además de conocer tu profesión "al dedillo", pero lo que valoro por encima de todo, es tu capacidad de escucha, de recepción a lo que dicen y piensan todos los asistentes al webinario y tu humanidad en el trato con todos nosotros."
❤️Josephine B., Registered Spanish-French-Catalan Interpreter (California)
" Gracias a ti, Maribel, por tu excelente curso y por tu inigualable método pedagógico. No fue aburrido del todo. La participación práctica (hands-on) del grupo contribuyó mucho a ello. Me informas, por favor, de tus cursos futuros."
❤️Hernan N., State-Certified Spanish Interpreter (Washington State)
"Thank you so much for a great and informative webinar!"
❤️ George B., State-Certified Spanish Interpreter (Washington State)
*The recommendation for Spanish Interpreters is to choose courses designated as *SPANISH whenever available, especially for the MEDICAL TERMINOLOGY webinars.
NEXT MEDICAL TERMINOLOGY (*Spanish) - JANUARY 2022