Event Information
Location
Weill Cornell Medicine / Keck Medicine of USC
New York, NY / Los Angeles, CA, 10021
Description
***The East Coast Registration is Locked. Only those with paid tickets will be permitted entry to the event. Those without proof of paid ticket will be denied entry by security***
The AANS Medical Student Chapters and Departments of Neurological Surgery at Weill Cornell Medicine and Keck Medicine of USC invite you to participate in a one-day event for medical students considering specialization in neurological surgery. This is a unique opportunity for students to learn from faculty and current residents.
After the huge success of the 2018 Medical Student Training Camp, we are excited to announce TWO locations for the 2019 event. This year, the course will be held on March 30th, 2019 at Weill Cornell Medicine and Keck School of Medicine of USC. Please note that the training camp will take place from approximately 8am-3pm local time.
This hands-on experience is intended to prepare medical students for neurosurgical sub-internship, residency application, and neurosurgical training. Through both didactics and laboratory training sessions, students participating in this course will prepare for neurosurgical sub-internship. This course is intended for medical students at any stage of their training. There is no fee to RSVP for this event, however a payment will be required to confirm your final registration. Space is limited, though the chapters are working to accommodate as many students as possible and ensure spots for all students starting sub-internships in 2019.
2019 Training Camp at Weill Cornell Medicine
8:00-10:00
Breakfast & Coffee
Welcome Address
"What you need to know for your Neurological Surgery Sub-internship"

10:00-11:30
Positioning, Knot Tying, Multitasking Workshops

11:30-12:30
Catered Lunch
Resident Panel

12:30-2:00
Skull-based Anatomy Session in the Surgical Innovations Laboratory

2:00-3:30
OR Essentials Training Course
2019 Training Camp at Keck Medicine of USC
Check-in and breakfast: 7:30AM
Morning Lectures: 8:00AM – 12:00 PM
8:00-8:15 History of Neurosurgery
8:15-8:30 Overview of Neurosurgery Subspecialty and Match/Job process
8:30-8:45 Advice for the Application Process
8:45-9:00 How to ace your sub-internship
9:00-9:15 How to choose the Neurosurgery program that is right for you
9:15-9:30 Research/Academics in Neurosurgery
9:30-9:45 Approaches to maintaining well-being and avoiding burnout during
neurosurgery residency
9:45-10:00 Women in Neurosurgery
10:00-10:15 Neurosurgery: Life and Career Paths after Residency
10:15-10:30 Coffee Break
10:30-10:45 Overview of Functional Neurosurgery
10:45-11:00 Overview of Spine Neurosurgery
11:00-11:15 Overview of Vascular Neurosurgery
11:15-11:30 Overview of Pediatric Neurosurgery
11:30-11:45 Overview of Skull Base Neurosurgery.
11:45-12:15 Resident and newly matched students panel


Catered Lunch: 12:15pm-1pm
Afternoon Workshops: 1pm-3pm
• Cadaver Stations
Skull Base Neuroanatomy
Endoscopy Station
• No Cadaver
Suturing station
Neuro-navigation
Endoscopy simulation
Patient positioning and fixation
EVD basics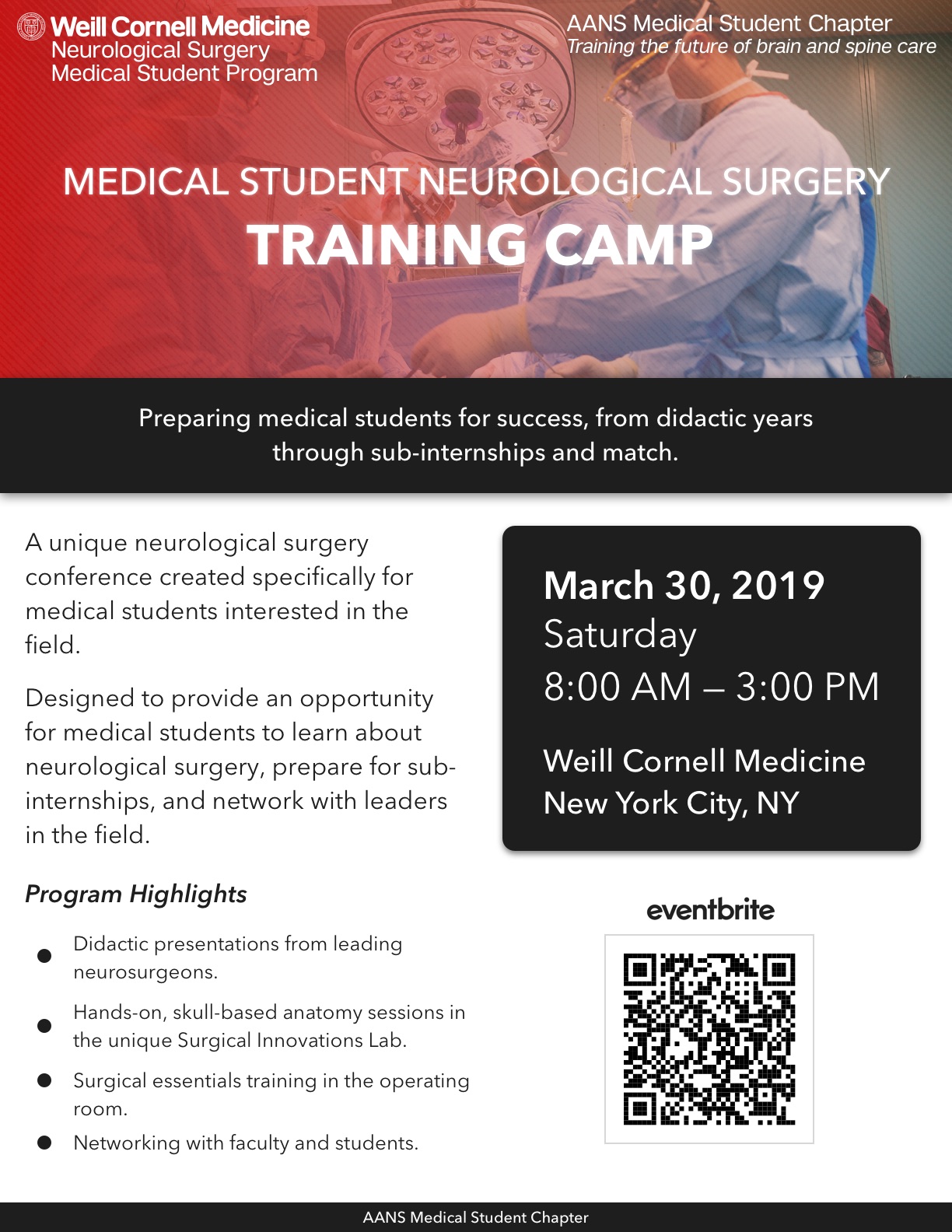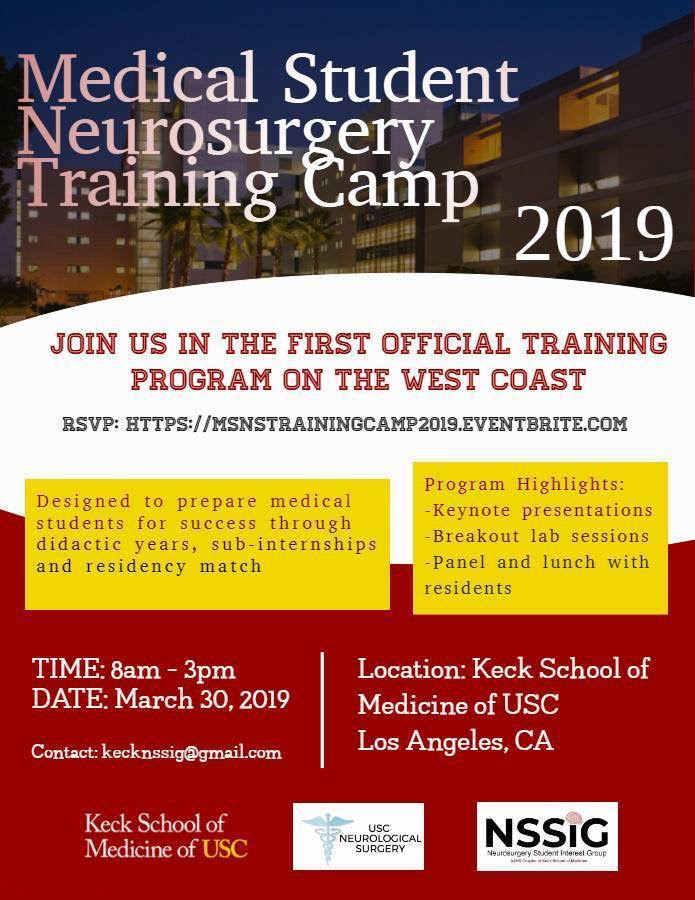 Date and Time
Location
Weill Cornell Medicine / Keck Medicine of USC
New York, NY / Los Angeles, CA, 10021