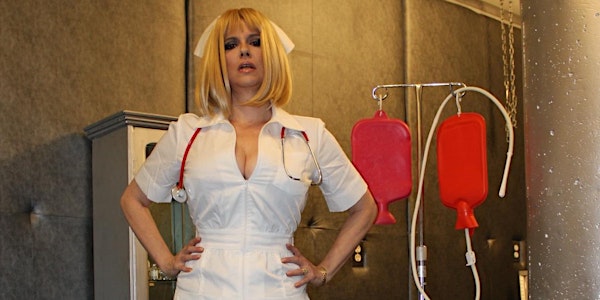 MEDICAL SCHOOL! A Weekend Immersion for Naughty Nurses & Very Bad Patients
Location
Sacred Muse
Located Behind Black Thorn
EXACT ADDRESS w/TICKET
San Francisco / Bay Area, CA 94606
Sales Have Ended
Ticket sales have ended
SOLD OUT This event will repeat in 6 - 12 months For a current list of upcoming classes go to: www.denofiniquityla.com
Description
MEDICAL SCHOOL 9.14-16



A WEEKEND IMMERSION FOR NAUGHTY NURSES & VERY BAD PATIENTS
Join us for a weekend immersion where you can learn all things Medical from sensual, naughty nurse fantasies to heavy Medical and Invasive scenes and everything inbetween, HANDS ON from some of the top instructors in the US. When you're done with this, you'd be able to do surgery, if not for that pesky Medical License!
STAY ON CAMPUS at BLACK THORN
CONVENIENTLY LOCATED IN THE SAN FRANCISCO / BAY AREA!
Spend the weekend in the infamous Black Thorn Dungeon and experience the ultimate in a kinky getaway! Featuring five play rooms and over twelve play stations, Black Thorn is able to accommodate a diverse array of fetish interests Includes two full bathrooms, a fully equipped kitchen, hardwood floors, well appointed furnishings, mirrors, elegant lighting, and air play speakers for music in every room.
Rooms: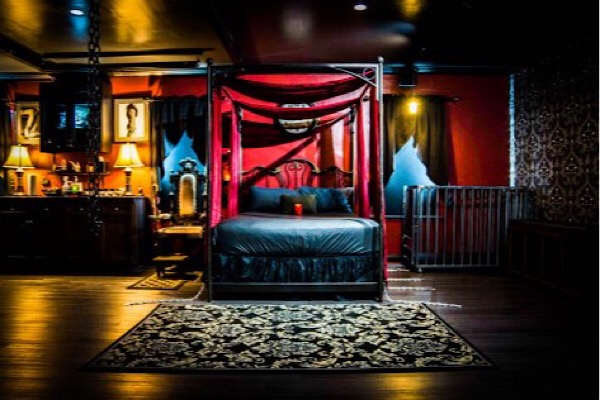 Sacred Muse - TAKEN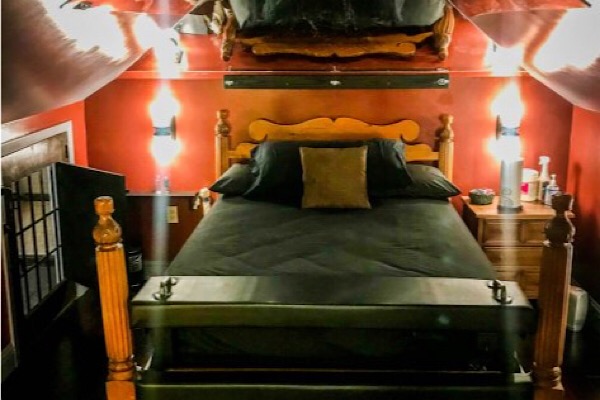 The Attic Click Here to Reserve Your Room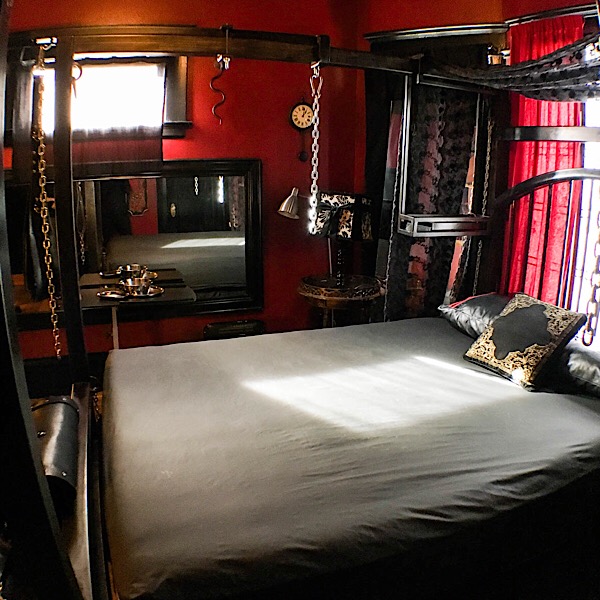 La Boudior - Click Here to Reserve Your Room
CURRICULUM
FRIDAY
6-9PM A BRIEF HISTORY OF MEDICAL FETISHISM
No history of Medical Fetishism would be complete without a discussion of the life and work of Bob Flanagan and his partner in crime, Mistress, and wife, photographer Sheree Rose. The class will start with a brief oral history followed be a viewing of the movie "Sick: The Life and Death of Bob Flanagan followed by a Q&A with Sheree herself. Join us for an interesting and thought provoking discussion that will make you see "sickness" in a different way.
9:30-1AM SICK! A FEMDOM & MEDICAL KINK PLAY PARTY
Kick off the weekend with a medical themed play party at the Infamous Black Thorn Dungeon!
Featuring:
• Bettie Bondage
• Soma Snakeoil
• Tara Indiana
with play and performances all night!
More info to come....
• Get a sneak peak at some of what we'll be teaching
• Meet and greet fellow students and party goers
• 5 Incredibly Appointed Play Rooms
Dress Code: Naughty Nurse, Rubber Nurse, Nurse Ratchet, Doctor, Patient, Mental Patient, Latex, Leather, Fetish, Evening Wear, Formal or All Black

SATURDAY
1-4PM THE BASICS OF MEDICAL SCENES:
1. What you'll need to get started with any budget and proper implements of this exciting fetish.
2. Sterile Field
3. How to give a basic and authentic exam
4. Psycgology, atmosphere, different kind of medical scenarios
5. What to say and what not to say; buzzwords and triggers
6. Come dressed for the occasion! what to wear and when to wear it; Naughty Nurse, Nurse Ratched, Rubber Nurse or Doctor
7. How to do basic enemas, catheters, sounds, and basic play piercing safely
4-5 PM LUNCH BREAK
5-8PM INVASIVE PROCEDURES:
Find new ways to bring erotic pain and pleasure through procedures that directly stimulate his prostate in ways he's never imagined:
Advanced Enemas: Soaps, Oils, Coffee, Milk, Lemon Juice, Alcohol, Urine, Barium. Epson Salts, Nozzles, Tubes, Bags, and Bardex Enemas, punishment enemas vs erotic enemas.
Advanced Anal: Strap-on Dildo Training, Pegging, Anal Training, Fisting, Getting past the 2nd sphincter, Prostate Massage and Milking
OR
Advanced Sounds: French and Foley, Cathetars, Hegar, Dittel, Hank, Van Burns, Guyon Pratt, Rosbud, Estim and Electro Sounds
SUNDAY
ALTERNATIVE TREATMENTS:
1. 1-1:30PM SALINE INFLATION: Chest / Breasts, Genitals / Balls
2. 1:30 -2:30PM ELECTRICAL-PLAY Violet Wands, TENs Unit, PEZ Unit, Dry Cell Batteries & more!
3. 230-3:30 LUNCH BREAK
4. 3:30 - 5PM STITCH HIM UP! Medical Staples and Suturing
5. 5-8PM BLOOD SPORTS: Cutting, Advanced Piercing, Butterfly Boards, Blood / Fire Cupping, Scarification
INSTRUCTORS:
Sheree Rose
Sheree was raised in a traditional Jewish family in Los Angeles. Married in 1964, she and her first husband both worked as teachers. After divorcing in the 1970's she earned a master's degree at California State University and became active in politics, Feminism, and the punk scene
Rose used photography to document the subcultures she participated in. In 1980 she met Bob Flanagan and the two began a romantic and artistic partnership that lasted until Flanagan's death in 1996. Sadomasochism was central to their relationship, and the two focused on community organizing, advocacy, and the formation of the LA chapter of the Society of Janus.
Rose and Flanagan's performance art, which explored BDSM, sexuality, death, and Flanagan's experience of living with cystic fibrosis, began in 1989 with the release of "Modern Primitives". Visiting Hours, Rose and Flanagan's most widely toured museum exhibition, specifically explored the convergence of illness and SM
Their life together is documented in the 1997 film Sick: The Life and Death of Bob Flanagan, Supermasochist, and their collected archives are maintained at the ONE National Gay & Lesbian Archives
Tara Indiana
Mistress Tara has been a professional and lifestyle Dominatrix for over 28 years. In the course of that time She's dominated over 10,000 men, taught more then 1000 professional dominatrixes and starred in over 200 Fetish Films.
Tara started her career as Dominatrix in New York City, 1989. She went on to found, "The Den of Iniquity" in 1994. The Daily News described her as "The Martha Stewart of Dungeons" in an expose about the S&M scene in New York City.
Tara revolutionized the dungeon business by bringing a legitimate corporate culture and branding to what had been a seedy, underground business mostly controlled by organized crime. It was The first professional Dungeon to obtain a federal trademark, and the first, and, to date, only dungeon to go national as a chain. At its height, DOI had flagships in New York City, Phoenix and Los Angeles. The Den of Iniquity is known for it's long list of celebrity Dominatrices, Porn Stars and Fetish Models
D.O.I. celebrated its 20th Anniversary in September of 2014 and Mistress Tara retired to pursue Her dream of teaching and political activism.
When Tara isn't dominating men, she is teaching women how to dominate men. Her workshop series, "The Art of Female Domination" offers women from all walks of life the opportunity to learn the way a professional Dominatrix learns; hands on. Her science based, empirical approach has been featured on Buzzfeed, Salon and Vice, culminating in an invitation to present at TEDxSanFrancsco on October of 2017.
Eve Minax
Dubbed by her peers as "The Approachable Pervert" Professional Domina and Kink Educator, Eve Minax delights in proliferating carnal knowledge. Learning and practicing BDSM from Chicago, to Paris, to Melbourne, and now San Francisco, she has exercised her pedagogical skills at numerous conferences across the U.S. SFSI certified, Minax practices Urban Tantra, and is a Bondassage Practitioner and trainer.
She has self produced over 100 videos and shoots for many great bondage sites like bondageland.com and seriousbondage.com. "Doctor Eve" embodies her love of kink and healing in the most devious ways! Eve Minax currently trains up and coming Dominatrices and all those kick ass kinksters who wish to deepen their practice.

Bettie Bondage
Bettie Bondage is a Professional and Lifestyle Mistress, BDSM Educator, and Fetish Performer based in Los Angeles. She has been active in the BDSM Community for over 7 years and began her path as a professional submissive receiving her training from some of Los Angeles top Dominas and Dungeons.
She identifies as a Sadist is known for her interest in heavy Needle Play and dedication to the art and ritual of Blood Play.
Mistress Bettie's journey in BDSM has lead her to educate. She has taught multiple classes (varying on Basic Needle Play, Decorative Needle Play, Blood Cupping etc.) at Stockroom University, Iron Gate, DomCon LA, Mistress Tara's the Art of FemDom, and more. She was also featured in Severe Sex Films' Advanced Guide to BDSM DVD Series teaching Needle Play.
SPACE IS EXTREMELY LIMITED!
*Admission inlcudes all the basic supplies; blue pads, bag enema, french catheter, sounds, piercing neeedles, Betadine, alchol, latex gloves, etc. Supplies for advanced classes (saline inflation, scapels, specilaty enemas or cathetar subject to supply fee or bring your own.
*Room and Board Additional, and must be booked directly through Black Thorn. Discount offered for attendees. Just say you're coming the weekend of the Medical Intensive.
*This class is open to single women, couples and respectful and well groomed single men willing to be practice dummies. (CIS or Trans)