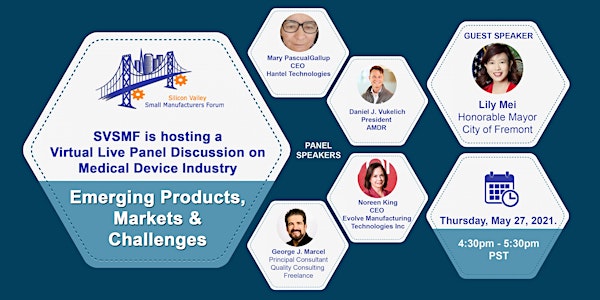 Medical Device Industry - Emerging Products, Markets and Challenges
Learn Medical Device Industry's Emerging Products, Markets and Challenges
About this event
Medical Device Industry - Emerging Products, Markets and Challenges
When: May 27, 2021 04:30 PM to 5:30 PM Pacific Time (US and Canada)
Please click the link below to join the webinar:https://us02web.zoom.us/j/88277977496
Or One tap mobile :
US: +16699009128,,88277977496# or +12532158782,,88277977496#
Panel Speakers:
Mary PascualGallup, CEO at Hantel Technologies
Mary is the CEO at Hantel. Hantel specialize in emerging markets, providing fully integrated and a la carte services to Med-Tech companies of all sizes. Hantel is highly experienced in developing a wide variety of products Including catheters, disposables, surgical instrumentation, electromechanical devices, fixtures, and testing.
Daniel J.Vukelich, President, Association of Medical Device Reprocessors (AMDR)
Dan is the President of trade association representing the interests of the global commercial medical device reprocessing and remanufacturing industry. AMDR represents the reprocessing industry, promotes reprocessing as an important healthcare strategy, and protects the interests of the industry
George J. Marcel, Principal Consultant, Quality Consulting Freelance
George is ASQ Certified: CQE, CRE, CSQE, CQM/OE, CQA, CMDA, CFSQA CPGP, CSQP, CSSGB, CQPA, CQIA, CCT, CQT
Quality professional, subject matter expert with senior level leadership and practical hands on implementation experience across product/service lifecycles, within multiple industries and range of organizational, product, and service processes structures. Business application experience in start up, virtual - supply chain, growth, compliance remediation, and best in class benchmarking corporate environments. Collaborative projects: Customer Requirements (i.e. QFD) & Usability / Risk Management, Design & Process Quality Engineering, Software Development Processes (Scrum & ALM), Medical Device/IVD/ Combination, and High tech/Automotive Compliance. Customer focused project strategic management and quality planning.
Noreen King, Founder and CEO, Evolve Manufacturing Technologies Inc.
Noreen is a graduate of the University College Galway with a degree in industrial/product engineering, Noreen is an expert in the field of manufacturing technology. Her intellect and experience in every nuance in both the materials management and production sides of manufacturing allows her to take on the most challenging jobs for customers ranging from pre-FDA approval VC funded start-ups to established $5B businesses. She dedicates herself to continual learning, whether in new processes, state-of-the-art manufacturing processes, or learning about her customers. Her openness, honesty, humor and uncanny ability to understand people, their needs and goals make her a pleasure to partner with.
Guest Speaker: Honorable Mayor Lily Mei, City of Fremont
Mayor Lily Mei was sworn in December 2016 as Fremont's first woman and minority mayor in Fremont's 63 year history. She first was elected to the Fremont City Council in 2014.
Mayor Mei is proud to be a contributor to the growing success of Fremont's public education where she was elected twice as a School Board Trustee to the Fremont Unified School District serving from January 2008 to December 2014.
(https://fremont.gov/701/Lily-Mei-Mayor)
Giveaways:
Attendees will receive Free Software. They can choose one of the several modules of software offered by SolSemUSA Inc.
Disclaimer:
Silicon Valley Small Manufacturers Forum (SVSMF) is promoting the above event voluntarily for the benefit of its contacts and whoever is interested in general.