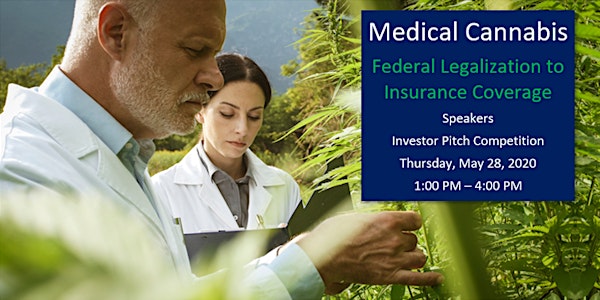 Medical Cannabis Federal Legalization*Insurance Coverage*Research & Funding
There are exceptional opportunities in the global medical cannabis, hemp and CBD markets and investors are strategically investing for ROI.
About this event
ZOOM Event
THURSDAY, MAY 28, 2020 - 1 PM - 5 PM (Pacific Standard Time)
Agenda
1:00 PM – 2:30 PM Speakers and Panels
2:30 PM – 4:00 PM Company Pitch Presentations & Investor Judging
4:00 PM – 5:00 PM Networking in zoom Rooms
Topics
Current impact on utilizing data and technology to achieve federal legalization and remove cannabis from Schedule I of the Controlled Substances Act
Investing in Technology: Strategies to Strengthen Cannabis Efficacy
Description
Exceptional times in the global economy and investors are considering how to strategically position themselves for success within the rapidly growing cannabis, CBD and Hemp industries.
This panel of industry experts will discuss how technology and data are accelerating the acceptance of Medical Cannabis and the outlook on investing opportunities.
Discussion topics include, but are not limited to:
Technology and Data to track Medical Cannabis efficacy
FDA's Role in Regulating Marijuana as a Potential Prescription Drug
Federal funding for opioid programs
Banking regulations and their impact on growth
Progress for Health and Medical Insurance cannabis coverage
Social impact investing in the US – Global Opioid Crisis
Help us to get Medical Cannabis Covered by Health Insurance!
Join our movement to help us get medical cannabis covered by health insurance! Please sign the petition today!
Copy and paste in browser - www.change.org/p/blue-cross-blue-shield-i-want-my-insurance-to-cover-medical-cannabis-through-cureall
Speakers
Moderator, Ian Rassman, NORML, Chosen Payments-www.chosenpayments.com
Mathew J. Nordgren, CEO Founder, Arcadian Fund - www.arcadianfund.com
Elaine Richer, CEO & Founder, MyCureAll- www.mycureall.com
Elisabeth Mack, RN, BSN, MBA - Founder of Holistic Caring - www.holisticcaring.com
Tracy Ryan, Founder, CannaKids & CKSoul - www.cksoul.com
Carol Ortega Algarra, Founder & Managing Director, Muisca Capital Group - www.muiscacapital.com
Jacques Nir, COO & Founder, MyCureAll - www.mycureall.com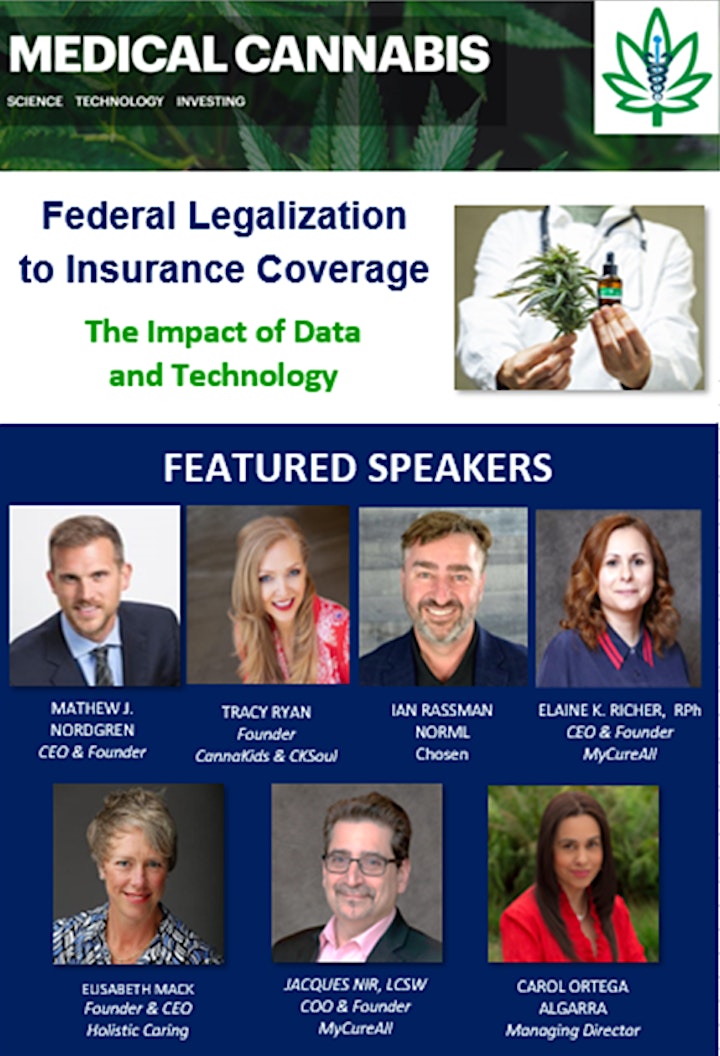 Judges - Investor Pitch Competition
Moderator - Mathew J. Nordgren - Founder & CEO, Arcadian Fund - www.arcadianfund.com
Adam Levin - Executive Chairman, HIGH TIMES - www.hightimes.com
Alan Stone - Managing Director, Wall Street Research - www.wallstreetresearch.org
Anthony Coniglio - Chief Executive Officer, New Lake Capital Partners - www.newlake.com
Brent Johnson - CEO, Hoban Law Group   - www.hoban.law
Codie Sanchez - Managing Director & Partner, Entourage Effect Capital - www.entourageeffectcapital.com
Dr. David Cunic - CEO, UCS Advisors www.UCSADVISOR.com
G. Ryan Ansin - Co-Founder, Revolutionary Clinics - www.revolutionaryclinics.org
John Nemanic - Green Coast Capital International S.A. - www.greencoast-capital.com
Nic Easley - CEO & Managing Director, Multiverse Capital -www.multiversecap.com
Investor Pitch Competition Presenting Companies
Moderator - Mathew J. Nordgren, Founder & CEO, Arcadian Fund
Leafwire - Peter Vogel, CEO - www.leafwire.com
Manifest Seven - Sturges Karban, Co-Founder & CEO - www.manifest7.com
MyCureAll - Elaine K. Richer, Co-founder & CEO - www.mycureall.com
Natur Bazaaz SAS - Mohammad Hassain, CEO - www.naturbazaar.co
Polar Extracts - Zach Sekar, Co-founder & CEO - www.polarextracts.com
The Blinc Group - Arnaud Dumas de Rauly, CEO & Chairman- www.theblincgroup.com
iPill Dispenser - Dr. John Hsu, Co-Founder & CEO - www.ipilldispenser.com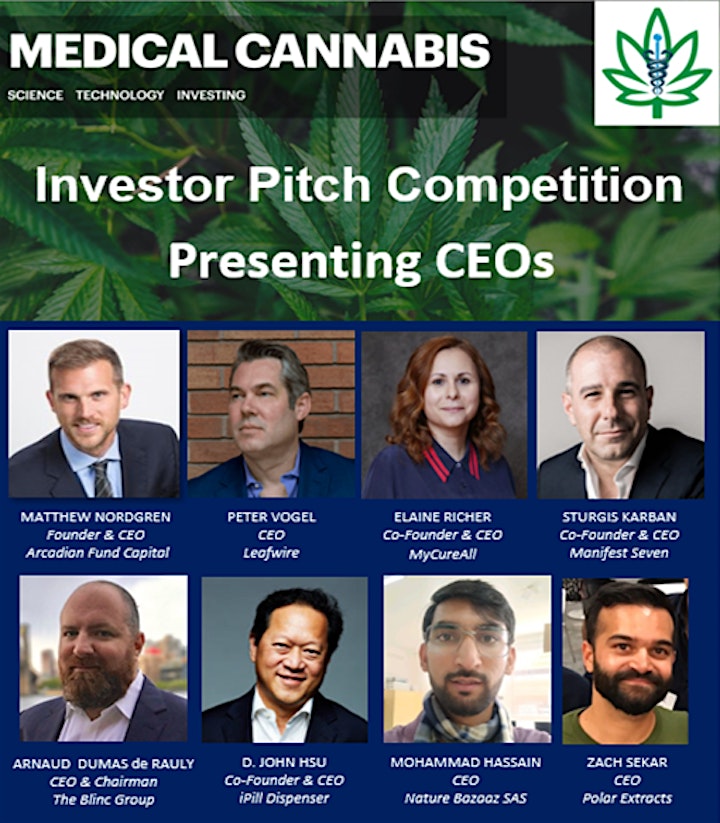 Marketing and Media Partners
3C Consulting, LLC - www.3ccannabis.com
Atlas Consulting - www.atlasconsultinginc.com
Cannabis Pitch Live - www.cannabispitchlive.com
CannaKids - www.cannakids.com
Cannabis Investing Forum - www.cannabisinvestingforum.com
Chosen Payments - www.chosenpayments.com
CKSouls - www.cksouls.com
EPC360 - www.epc360.org
Hemp for the Future
Holistic Caring - www.holisticcaring.com
LA Joint Ventures - www.lajointventures.com
LA NORML - www.lanorml.org
Leafwire - www.leafwire.com
Lyle Bogorad - Chromatic Clouds
Marketing Completion Fund - www.completionfund.com
Muisca Capital Group - www.muiscacg.com
Polar Extracts - www.polarextracts.co
Reginald Grant - www.reginaldgrant.com
Roc's Regal Strategies LLC
U.S. Weed Channel - www.usweedchannel.com