Medical Biophysics Module: Medical Device Innovation & Entrepreneurship
Event Information
Location
Sunnybrook Health Sciences Centre
2075 Bayview Avenue
Lecture Theatre (M6-502)
Toronto, ON M4N 3M5
Description

Coordinators:
Drs. Graham Wright, Brian Courtney and Ahmed Nasef
Location:
Sunnybrook Health Sciences Centre, 2075 Bayview Ave, E-Wing, Ground Floor, Lecture Hall M6-502. Please refer to the schedule below for detailed information on lectures dates and locations.
Course Description:
Innovations in Medical technology have led to revolutionary advancements in health care. As new devices and technologies are developed, patients are benefiting from more targeted, less invasive treatments. However, new standard of care technologies won't reach the bedside unless inventors have the skills to bring them to market.
The Medical Device Innovation and Entrepreneurship course is an opportunity to explore and navigate the principles underlying the challenges of medical device development. The course is designed to engrain the key mindsets and skill sets that help make successful medtech entrepreneurs. The course addresses the fundamental aspects from developing an idea to commercial success, enabling students to gain knowledge of the role of intellectual property management, regulatory pathways, reimbursement mechanisms, funding models, and business strategy in the successful commercialization of new medical device technologies.
The course is delivered using a mix of lectures, guest speakers, workshops, team projects, recommended readings and online learning materials. In addition, students get the opportunity to network with local experts and thought leaders in the medtech field. The module is recommended for students who would like to: (1) catalyze innovation in major medtech companies; (2) build their own medtech start-ups; (3) draw on world-class innovative research conducted in Canadian universities, research institutes and hospitals; and (4) lead translational research projects.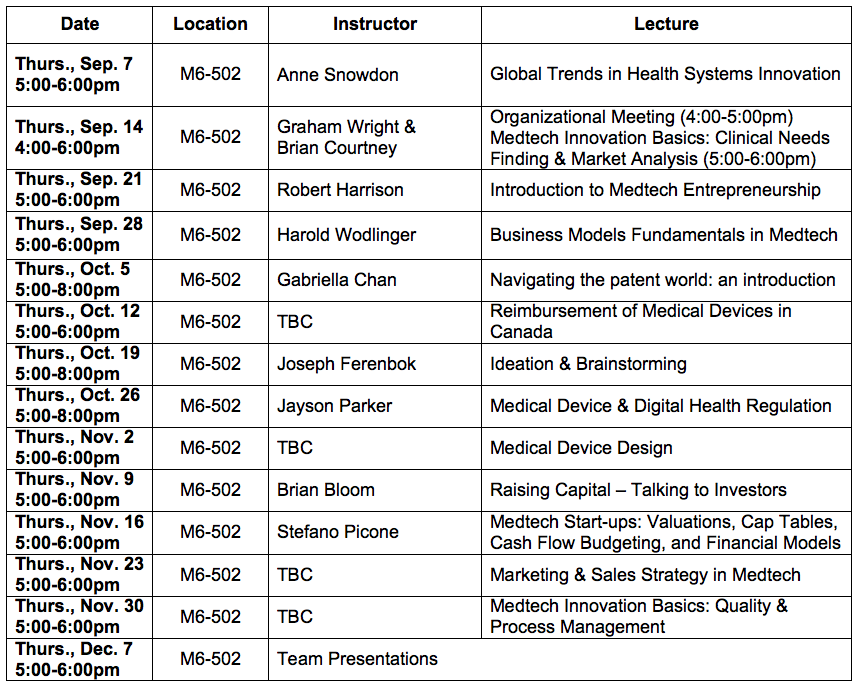 Evaluation Method:
Group presentations on market and stakeholder analysis, prior art, and preliminary concept with associated regulatory and reimbursement plans for identified clinical need (+ Participation in weekly lectures).
Date and Time
Location
Sunnybrook Health Sciences Centre
2075 Bayview Avenue
Lecture Theatre (M6-502)
Toronto, ON M4N 3M5