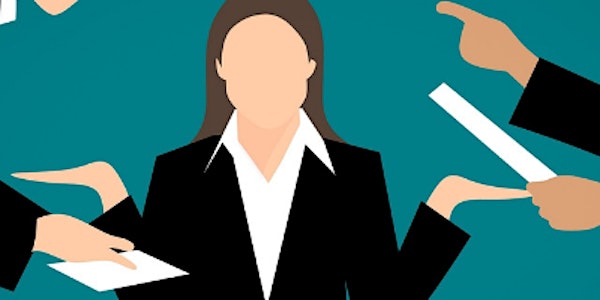 Mediator In the Middle: 2022 CME/CLE for DRC Certified Mediators - 9/16/22
LIVE WEBINAR hosted on Zoom 3 HOUR LIVE WEBINAR hosted on Zoom: 2 hours of Continuing Mediator Education (CME) and 3 hours NC CLE Credit.
About this event
Learn timely mediation methods, strategies for mitigating bias, and updates on NC case law.
3 hours general North Carolina Continuing Legal Education (CLE) credit
2 hours Continuing Mediator Education (CME) credit
Every active MSC and FFS mediator certified by the North Carolina Dispute Resolution Commission (DRC) must annually complete 2 hours of continuing mediator education (CME) certified by the DRC. As this credit is not permitted to roll over to subsequent years, this course is approved by the DRC for only two hours of CME. Review the DRC rules here.
The Mediation Center is an approved CLE sponsor under the regulations promulgated by the North Carolina State Bar Board of Continuing Legal Education.
SCHEDULE
9:00am – 9:05am – Welcome
9:05am – 10:05am - Finding Middle Ground with presenter Tara Lynn Kozlowski
Join Tara Lynn Kozlowski for an overview of the field of mediation today. Specifically, Kozlowski will discuss recent updates to NC case law as well as hiccups related to mediation that have been brought to the court's attention. She will also outline recent amendments to the DRC Rules and Policies, analyzing the DRC program rules, standards, and best practices that apply to each case. This presentation details information that every mediator should know to be well-informed about mediation best practices and the current expectations of DRC and the courts.
10:05–10:10 a.m. - Break
10:10–11:10 a.m. - Mediating the Digital Age with presenter Frank Goldsmith
How can we make the most of mediation in the digital age? In his session, Frank Goldsmith details how to conduct mediations remotely to conform with Rule 4(a)(2). Goldsmith will discuss how to resolve disputes over remote vs. in-person conference (or hybrid). Specifically, he explores how to choose the right platform, set up and schedule remote mediation, and use breakout room and screen share functions. Additionally, Goldsmith will explain how to minimize the work of writing agreements in-the-moment to simply writing the agreement and having it signed. He'll also offer tips related to lighting, sound, security, and dealing with attendance by non-parties and more.
11:10–11:15 a.m. - Break
11:15 a.m.–12:15 p.m.  - Mediating, the Mind Matters with presenter Sharon Tracey Barrett
As mediators, we know that biases can fuel conflict, create hostility, cloud judgment and prevent people from resolving disputes at mediation. This presentation will review biases we may encounter—or hold without even realizing it. The Standards of Conduct for Mediators demand that DRC-certified mediators be free of bias toward the parties and toward the disputes they mediate. Plus, mediators must respect self-determination by the parties, all while helping them to make thoughtful and informed decisions at mediation. Barrett will suggest specific ways that mediators can identify and minimize bias in themselves and others. She outlines the important aspect of the work of all mediators to recognize and mitigate cognitive biases that influence the attitudes, behavior, and decision-making of all people.
PRESENTERS
Tara Lynn Kozlowski is the Executive Director of the North Carolina Dispute Resolution Commission. She has been with the Commission since July of 2018. Prior to working with the DRC Mrs. Kozlowski was a family law litigator and mediator, practicing with a small firm in Wake County. Mrs. Kozlowski obtained a BS in Chemistry from Indiana University, and her JD from The University of Toledo College of Law in 2006. She lives in Apex with her husband, two daughters, and yellow lab. Please feel free to contact her at the DRC office anytime with questions or to introduce yourself.
Frank Goldsmith operates a mediation and arbitration practice under the name Goldsmith Resolutions, based in Buncombe County. He is a graduate of Davidson College and received his Juris Doctor degree with honors from UNC-Chapel Hill, following which he served as an Army captain(JAGC) during the Vietnam Era before returning to civilian litigation practice in North Carolina. Frank was certified as a mediator in 1996 and has mediated hundreds of state and federal cases in the past 25+ years. He has consistently been listed in "Best Lawyers in America," "Super Lawyers," and "North Carolina Legal Elite" in the field of alternate dispute resolution. He has served on the Boards of Governors of both the North Carolina Bar Association (NCBA) and the North Carolina Advocates for Justice (NCAJ) and was inducted as a Fellow of the American College of Trial Lawyers in 1994.
Sharon Tracey Barrett is a retired Superior Court Judge and a former Buncombe County District Court Judge. She currently serves as an Associate Judge and Justice for the Eastern Band of Cherokee Indians and as an Emergency Superior Court Judge. Through a practice called Barrett Resolutions, Sharon now works as a mediator and arbitrator. She is a member of the North Carolina Chapter of the National Academy of Distinguished Neutrals. She graduated cum laude from Boston College in 1983 and received her J.D. degree from Georgetown University Law Center in 1986. She practiced law in Asheville for nineteen years, focusing primarily on civil litigation, until she became a judge in 2005. She was President of the Buncombe County Bar from 2002-2003 and served for many years on the board of directors of The Mediation Center.
All registration fees benefit The Mediation Center.