MEDIA ON TRIAL with JOHN PILGER

Thursday, October 19, 2017 from 6:30 PM to 10:30 PM (BST)
Event Details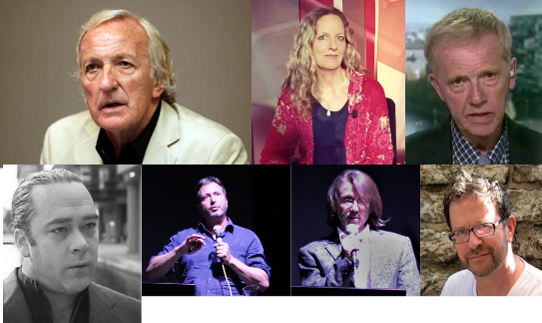 LIVE PRESENTATIONS BY: JOHN PILGER, VANESSA BEELEY, PETER FORD, PATRICK HENNINGSEN, Prof PIERS ROBINSON, ROBERT STUART and Prof TIM HAYWARD
What should we expect from the mainstream media? Accurate reporting? Impartial analysis? Speaking truth to power? At times of proposed war or foreign intervention the public has a right to expect all these.
Establishment media tends to be dismissive of independent journalism.  With its greater size and influence the mainstream media (MSM) has avoided critical questions about its own reporting and journalistic standards and deflects calls for corroboration, verification and independent analysis.
The leviathan that is the mainstream media has formed the narrative and stifled dissent but that's going to change.  Our panel of seven experts including legendary investigative journalist John Pilger, will be applying the scrutiny to mainstream media reporting which we should all demand, given its power to sway opinion when our government is seeking consent for war.
Specific instances of falsehoods which have led to disastrous and deadly campaigns will be highlighted with fact based evidence. Examples of insidious propagandist reporting for war will be analysed. 
It's time to hear 'the other side' – the one that the mainstream media blocks from the airwaves and print media.
John Pilger, Vanessa Beeley, retired Ambassador Peter Ford, Patrick Henningsen, Professor Piers Robinson, Robert Stuart and Professor Tim Hayward.
When & Where

Bloomsbury Central Baptist Church
235 Shaftesbury Avenue
(corner of Bucknall St)
WC2H 8EP London
United Kingdom


Thursday, October 19, 2017 from 6:30 PM to 10:30 PM (BST)
Add to my calendar
Organizer
Frome Stop War is a non-party political, self-funded, independent anti-war group started in 2011 in response to the bombing of Libya. Formed and run by like-minded people in Frome, Somerset. We have organised a series of successful events and administer a very lively and informative facebook page.
As the events of the 21st Century have unfolded it has become more and more important to understand and oppose the continual manipulation for war and intervention which has resulted in the rise in terrorism and an exacerbated refugee crisis.
Frome Stop War has hosted politicians, professors, clergy, ambassadors, SAS veterans, investigative journalists, peace activists, academics and more. Our events are strident with expert analysis – much of it first hand from those who have worked in conflict zones. Expertise often ignored by the mainstream media. Our goal, therefore, is to give a platform to those whose experiences and insight would otherwise not be heard, and to redress the continual narrative for war and military intervention.