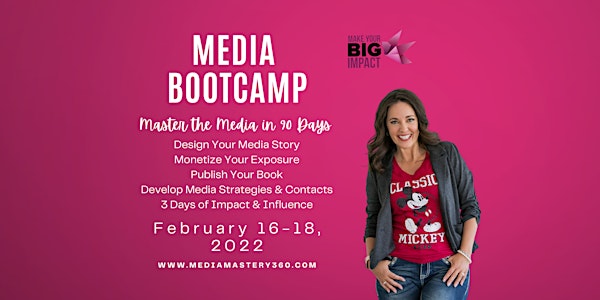 Media Mastery Bootcamp - 3-Day Live Event
Are you ready to master the media and create more publicity? Attend the 3-Day Media Mastery Bootcamp for your most visible year!
When and where
Location
Sheraton Orlando Lake Buena Vista Resort 12205 S Apopka Vineland Road Orlando, FL 32836
About this event
Are you ready to speak on more stages? To be interviewed on more shows?
Attend the 3-Day Media Bootcamp to Prep for your MOST Visible Year!
3-Day Media Mastery Bootcamp to Create Your Media & Marketing Strategy
Would you like to get booked on more stages?
Get featured in the media?
Get your story out to the masses?
At the Media Mastery Bootcamp, you'll learn the O.P.A. method on how to:
Attract Leads
Build your Contacts & Followers
Enroll Clients
and Make Money every Month
Without continuous media exposure, publicity with OTHER PEOPLE'S AUDIENCES, it's a constant struggle to get people to say,
"I've heard of You",
Refer you,
and most importantly, Do business with you.
Without media exposure, you never get to unleash your entrepreneurial spirit on the world, to make the IMPACT you want to make, or the INCOME you thought you would.
This is why I'm so glad to offer you a 3-Day Media Mastery Bootcamp to create the Exposure & Impact Solution, to teach you how to create more exposure and attract more clients.
Do you feel ready to respond to a Call for Speakers?
Do you know how to leverage a podcast interview for even more interviews, and most importantly, to grow your own list?
During this 3-part workshop you're going to create:
How to use position yourself to attract media
How to get clear on your media story to make your big impact
How media exposure can help you build your network one to many vs one to one
How to create "evergreen" media, so can attract leads, even when you're not LIVE.
How authors get free publicity
How to build and grow your media database everyday
How to write a pitch, who to send it to, and how often to send it
This is a LIVE, Interactive Course, hosted by 15-times Best Selling Author & Media Exposure Specialist, Angel Tuccy.
Here's what you can expect at The Media Mastery IMPACT Bootcamp:
The program begins at 3:00pm ET Wednesday, February 16, 2022, and ends at 5:00pm Friday night.
*Bonus Group Tour at Disney Springs on Friday night*
Here are just some of the things you will learn:
1) The Absolute Simplest To Find Journalists Who are ALREADY Looking For Your Topic
2) The Success Strategy of a Beginner with Zero Skills to Attract Media
3) Proven Pitch Methods, including SENDING out your first pitch
4) Get your book published in less than 90 days
5) How to create an organic best seller campaign
6) Booking 100 interviews a year and being featured on 1000's of news desk sites.
7) How to fit media marketing into only a few hours A MONTH.
8) When and how to use "The 3 Pitches" (Press Release, Media Pitch, Pitch Reply)
9) Group dynamics of putting together your News Angle
10) You will walk away ready for more stages in 2022!
_______________________________
3-Day Media Mastery Bootcamp -  February 16-18
Powerful Workshops
Media Resources
Develop Media Strategies & Powerful Contacts
Author Spotlights Sessions
Speaking Opportunities
3 Days of Impact & Influence
_______________________________
February 16-18 Schedule:
(Bonus VIP Day* February 15 - Day at EPCOT)
Day One:
Optional Personal Styling Session & Shopping Trip with Patsy Sanders 10:00am-2:00pm
VIP Special Session: 3:00pm-5:00pm*
General Session 5:00pm - 8:00pm
Day Two:
Thursday 9:00am-6:00pm General Session
VIP Lunch*
Thursday 6:00pm - 8:00pm Special Sessions 
Dinner on Your Own
Day Three:
Friday 9:00am-6:00pm General Session
Optional: Visit to Disney Springs 7:00-9:00pm
_______________________________
General Admission Tickets are $997 for Access to All General Sessions
* VIP Tickets $1297 include VIP Special Sessions & VIP Gift Bag.
Must have VIP ticket to attend special VIP sessions.
All Events Held in Orlando FL
Hotel Accommodations for October 13-16 can be placed at Sheraton Lake Buena Vista Hotel
https://www.marriott.com/hotels/travel/mcobs-sheraton-orlando-lake-buena-vista-resort/
Other Hotel Options Next Door
Fairfield Inn & Suites by Marriott
12191 S Apopka Vineland Road, Orlando 
$140/night
Courtyard by Marriott Orlando Lake Buena Vista
8501 Palm Parkway, Orlando
$130/night
Hotel Option Across the Street
Hyatt Place Orlando 
8688 Palm Parkway, Orlando 
$128/night
_______________________________
Travel Arrangements:
Arrive Wednesday morning. Fly into Orlando MCO Airport.
Sheraton Lake Buena Vista is 20 minutes from MCO airport.
Depart Saturday (or stay the weekend, if you'd like)
Breakfast is available in the hotel. For breakfast and lunch, the hotel has a quick-service coffee shop and poolside restaurant. There is a Starbucks coffee shop in the parking lot & many restaurants within walking distance.
Lunch is provided for VIP ticket holders on Thursday & Friday.
EPCOT Tickets are provided for VIP ticket holders on Tuesday.
Dinner is on your own.