Description
Want to get high-profile media coverage for your business but not sure how to get started?


---
Join me at Media Influence Live on July 5 and 6 in Central London and you'll get to meet journalists and influencers from top media outlets including the Guardian, BBC, Grazia, ITV, The Sun's Fabulous magazine & more. You'll also get to meet top bloggers, podcasters and Youtubers who are building influence through their own content.
You won't just get to hear them speak. You can chat to them, informally, throughout the day about what kind of content they're looking for and how to pitch them. You'll also get to meet them all, one-to-one, in our speed networking session.

Here's what you'll learn:
- What kind of content journalists and influencers are looking for (plus how to get in touch)
- How to write the perfect pitch for your ideal publications, programmes and podcasts
- Practical tips to help you 'get found' by journalists and influencers (without sending a pitch or press release)
- Why creating your own media e.g. blogs, podcasts, videos & social media can help you get noticed by journalists, influencers and prospective clients (plus how to do it with style)
- How to grow your media influence by working with high-profile bloggers, YouTubers and Instagrammers
---
THE SPEAKERS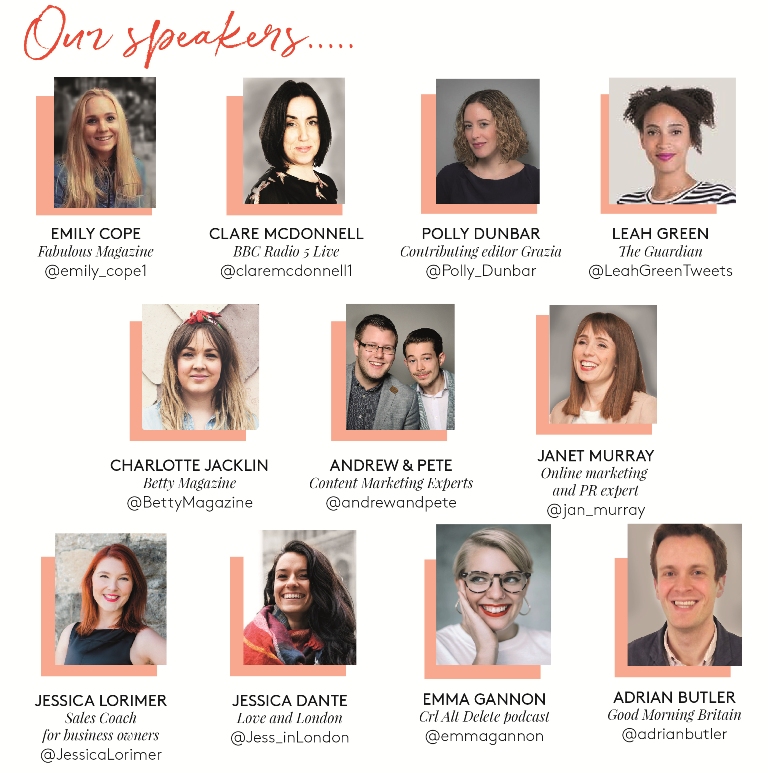 Adrian Butler, Good Morning Britain, @adrianbutler
Clare McDonnell, BBC 5Live / BBC World Service, @claremcdonnell1
Polly Dunbar, Contributing editor, Grazia, @Polly_Dunbar
Leah Green, The Guardian, @LeahGreenTweets
Janet Murray, Online Marketing & PR Expert, @jan_murray
Emma Gannon, Crl Alt Delete podcast
Emily Cope, Fabulous Magazine, @emily_cope1
Charlotte Jacklin. Betty Magazine, @BettyMagazine
Andrew & Pete, Content Marketing Experts, @andrewandpete
Jessica Lorimer, Sales Coach, @JessicaLorimer
Jessica Dante, Love and London, @Jess_inLondon
---
THE VIP MASTERMIND
Want to get even more value from the event?Stay on for our mastermind session at the end of the day (eight delegates only). You'll get 20 minutes in the hotseat to talk about your business or brand and get feedback from our panel (the benefits will outweigh the scariness - honest!).
---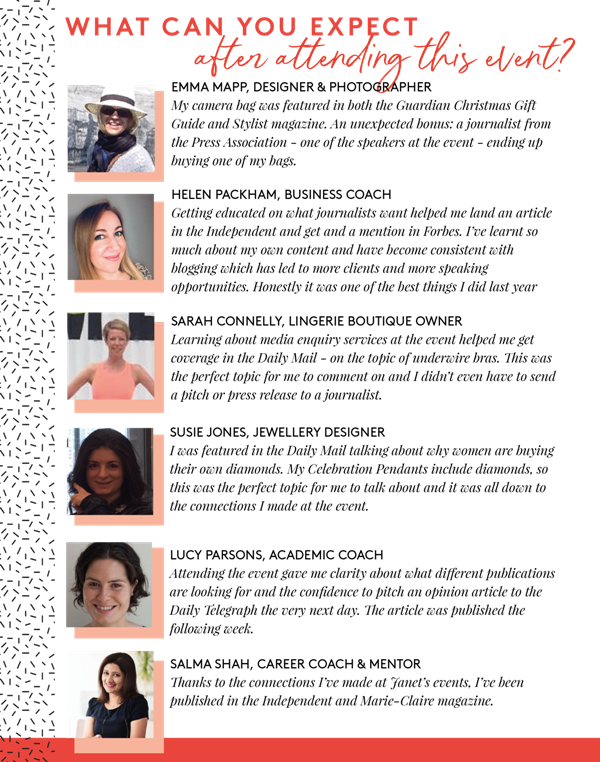 ---
THE PROGRAMME (Day 1)
9.30 - 10.00: Registration and networking
10.00 - 10.10: Introduction with Janet Murray
10.10 - 10.40: How to get media famous (without even trying): Janet Murray, event founder

10.40 - 11.10: Newsjacking: Leah Hardy (Guardian) & Polly Dunbar (Grazia)
11.10 - 11.40: Video: Adrian Butler (ITV's Good Morning Britain) + TBC
BREAK
12.10 - 12.40: Magazines: Online: Emily Cope (Fabulous) & Charlotte Jacklin (Betty Magazine)

12.10 - 1.10: Audio: Clare McDonnell (BBC) & Emma Gannon (Crl Alt Delete)
LUNCH
2.15 - 3.45: Speed networking

3.45 - 4.00: Wrap up
4:00 - 6:00: Mastermind session - get 20 minutes in the hotseat to talk about your PR challenges with the speakers ***VIP ticket holders only*** **Maximum eight delegates**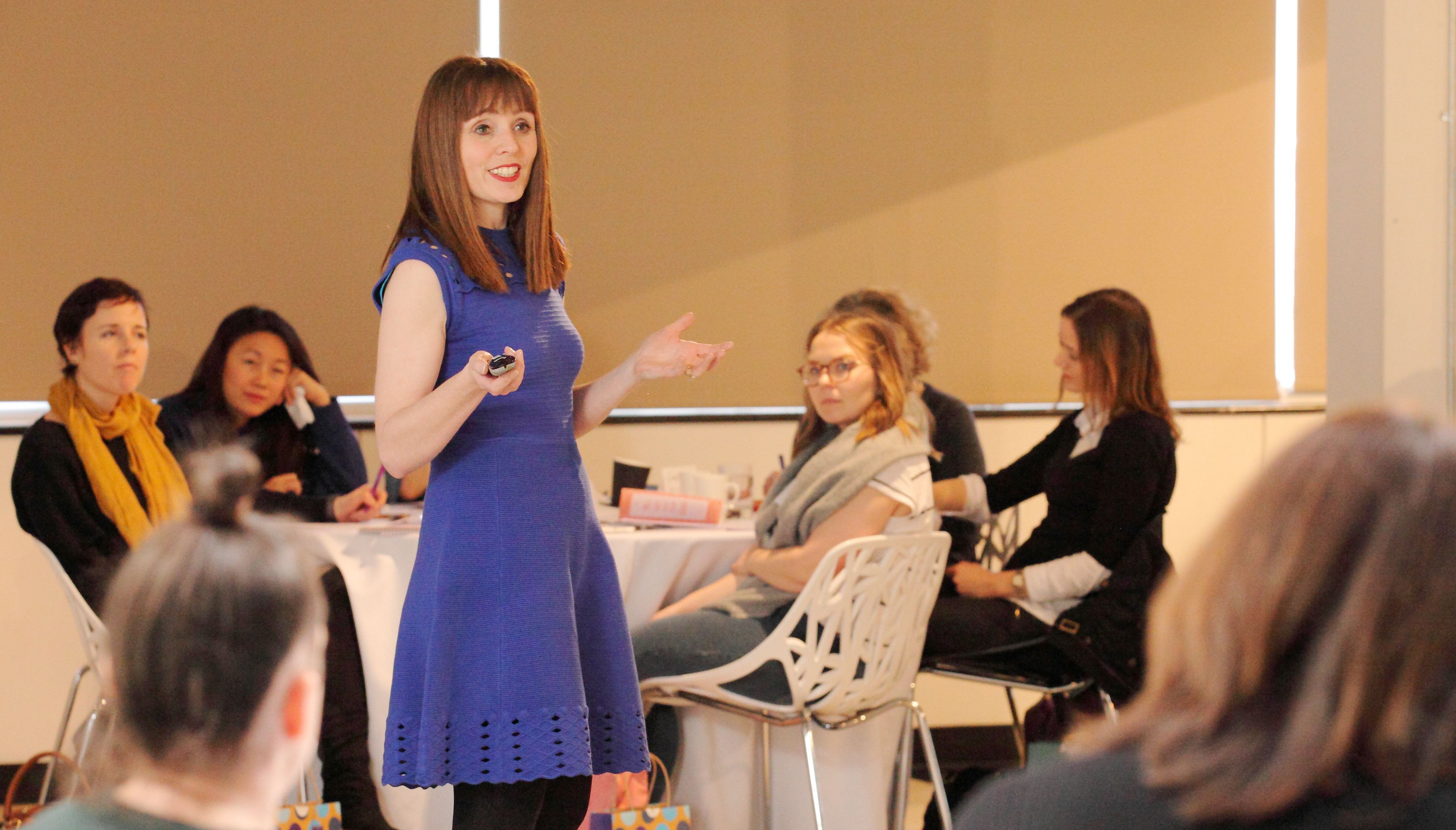 ---
THE PROGRAMME (Day 2)
9.30 - 10.00: Registration and networking
10.00 - 11.15: Session 1: Overcoming your fears about being 'seen' with Jessica Lorimer
If you want to build your media influence, you have to be prepared to step into the spotlight. This can be a scary prospect - particularly if you you don't have much experience of being featured in the press, giving podcast interviews and/or speaking in public. Even if you do have some experience, you will have fears about becoming more visible - from what to share (and when) to dealing with criticism/negative comments. This practical session will feature a guest spot from sales expert Jessica Lorimer, who will share her tips and strategies on overcoming your fears about being 'seen'.
BREAK
11.45 - 1.00. Session 2: 'How to get anyone to say 'yes' to you with Andrew and Pete.
In this fun, interactive session, content marketing experts Andrew and Pete will share some of the ninja tricks they've used to land speaking gigs, get 'big name' guests on their podcast/YouTube channel and create exciting opportunities for their business. By the end of the session you'll have tons of creative ideas you can use to build relationships with journalists, influencers, podcast hosts, event organisers and other folk who can help you get seen and heard in the right places.
LUNCH
2:00 - 2:45 Session 4: Practical pitching workshop with Janet Murray
We'll identify your best ideas and turn them into email pitches. No excuses - we'll get it done there and then (plus I'll send you home with cheat sheets & checklists that will help you write compelling email pitches in minutes).
BREAK
3:15 - 3.45. Session 3: Creating your media influence strategy with Janet Murray We'll map out your PR and marketing activities for the next quarter. Which programme/publications/podcasts do you want to be featured in? What kind of content are you going to create to build your media influence? What contacts do you need? (We'll try and gather them there and then if we can).
3.45 - 4.00 - EVENT WRAP UP
---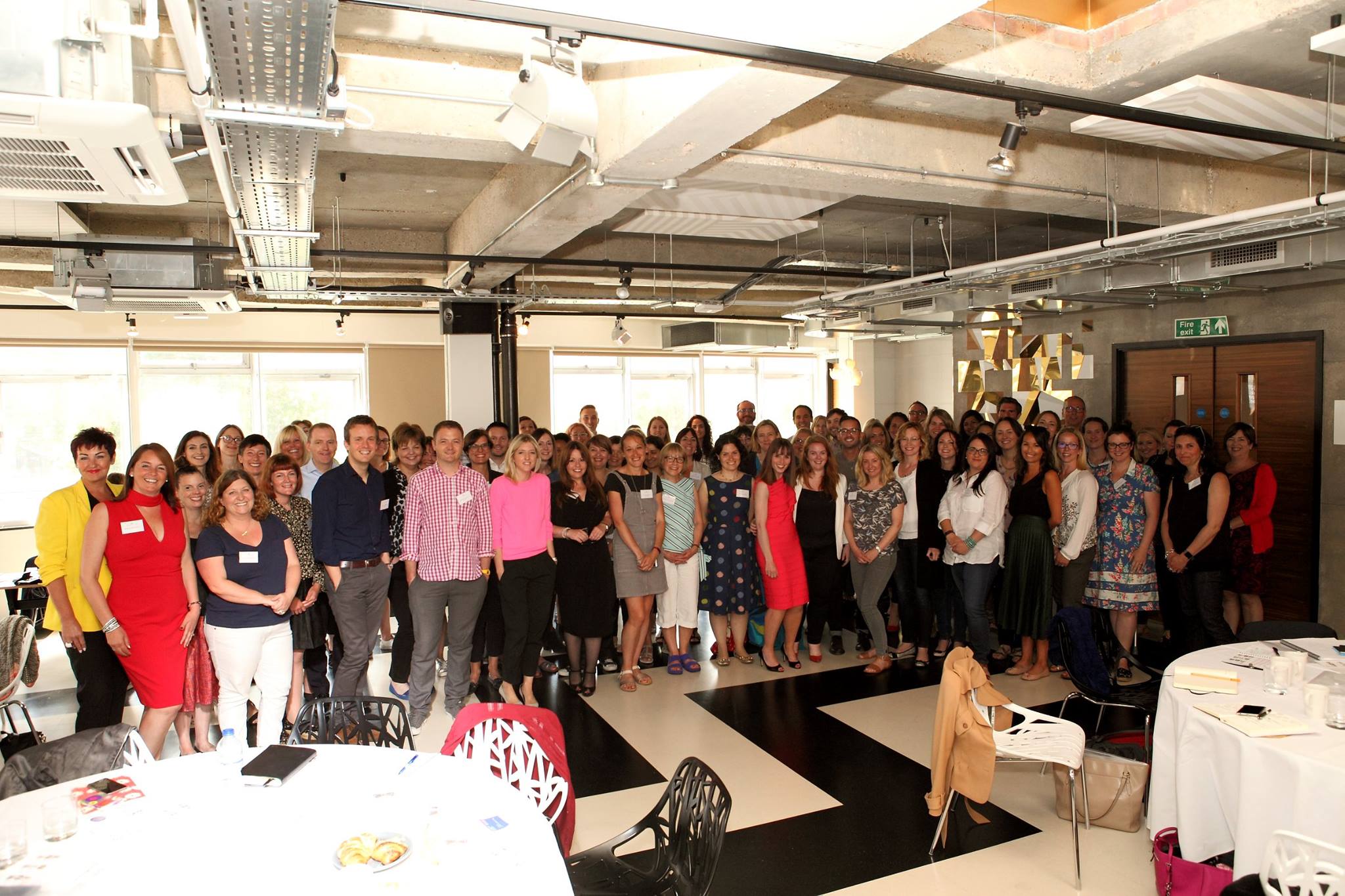 Media Influence Live is for you:
You run your own product or service-based business and want to know more about how you can get featured in high-profile media outlets
You run your own PR/marketing agency and would love to land more media coverage (for yourself and/or your clients)
You work in a PR role for a charity/not-for-profit organisation and would love to attract more media coverage
Media Influence Live is not for you if:
You work in a PR/marketing role for a medium/large PR agency
You're looking for a magic solution. Our speakers will tell you what you need to do to get media exposure but you'll have do the work to make it happen
You're not ready to be seen in the media and be the 'face' of your brand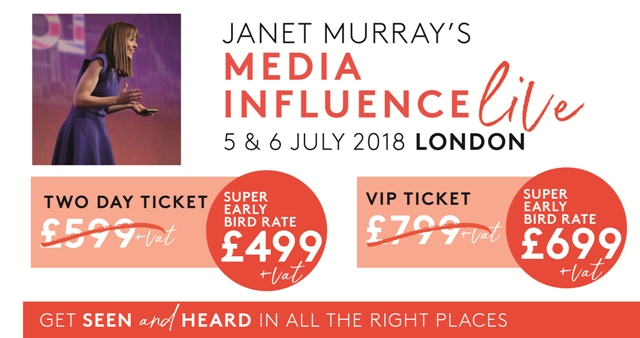 FAQs
Where is the event?
The Trampery, London (nearest tube: Old Street)
What are the timings?
Day 1: 10-4pm
Day 1 plus mastermind session: 10-6pm
Day 2: 10-4pm
What's the difference between the different ticket types?
Media Influence Live Two Day Ticket - July 5 & 6, 10-4pm
Media Influence Live VIP Ticket - attend Media Influence Live on July 5, then stay on for an additional mastermind session with the speakers and get 20 minutes in the hotseat to talk about your business/brand (available to just 8 delegates). The come back and join Media Influence Live Day Two on July 6, 10am to 4pm.
Do I have to come to both days?
No you don't have to, but the ticket does cover both days.
Can men come to Media Influence Live?
Most of our delegates are women, but men are absolutely allowed. You might even get special treatment ;)
Will there be opportunities for socialising?
Yes we'll organise dinner and drinks for delegates close to the venue on the evening of July 5 (and possibly also on July 4 depending on how many people are in London ahead of the event).
Can I bring my partner?
Of course - as long as they buy a ticket if they're attending the event itself.
What is the refund policy?
Please be advised that if you are unable to attend the event we are unable to offer refunds, transfers to a digital ticket or credits for a future event. If you opt for the two instalment price plan for your ticket and cancel after the first instalment, we will be unable to offer a refund on the first instalment.
Is my registration/ticket transferrable?
If you are unable to make the event, you may transfer your ticket to a friend/colleague. Just drop us a line at least 24 hours before the event with their name (and dietary requirements).
Can I pay in instalments?
You can pay for a 2 Day Ticket in two instalments. You will need to buy the first ticket - called 2 Day Ticket (TWO INSTALMENTS) which is £275+VAT and then we will invoice you the second instalment on the 14th of May, which will be a further £275+VAT, due for payment on receipt of invoice. The overall ticket cost is slightly more expensive than just buying a single payment 2 DAy Ticket and that is to cover the administration costs.
Why is there no instalment option for the VIP tickets?
Historically we have found that the VIP tickets sell out almost immediately and therefore have to be offered on a first come, first served basis, and we cannot therefore offer an intalment option on these tickets.
Is there an alternative method of payment?
Automating registration and payment via Eventbrite helps us keep ticket prices down so that is our preferred method of payment. However, you can opt to pay by invoice (head to the Other Payment Options link at the bottom of the ticket booking page). If you ask us to invoice you, your place will be confirmed on receipt of payment. If we don't receive payment within 30 days (7 days for the mastermind tickets) we'll have to release your ticket for resale. Please also note that payment MUST be received at least 14 days prior to the event date.
What if I don't have/ don't want to use PayPal?
You don't need to a PayPal account to buy a ticket for this event. When you get to the checkout select 'checkout as guest' and you'll be able to enter your credit or debit card details as normal.
Where can I contact the organizer with any other questions?
Please email any queries to janet@janetmurray.co.uk
Do I have to bring my printed ticket to the event?
No