Location
Chicago Hilton Towers
720 S Michigan Ave
Chicago, IL 60605
Description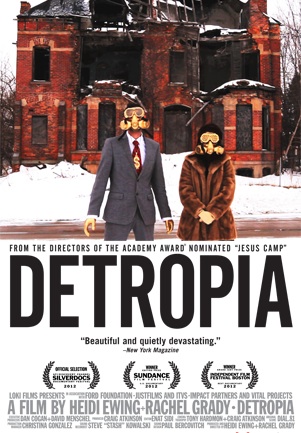 Media Impact Celebration - Henry Hampton Award for DETROPIA
A film by Heidi Ewing and Rachel Grady, the creators of Jesus Camp
Saturday, April 6 @ 8:30-10:30 pm
Dessert, Drinks, Music and Discussion (Fee $30)
Join us in a celebration of the Henry Hampton Award for DETROPIA, a requiem for the death and rebirth of a great American city. Featuring Cara Mertes, Director of the Sundance Institute Documentary Film Program, Ric Roman Waugh, Director of Snitch, Rahsaan Harris, Executive Director of Emerging Practitioners in Philanthropy (EPIP), DETROPIA filmmakers Heidi Ewing and Rachel Grady, and J. Mikel Ellcessor, General Manager of WDET.
Detroit, on the brink of bankruptcy and facing staggering losses in both population and manufacturing jobs, is the stage for this evocative film. As city officials conduct the most dramatic "downsizing" of an American city ever seen - demolishing thousands of homes, and cutting basic services, DETROPIA tells the nearly surreal story of residents striving to make ends meet, refusing to abandon hope and working to help Detroit envision a radically different future. Kick off the conference with music from the Motor City, libations and a powerful story of transformation and resilience.
Co-hosted by Emerging Practitioners in Philanthropy and the Council on Foundations.