Actions and Detail Panel
Media Girls LA Presents: "Werk The Web" Bloggers Brunch
Sun, March 19, 2017, 1:00 PM – 3:30 PM PDT
Description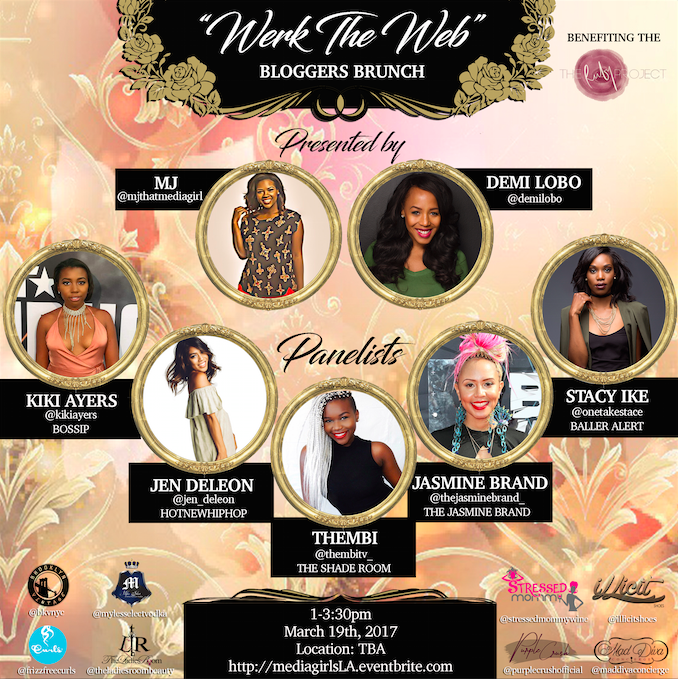 MEDIA Girls LA:
Media Girls LA is comprised of a group of female media socialites and influencers heavily engulfed in the entertainment industry. "The Media Girls" are dedicated to uplifting and sharing their knowledge, expertise, and experiences with those ladies who aspire to be the next generation of "info-tainment" personalities. "The Media Girls" will use what they've learned through networking and other means of interactive exchange to expand their reach to all ages and levels of success in the field, as well as assisting by providing them with essential tools for success and sustainability.
"MEDIA GIRLS LA" presents:
"Werk The Web" Brunch (TBA) hosted by two female media mavens who currently reside and work as On-Camera Correspondents and Bloggers in Los Angeles. Through this event, attendees will be provided tools and resources to enhance their business and/or brand, through panels, informative sessions, social mixers, prizes and FUN!
Meet The Panelists:
Jasmine Brand: CEO/Founder of TheJasmineBrand.com
Thembi: Senior Editor of The Shade Room
Jen Deleon: Formerly of HotNewHipHop Currently JenDeleon.com
Stacey Ike: Correspondent of Baller Alert
Kiki Ayers: Correspondent of Bossip and many of your favorite outlets
The purpose of the "Werk The Web" Brunch is to inform women about branding, utilizing their network, turning their brand into a profit, and building a successful social media following. By teaching and providing awareness of the importance of social media, networking and brand building. The Media Girls LA have come together not only through their interest in media but through their passion and respect for the entertainment industry. In addition, they intend to give a step by step process, detailing the steps and tools needed to get started in the industry and monetize their business. For additional information about MEDIA GIRLS LA : presents "Werk The Web" Brunch
Sponsors [Please Follow On Instagram]:
@FrizzFreeCurls
@BKVNYC
@MadDivaConcierge
@illicitshoes
@TheLadiesRoombeauty
@PurpleCrushOfficial
@MylesselectaVodka
@naturallyadgy
@genuinegemini85
Press Inquiries please email us at MediaGirlsLA@gmail.com