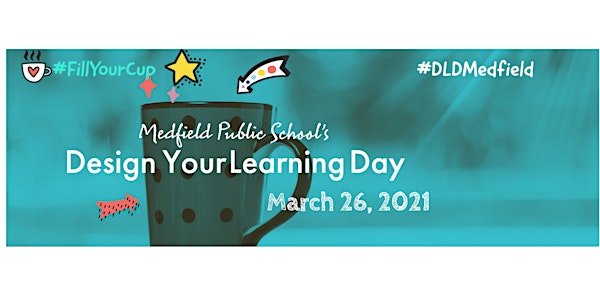 Medfield Design your Learning Day (DLD) 2021
Medfield's 9th Design your Learning Day (DLD) brings educators together to learn, collaborate, and discuss the latest trends in education
About this event
Medfield's 9th Annual Design Your Learning Day (#DLDMedfield) will bring over 600 educators from Medfield and beyond together-- 100% virtually for the first time ever! With over 70 sessions offered in both Live and #OnDemand formats and presented by staff from Medfield and more than 25 districts beyond Medfield, this promises to be a great day of learning! And because we've all been through enough this year, tickets for the conference are FREE!!
Some important details:
Running on empty? Well this year's theme, "Fill up Your Cup" is all about providing ACCESS to learning opportunities and the freedom to CHOOSE what will "fill your cup"!
A special focus on SEL and DEI (Diversity, Equity and Inclusion). With that being said, we are so pleased to unveil our AMAZING keynote speaker ..
Malika Ali, director of Pedagogy at The Highlander Institute will present about "Culturally Responsive and Sustaining Pedagogy: Engaging and Empowering Students to Own Their Education Journeys"
We hope you will "fill your cup" and take the PD journey of a lifetime. Start "filling your cup" by clicking on the 'Register' button at the top of the page.