Interested in eating the Mediterranean way, but not sure where to start? Eating the Med way is healthy, delicious, and satisfying.
About this event
There are over 200 food choices that we make in a day. From what to drink to the tiny snacks that we munch on, we make the decision on what we want to consume. Roughly two thirds of the chronic diseases in the US can be prevented by changing our diet and lifestyle patterns. Consuming a Mediterranean diet has been shown to promote health and decrease risk of many chronic diseases.
Food you once though of as too high in fat or unhealthy, including nuts, olive oil, olives, and whole grains, become an everyday part of your diet. The Med Mondays Series will help you go Med by exploring 7 simple steps to eating the Med way.
Join us every Monday starting June 28th at 1pm as we share Med tips, life hacks, and recipe that will help you eat the Med Way every day. Each session will be hosted and recorded via Zoom and shared with participants.
Topics covered are as followed.
June 28th: Intro to the Med Way
July 5th (No zoom meeting but recording sent out): Changing Your Protein
July 12th: Swap your Fats & Snack on Nuts and Seeds
July 19th: Eat More Fruits & Vegetables
July 26th: Make your Grains Whole
August 2nd: Rethink your Sweets
The Mediterranean eating pattern incorporating more plant based products and fits perfectly into the recommended daily consumption from each of the food groups.
Don't miss out on the great conversation and opportunity to meet new people across the state. Register today!
Instructors for the program:
Andrea Sherrill, NC Cooperative Extension-Iredell County Center
Der Holcomb, NC Cooperative Extension-Alexander County Center
Hayley Cowell, NC Cooperative Extension-Stanly County Center
Janice Roberts, NC Cooperative Extension-Moore County Center
Kristin Davis, NC Cooperative Extension-Mecklenburg County Center
Marcus McFarland, NC Cooperative Extension-Union County Center
Rhonda Peters, NC Cooperative Extension-Montgomery County Center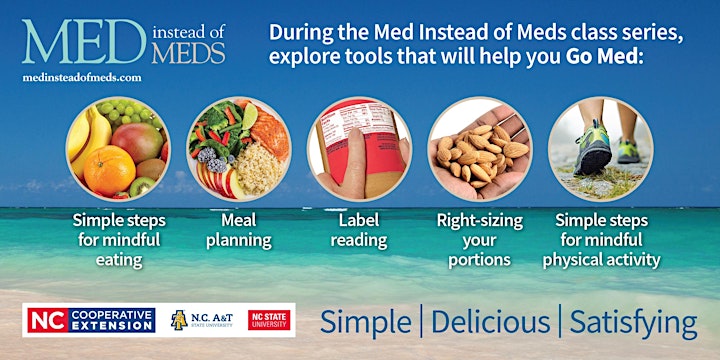 Organizer of Med Mondays: Eating the Mediterranean Way
---
NC State University and N.C. A&T State University work in tandem, along with federal, state and local governments, to form a strategic partnership called N.C. Cooperative Extension, which staffs local offices in all 100 counties and with the Eastern Band of Cherokee Indians.
Read our Privacy Statement
N.C. Cooperative Extension prohibits discrimination and harassment on the basis of race, color, national origin, age, sex (including pregnancy), disability, religion, sexual orientation, gender identity, and veteran status.
Individuals with disabilities are invited to request reasonable accommodations to participate in Extension sponsored programs and events. Please contact the county Extension office offering the program at least 14 days prior to the event to make arrangements.