Join us to learn seven simple steps to eating the Med Way for improved health. Sessions will include discussion, life hacks, and recipes!
About this event
Join Family and Consumer Science Agents and other participants from seven counties as we learn simple strategies to improve our health. Sessions will be held weekly on Wednesdays from 12:00 noon until 1:30 EST, beginning on October 7 and concluding on November 11.
Participation is free, but registration is required. The program will be recorded , so registrants can view at their convenience if they can't participate in the live sessions. Registrants will receive a separate email with a link to the Zoom platform where the sessions will be hosted. For your security, only registered participants will have access to the link, and a password will be required.
Eating the Med Way has been proven to protect against chronic illness. In some cases, eating the Med Way may even result in decreasing medication taken for high blood pressure, high cholesterol or diabetes.
The Med Instead of Meds class sessions will help you GO MED by exploring 7 simple steps to eating the Med Way. Learn Med Tips, life hacks, and recipes that will help you eat the Med Way every day.
You do NOT have to reside in the participating counties in order to join us. People from all across North Carolina, the United States and other nations are welcome to participate. Encourage a friend to join with you!
For additional questions, please contact any of the NC Cooperative Extension Family and Consumer Science instructional team:
Alexander County - Der Holcomb, (828) 632-3125, dxiong3@ncsu.edu
Anson County - Roshunda Terry, (704) 694-2915, roshunda_terry@ncsu.edu
Iredell County - Andrea Sherrill, (704) 878-3157, andrea_sherrill@ncsu.edu
Mecklenburg County - Kristin Davis, (980) 314-1403, kristin_davis@ncsu.edu
Montgomery County - Rhonda Peters, (910) 576-6011, rtpeters@ncat.edu
Stanly County - Hayley Cowell, (704) 983-3987, hayley_cowell@ncsu.edu
Union County - Marcus McFarland, (704) 283-3830, marcus_mcfarland@ncsu.edu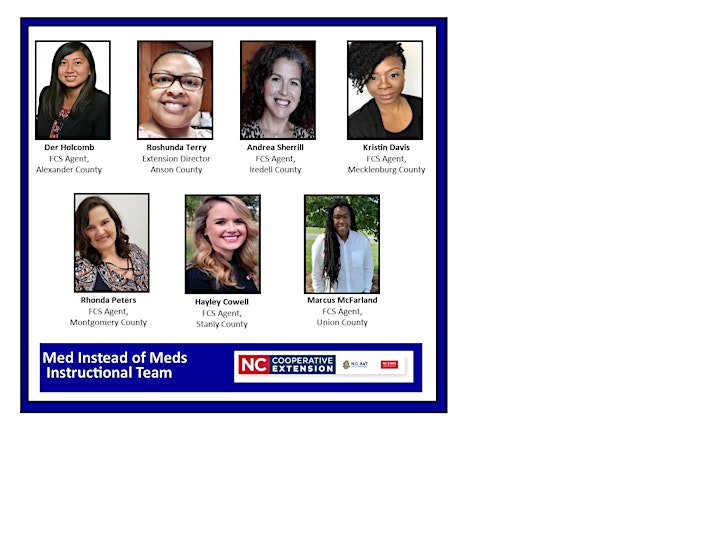 Organizer of Med Instead of Meds Weekly Online Series
---
NC State University and N.C. A&T State University work in tandem, along with federal, state and local governments, to form a strategic partnership called N.C. Cooperative Extension, which staffs local offices in all 100 counties and with the Eastern Band of Cherokee Indians.
Read our Privacy Statement
N.C. Cooperative Extension prohibits discrimination and harassment on the basis of race, color, national origin, age, sex (including pregnancy), disability, religion, sexual orientation, gender identity, and veteran status.
Individuals with disabilities are invited to request reasonable accommodations to participate in Extension sponsored programs and events. Please contact the county Extension office offering the program at least 14 days prior to the event to make arrangements.