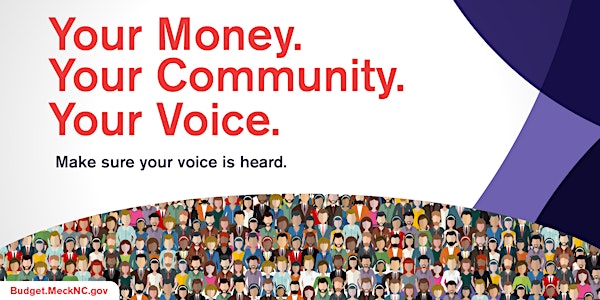 Mecklenburg County FY24 Budget Workshops (Multiple Dates)
Mecklenburg County invites you to attend a community workshop to share your opinions and priorities for the annual budget.
About this event
Thank you for your interest in attending a workshop to share your opinions and priorities for the County's annual budget*. These workshops give the public a chance to participate in the annual budget process and influence County leaders' decisions.
PLEASE NOTE the location for each workshop. You will be asked to indicate your workshop selection when you RSVP:
February 8th - 6:30PM at North Regional Rec Center (18121 Old Statesville Rd., Cornelius)
February 16th - 6:30PM at West Charlotte Rec Center (2401 Kendall Dr., Charlotte)
February 22nd - 6:30PM at Eastway Regional Rec Center (3150 Eastway Park Drive, Charlotte)
March 1st - 6:30PM at Hickory Grove Rec Center (6709 Pence Road, Charlotte)
March 8th - 6:30PM at Naomi Drenan Recreation Center (750 Beal Street, Charlotte)
March 15th - 6:30PM at Matthews Sportsplex (2425 Sports Parkway, Matthews)
March 18th - 11AM Virtual Workshop (link will be posted on budget.mecknc.gov website and emailed 2 days in advance to those registered)
*Fiscal Year '24 begins July 1, 2023.