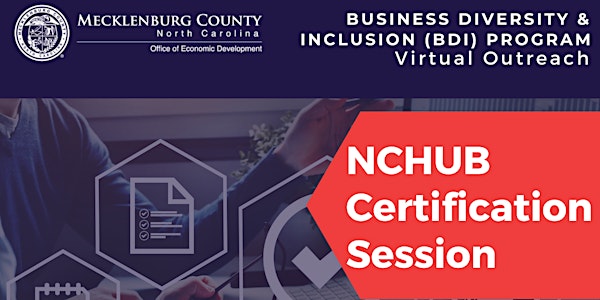 Mecklenburg County BDI Outreach: Virtual NCHUB Certification Session
Are you a Small Business, Minority-Owned Business, or a Woman- Owned Business seeking certification in the State of North Carolina?
About this event
Free Certification Information Session
If your business is not certified, please join Mecklenburg County's Business Diversity & Inclusion (BDI) Program to gain insight on the process and the benefits of becoming a certified business.
LEARN | MEET | EXPLORE
Benefits of HUB Certification
-Expand opportunities
-Increased exposure to business
-Receive bid notices from government agencies
-Build capacity for business development
-Grow revenue sources
Who should apply? The business must be 51% or more owned and controlled by the following groups:
Females
Black Americans
Hispanic Americans
Asian Americans
Disabled - A person with disability as defined in G.S. 168-1 or G.S. 168A-3.
Disadvantaged- A person who is socially and economically disadvantaged as defined in 15 U.S. Code § 637.
================================================================
"The mission of the Business Diversity & Inclusion (BDI) Program is to increase participation of minorities, women, and small business enterprises in Mecklenburg County business opportunities through outreach, training, and partnerships."
oed.mecknc.gov/BDI