Description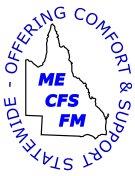 More than 175,000 Australians aged from primary school to 80 suffer with Myalgic Encelphalomyelitis/ Chronic Fatigue Syndrome (ME/CFS). Among the debilitating symptoms of this disease are: Post Extertional Neuroimmune Exhaustion (PENE or PEM), neurological impairment (including 'brain fog', pain and/or sleep disturbance); neurosensory, perceptual and motor disturbances; immune gastro-intestinal and genitourinary impairments; and energy production/transportation impairments.
Learn about the current situation and challenges facing ME/CFS sufferers and how you can play an integral part in improving their quality of life and helping to maintain functionality.
Hear from special guest speaker Berkeley University's David Tuller aka "the PACEman" a health journalist crowdfunded to gather other biomedical research into the disease in Australia, and local Infectious Disease Specialist, Dr John L Whiting, researcher and also experienced practitioner with more than 30 years experience in treating patients with ME/CFS. Understand what it's really like living with this disease 24/7 from Gold Coast support group facilitator Kathy Dallest whose ME/CFS journey spans more than 18 years.
Tickets are limited. Light catering including GF and DF options, tea, coffee, water. Air conditioned venue with wheelchair accessibility. People with ME may bring pillows, portable beds, reclining aids, rehydrants, own food/snacks etc if this will enable attendance. There will be limited capability from others to assist with carrying or setting up items. Limited disabled parking on site. Street parking available. This event may be professionally recorded. if you don't want to be filmed, please advise the registration staff. We ask all attendees to be especially mindful of those with multiple chemical sensitivity - please minimise use of strong perfumes, body sprays (such as Lynx) and fragrance in personal care products on the day – as these may trigger serious allergic reactions from people with ME/CFS attending, including the speakers.
Hamilton Town Hall is a non-smoking venue. This event is jointly hosted by ME/CFS Australia Ltd, the national body for support and advocacy for people with ME/CFS and ME/CFS/FM Support Association Qld Inc., Queensland's official body for support and advocacy for people with ME/CFS.
Cash donations on the day to ME/CFS Australia and ME/CFS/FM Support Association Qld Inc. to further research and to fund the organisations and their projects would be most appreciated.
RSVPs: Your Eventbrite ticket is your RSVP. As this event has very limited tickets, if you cannot attend for any reason and know at least 24 to 48 hours in advance of the event, email tricia@impactpublicrelations..com with the name shown on your ticket so we can enable wait listed people to attend.
Disability Access/resting: People with ME/CFS should note there is very limited disabled car parking on site and the actual entrance to the hall is in Rossiter Pde. If you have an Australian Disability Car parking permit you may park in the designated regulated on street car parks indefinitely (provided they're for more than 15 minutes). Should you need to lie down during the seminar, you can bring a blow up mattress and lie in the Green room next to the stage (which is air conditioned and is contained) or the kitchen hall. If you are using an electric wheelchair, electric scooter or wheelie walker, could you please email me on tricia@impactpublicrelations.com so we can ensure enough spaces are allocated at the front of the hall (in advance). To access the hall via ramps, you will need to come up the ramp near the library on Racecourse Rd or through the car park off Rossiter Pde.