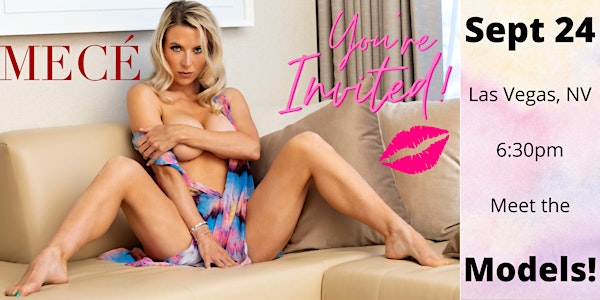 MECÉ Magazine's 6 Month Gala Celebration
Join David Mecey and the Models from the magazine as they celebrate the 6th issue of MECÉ Magazine
When and where
Location
Alpha Voyage Gallery 9420 Del Webb Boulevard Las Vegas, NV 89134
About this event
Meet legendary photographer, writer, editor, and founder of MECÉ Magazine, David Mecey.
View part of David's personal collection of rare items from his time as a staff photographer at one of the most iconic magazines in history! This collection is valued at over $1,000,000 and includes never-before-seen polaroids from test and magazine shoots, a magazine cover test overlay, and more. David may also be inspired to share stories about the items and what happened. Don't miss your chance to meet one of the most amazing legendary photographers in the world!
Meet MECÉ Magazine Art Director Kenji Kita
Meet current MODELS IN THE MIDDLE (MITM):
Stephanie Manescu
Autumn Huse
Billie Miller
With Feature Model: Renée Auguste
Meet future MODELS IN THE MIDDLE (MITM):
Mariah Rivera
Caramie Cason
Find out which model has the most support from her true fans! We will announce the competition's winner at the end of the evening.
Enjoy the provided Hors D'ouevres, beverages, and mystery bags.
Get first access to purchase limited edition print versions of the first six issues. If you are clever and nice, you might even get your favorite model to autograph your copy!
Featured Guests and announced models are subject to change without notice or obligation for any reason. While we are doing our best to make sure everyone is at the event, current events could lead to unexpected travel delays or other issues that may prevent individuals from attending the event.
SUPPORT Your Favorite MODEL
Unable to attend the event in person? You can still support your favorite model from the Tickets section. The models are competing for a destination photo shoot with David and they need your help to win. You can even get a special signed photo from your favorite model. Click the TICKETS button to see all of the options available.
Not a subscriber?
Want a free issue of Mecé Magazine? Help us spread the word, take a short survey, and you could get a free issue of the magazine! If we can get at least 5000 responses before the night of the event, we will send a free digital issue of the magazine to all of those who completed the survey and gave us permission to do so!