Description
The third annual MECASA conference will be a day long event for sexual violence prevention and intervention professionals in Maine. The conference will provide an opportunity to:
Share new and innovative programming related to sexual violence;

Develop skills and knowledge to enhance programming related to sexual violence; and

Energize and inspire those working in the anti-sexual violence field in Maine.
MECASA is pleased to announce our keynote speaker for the 2018 statewide conference!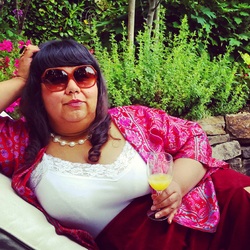 Virgie Tovar is an author, activist and one of the nation's leading experts and lecturers on fat discrimination and body image. She is the founder of Babecamp, a 4-week online course designed to help women who are ready to break up with diet culture, and started the hashtag campaign #LoseHateNotWeight. She pens a weekly column called Take the Cake. Tovar edited the ground-breaking anthology Hot & Heavy: Fierce Fat Girls on Life, Love and Fashion (Seal Press, November 2012) and The Feminist Press will be publishing her forthcoming book of non-fiction, You Have the Right to Remain Fat (August 2018; now available for pre-order). She holds a Master's degree in Sexuality Studies with a focus on the intersections of body size, race and gender. After teaching "Female Sexuality" at the University of California at Berkeley, where she completed a Bachelor's degree in Political Science in 2005, she went onto host "The Virgie Show" (CBS Radio) in San Francisco. She is a former plus size style writer for BuzzFeed. Virgie has been featured by the New York Times, Tech Insider, MTV, Al Jazeera, NPR, Yahoo Health, the San Francisco Chronicle, Huffington Post, Cosmopolitan Magazine Online, Bust Magazine, and French language magazine Madame Figaro. She lives in San Francisco and offers workshops and lectures nationwide.
CONFERENCE AGENDA
8:00 – Registration (located in the Lobby) & Guided Meditation w/ Laurie Hoffman (Meeting Room #3)
Meeting Room #3 will be the Wellness Room for the duration of the conference.
Guided meditation will be available 8--9
Coffee and tea will be available in the Ballroom.
9:00 – Welcome to #MECASACon 2018!
9:15 – Keynote Address – Virgie Tovar; Feminist Writer, Speaker and Activist
10:30 – Break
10:45 – Breakout Session I (see breakout descriptions for room numbers)
Breaking Down Diet Culture, Rape Culture, and Marginalized Groups – Virgie Tovar
Non-traditional Communication Users: Interpreting and Working with Adults with Intellectual Disabilities – Paula Matlins and Maura Nolin
Military Sexual Trauma Support and Services – Kartika Wright
Anti-Bias Work in Prevention – Liz Blackwell-Moore
12:00 – Lunch and Panel (located in the Ballroom)
1:15 – Breakout Session II (see breakout descriptions for room numbers)
Supported Decision Making and Working w/ People Who Have Guardians – Nell Brimmer
Risk and Adolescent Brain Development – Sheila Nelson
Gender Inclusive Support Groups – Quinn Gormley
Cognitive Behavioral Therapy for Sex Offenders – Dave Patch
2:30 – Break
3:00 – Ignite Talks (located in the Ballroom)
3:45 – Where We've Been and Where We're Going
4:15 – Conference Closes