Description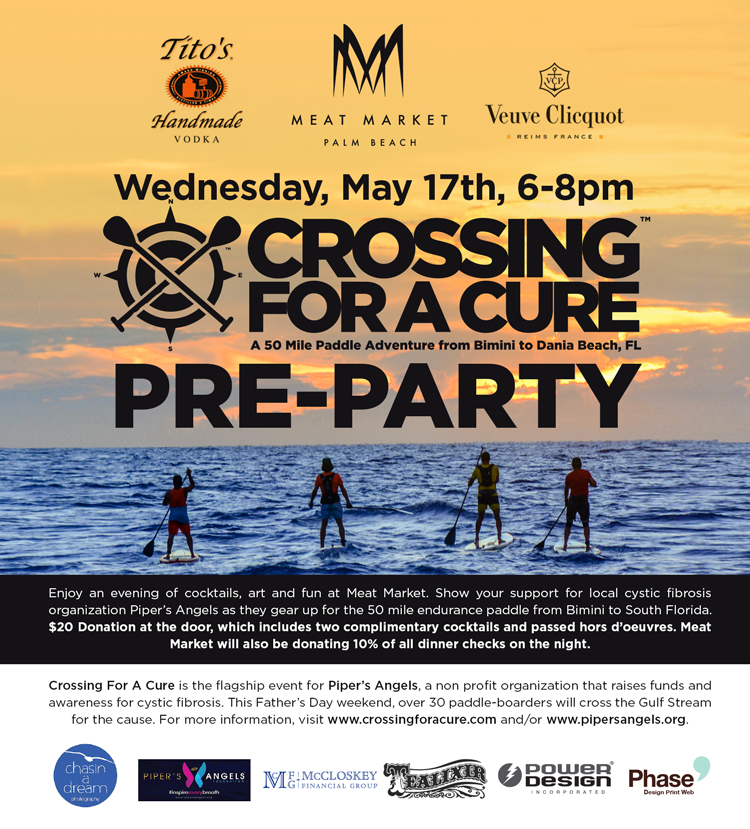 When Piper was four years old, she was diagnosed with Cystic Fibrosis, a terminal lung disease that currently does not have a cure. CF is a genetic disorder that causes a thick buildup of mucus in the lungs, pancreas and other organs.
Quickly after her diagnosis Piper's dad, Travis Suit learned that the inhalation of salt water mist has a therapeutic effect on the lung problems associated with the disease. Salt water helps to clear the mucus that traps bacteria, viruses and other foreign particles.
"When we heard about the effects that salt water has on the lungs, we knew we had to get her in the ocean immediately," said Suit. "It doesn't cure the disease, but she doesn't suffer nearly as much, and we're hoping that instilling a lifelong love for the ocean will keep her alive as long as possible."
In the summer of 2013, Travis Suit and three friends completed The Crossing for A Cure which was stand-up paddleboard journey from The Bahamas to Florida to raise awareness of the benefits of salt air and raise money for the Cystic Fibrosis Foundation. Battling rough seas, a moonless night and exhaustion, the quartet completed the arduous 90 mile journey in less than 16 hours.
This upcoming Father's Day weekend (June 17th) Travis and 30+ other paddlers will be embarking on The Crossing for A Cure 2017. Paddlers will start in Bimini and finish in Dania Beach. Once again, all proceeds will benefit families impacted by the disease and research toward a cure for CF.
Please join us on Wednesday, May 17th for the Palm Beach Launch Party for The Crossing for A Cure 2017 at Meat Market from 6 – 8 pm. $20 donation.
100% of the proceeds from the Pre-Party will benefit the Piper's Angels Foundation, a local 501(c)(3) dedicated to assisting families impacted by the disease. See www.crossingforacure.com and www.pipersangels.org for additional information.