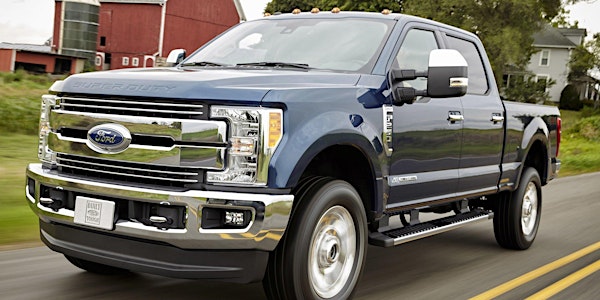 Measuring Session: 2017 Ford Super Duty (Dearborn, MI)
When and where
Location
Ford Motor Company Conference & Event Center 1151 Village Road Dearborn, MI 48124
Description
Attention SEMA Members, Ford Motor Company and the SEMA Garage have partnered to bring you the ALL NEW 2017 Ford F-Series Super Duty Measuring Session.
Featuring the highly anticipated, all new F-Series Super Duty and Chassis Cab, this exclusive event will be held on Wednesday, April 27th at the Ford Motor Company Conference & Event Center in Dearborn, MI. Attendees will be provided with advanced product information for the MY17 F-Series Super Duty, access to program engineers and get hands-on with pre-production trucks. Don't miss this opportunity to jumpstart your product development efforts on these "production representative" trucks.
This session will be broken into two separate half-day sessions - one morning and one afternoon session. Please note sign-in/registration will open 45 minutes prior to each session. Registration for this event will close on March 31st. Sessions will be filled on a first-come, first-serve basis.
Due to the high number of expected attendees, and the limited availability of test trucks, the use of digital measuring devices (for interior or exterior scanning) will not be permitted during session hours. Should you have need to perform digital scanning, or have other questions regarding this event, please contact Sherry Kollien directly at skollie1@ford.com.
For SEMA Members in Southern California, a follow-up session has been scheduled at the SEMA Garage in Diamond Bar, CA, on May 17 & 18. Click HERE to register.