Measuring Broadband Performance: What Have We Learned in Four Years?

Tuesday, September 18, 2012 from 8:00 AM to 10:00 AM (EDT)
Event Details
You are invited....
to an event of the Broadband Breakfast Club
Measuring
Broadband Performance:
What Have We Learned
in
Four Years?
http:broadbandbreakfastseries.eventbrite.com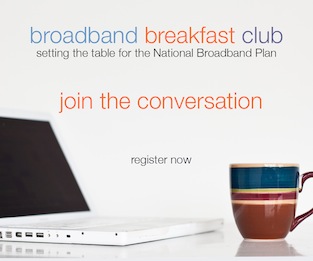 In July, the Federal Communications Commission released its second "Measuring Broadband America" report. "Broadband providers have significantly improved accuracy in actual versus advertised speeds during the past year and consumers are subscribing to faster speed tiers and receiving faster speeds than ever before." Measuring progress of bandwidth is essential to unleashing the benefits of big broadband, says the FCC, particularly in order to assure that at least 100 million homes have actual download speeds of 100 Mbps by 2020. How has broadband data made available by the FCC, and by the National Telecommunications and Information Administration's State Broadband Initiative, changed the broadband landscape from four years ago?
Telecommunications advocates, policy-makers, journalists, top officials and the general public, all seeking to trade insights on these important issues, are invited to attend this event of the Broadband Breakfast Club, which includes full American and Continental breakfasts, for as little as $45.00, plus a modest registration fee.
This event is on the record and open to the public. 
For News and Events on BroadbandBreakfast.com follow us at http://www.twitter.com/broadbandcensus
Event Details
Title:  Measuring Broadband Performance: What Have We Learned Over Four Year?
Date:  Tuesday, September 18th, 2012  8 a.m. - 10 a.m. 
Where:  Clyde's of Gallery Place, 707 7th Street NW, Washington, DC 20001
The breakfast begins at 8 a.m., followed by a discussion, beginning shortly after 8:30 a.m. and ending by 10 a.m.
Panelists:
Martha Duggan
Senior Principal for Regulatory Affairs
The National Rural Electrical Cooperative Association
At NRECA Martha Duggan is responsible for representing rural electric cooperatives before federal agencies involved in worker safety, emergency management, transportation and telecommunications. Ms. Duggan has 30 years of experience in the energy industry working for a variety of organizations and companies.  She began her career working at a consulting firm that provided expert testimony in federal and state rate cases on behalf of cooperatives and municipalities.  She then worked for a regulated natural gas distribution company where she gained experience in finance and accounting, regulatory affairs and operations.  She has extensive advocacy experience in market design and competition issues.  Ms. Duggan also has experience in the solar industry, working on policy issues at the state and federal levels.  Her peers elected her to serve on the PJM Finance Committee and the PJM Nominating Committee and she has been a member of both the Board of Directors of the Solar Energy Industries Association and the Business Council for Sustainable Energy.  In 2010 she traveled to China as part of the Obama Administration's first cabinet level trade mission. Ms. Duggan earned her Bachelor of Science degree from Georgetown University and her Masters degree in Business Administration from The George Washington University.
Allan Friedman
Research Director, Center for Technology Innovation
Brookings
Allan Friedman is a fellow in Governance Studies, and research director of the Center for Technology Innovation at Brookings. His work spans the social sciences, public policy and computer science, and has addressed issues ranging from electronic medical records to telecommunications policy. Prior to joining Brookings, Friedman was a fellow at the Center for Research on Computation and Society in the Harvard Computer Science department, where he worked on cyber security policy, privacy-enhancing technologies and the economics of information security. Friedman was also a fellow at the Belfer Center for Science and International Affairs, where he worked on the Minerva Project for Cyber International Relations. He has a degree in Computer Science from Swarthmore College (2002), and a PhD in Public Policy from Harvard University (2009). 
Thomas Gideon
Technical Director, Open Technology Institute
New America Foundation

Thomas Gideon is the technical director for the Open Technology Institute at New America Foundation. As technical director, he is responsible for managing and supporting technological and data driven policy interventions, including the Commotion mesh wireless networking project, which focuses on connecting communities that are under served and at risk, and Measurement Lab, a network measurement research platform that has produced the largest cache of open broadband performance data on the planet. He also provides technical expertise to collaborate on issues around privacy, security, copyright, digital media and DRM. Previously, Mr. Gideon has provided technical leadership and management for several D.C. area startups in many areas including advanced R&D, online education, and large scale web and database application development. Most recently he was a development team lead at Learning Objects, Inc.
He coordinated the D.C. area CopyNight for several years, is a council member-at-large for the ACM's U.S. public policy committee, and has spoken at numerous events as an advocate for free software and free culture.
Steven F. Morris
Vice President & Associate General Counsel
National Cable & Telecommunications Association (NCTA)
Steve Morris he represents the cable industry on matters related to the regulation of telecommunications and broadband services.  Mr. Morris joined NCTA in 2006. Prior to joining NCTA, Mr. Morris was the Deputy Chief of the Pricing Policy Division in the Wireline Competition Bureau of the Federal Communications Commission.  During his tenure at the FCC, Mr. Morris was responsible for proceedings related to the Commission's rules on intercarrier compensation and the pricing of unbundled network elements, as well as other matters within the Pricing Policy Division. Before joining the Commission in 2001, Mr. Morris was the Director-Regulatory Affairs for Global Metro Networks, Inc., a wholesale provider of fiber optic network facilities.  Prior to that, Mr. Morris was an attorney specializing in telecommunications and cable regulatory matters at Hogan & Hartson LLP and Dow, Lohnes & Albertson.  Mr. Morris received a B.S. in Economics from the Wharton School of the University of Pennsylvania and a J.D. from George Mason University School of Law.
David E. Young
Vice President, Federal Regulatory Affairs
Verizon 
David Young is responsible for items before the FCC dealing with broadband, Internet, video and emerging technology issues.  Prior to joining the Federal Regulatory Affairs group, he was responsible for developing company policy on Internet and technology issues, working in various national and international forums.  He spent six years working in Verizon's Research and Development (R&D) group on many advanced technologies including VoIP, data network architectures, and audio, video and image compression.  He has been named as an inventor on eleven U.S. government patents for his R&D work.  David is a member of the IEEE and IEEE Communications Society.  He holds a bachelor's degree in Electrical Engineering from Stevens Institute of Technology.
The event will be moderated by Drew Clark, Founder and Publisher, BroadbandBreakfast.com, a news and events company building a community around broadband stimulus, the national broadband plan, and intellectual property.  Drew Clark has a long-standing reputation for fairness and depth in his reporting. He worked for the National Journal Group for eight years, ran the telecommunications and media ownership project of the Center for Public Integrity, and was Assistant Director of the Information Economy Project at George Mason University. He has written widely on the politics of telecom, media and technology for a variety of publications, including the Washington Post, GigaOm, Slate, and Ars Technica. Drew launched BroadbandCensus.com in January 2008 as a means of providing objective information about broadband speeds, prices, availability, reliability and competition. Drew also serves as the Executive Director of the Partnership for a Connected Illinois, the state broadband initiative entity based in Abraham Lincoln's Springfield, Illinois.

The Broadband Breakfast Club is a "widely attended event" under House of Representatives Rule 25, clause 5(a)(4)(A).
-----
For individuals outside of Washington, or those whose schedule doesn't permit attendance in person, archived webcasts of the Broadband Breakfast Club are available for free on BroadbandBreakfast.com.
The Broadband Breakfast Club seeks sponsorship of our events from interested companies and organizations.  For details on sponsorship opportunities, please contact Sylvia Syracuse at 646-262-4630 or sylvia@broadbandcensus.com. The Broadband Breakfast Club is produced by Broadband Census News LLC. 
Follow us on Twitter at www.twitter.com/broadbandcensus
______________________________________________________________
The Broadband Breakfast Club is Sponsored By:




When & Where

Clyde's of Gallery Place
707 7th St NW
Washington, DC 20004


Tuesday, September 18, 2012 from 8:00 AM to 10:00 AM (EDT)
Add to my calendar
Organizer
Broadband Breakfast Club
BroadbandBreakfast.com is an internet policy news and events service devoted to breaking news on Broadband policy issues including Broadband Stimulus, Wireless, the National Broadband Plan, Universal Service, and more. Our trenchant articles are free at BroadbandBreakfast.com.

To complement our news service, BroadbandBreakfast.com also hosts monthly "Breakfast Club" events and other special events.
Our Broadband Breakfast Club series meets monthly on the THIRD Tuesday of the month (except for August and December).
Events are held at Clyde's of Gallery Place, 707 7th St. NW, Washington, DC. Metro Stop: Chinatown/Gallery Place.
Events are open to the public and held from 8 am - 10 am, with full Continental and American breakfasts served from 8 am - 8:30 am.
To subscribe to our news service go to BroadbandBreakfast.com.
To register for our next event click on
http://broadbandbreakfast.eventbrite.com
To view our past and future events see 
http://broadbandbreakfastseries.eventbrite.com
To view our event videos see
http://broadbandbreakfast.com/category/broadband-tv/
The Broadband Breakfast Club is Sponsored By:



Measuring Broadband Performance: What Have We Learned in Four Years?