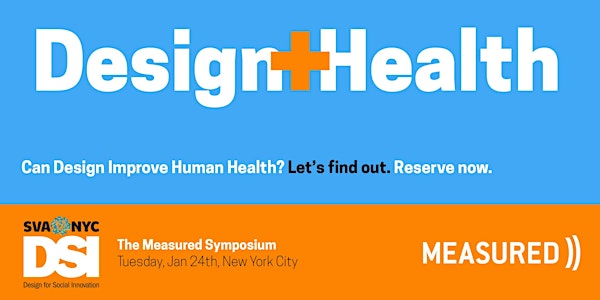 Measured Summit: Measuring the Impact of Design on Health
Description
Significant resources have been devoted to social design – yet few efforts have made to monitor and evaluate its impact. For social design to reach its full potential, a better understanding of conditions for success, strategies, tactics, and tools for quantitative and qualitative impact assessment are needed.
The Measured Summit will be a participatory, designed conversation on how to evaluate and improve the impact that social design has on human health.
Short keynote presentations by leading funders, designers and social innovators working in the U.S. and internationally –– each focusing on a provocative question or idea –– will be interspersed between interviews and exchange between speakers and audience.
Provocateurs will interact with audience members, provoking dialog, surfacing and synthesizing questions. They'll mingle with everyone during breakfast and breaks to hear what people are thinking or want to talk about more.
The entire event will be filmed and recorded, so that we can use what we learn to continue this project of measuring social design's impact long after our day together.
Come because you'll gain:
Clarity about what social design is (in all its names).
A shared understanding of how it is being used by leading organizations and practitioners.
An overview of current evaluation methods.
Ideas for how to apply design, and how to measure its results in your own work.
New friends and colleagues who care about using design to solve social and business challenges.

For more information and a full list of participants, please visit measured.design
For inquiries, please call Chessa Cahill 212-592-2173
For media inquiries, please see our press release.
Organizer of Measured Summit: Measuring the Impact of Design on Health