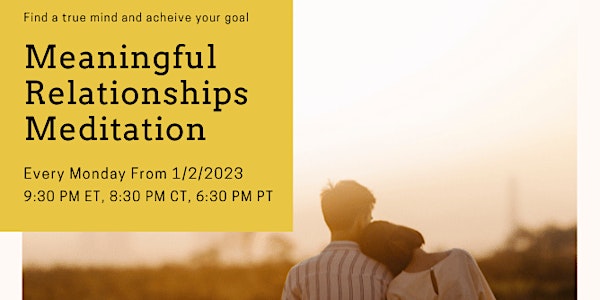 Meaningful Relationship Meditation
Deeper more joyful relationships
About this event
Heartland Meditation has a partnership with Online Meditation Events(OME) to offer live guided meditation classes with a variety of topics.
About the event
In this class, you learn how to increases the joy and depth in your relationships by understanding yourself and others better. You can have better control over your moods, greater empathy, and compassion, for relationships with more love and acceptance. You can find a sample video below about how to improve communciation through meditation
A structure of the clas
The host will explain what is the method of Mind cleansing meditation method for about 10 minutes and guide meditation practice for about 15 minutes. Consistent and regular meditation practice improves relationships, according to the research.
Benefits or Lessons
1. Gain the power of seeing yourself objectively2. Develop deep relationships objectively3. Improve emotional Intelligence by practicing observing how you feel, paying attention to how you behave
Anything to prepare?
Come with an open mind
Date & Time - Monday at 8:30 - 9:30 PM (CST) / 9:30 - 10:30 PM (EST)
How to join us on zoomTO RSVP FOR THIS FREE PROGRAM, WE KINDLY ASK THAT YOU GO DIRECTLY TO THE EVENT WEBPAGE: https://onlinemeditationevents.com/class/meaningful-relationships-meditation/#book
Online Class etiquette - Please arrive on time or early for class. It is recommended that you keep the camera on during the meditation class.