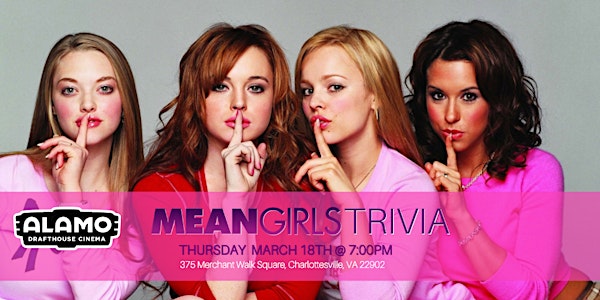 Mean Girls Trivia at Alamo Drafthouse Charlottesville
"Raise your hand if you have ever been personally victimized by Regina George?"
When and where
Location
Alamo Drafthouse Cinema Charlottesville 375 Merchant Walk Square Charlottesville, VA 22902
About this event
Do you know who made out with a hot dog? Or the name of the actress who played Mrs. George in the film? If your answer is "Yes, duh!" then you should join other super fans for Mean Girls -themed trivia.
Join us for the ultimate Mean Girls Trivia at Alamo Drafthouse on Thursday,March 18th at 7pm.
Reserve your table between the unfriendly black hotties and the sexually active band geeks by visiting; https://alamoclvmeangirls31821.eventbrite.com
PLEASE ONLY PLACE AN ORDER FOR 1 SINGLE TICKETS IF YOU ARE PLAYING BY YOURSELF.
MAX TEAM SIZE OF 6 - A CONFIRMATION EMAIL WILL BE SENT CLOSER TO THE EVENT, PLEASE NOTE TICKETS CONFIRMATION IS REQUIRED OR YOUR TICKETS MAY BE SUBJECT TO CANCELLATION.
#nationalmeangirlsday #meangirls #bemorechill #meangirlsbway #reginageorge #thatssofetch #fetch #karensmith #janisian #cadyheron #lindsaylohan #rachelmcadams #gretchenwieners #yougoglenncoco #shedoesntevengohere #obsessedwithme #youcantsitwithus #wednesdayswewearpink #octoberthird #thelimitdoesnotexist #wordvomit #burnbook #isbutteracarb #getinloser #triviatainment #alamo #alamodrafthouse #woodbridge #va