Description
You're cordially invited to attend a Meals By Peggy cooking class in the garden of the Zen Zone in Miami.
Chef Peggy was born and raised in Suriname, South America, and moved to the United States in 2003. With Indian and black heritage, her passion for food started at a young age by cooking with her father. He gave her experience in all kinds of food preparation including how to pick fresh ingredients from the garden, grinding spices and appreciating new and exotic foods. Peggy soaked up all the knowledge that her father had to offer and pursued her passion for cooking at the International Culinary School at the Art Institute of Fort Lauderdale, Florida. She graduated with a degree in Culinary Arts in 2011 and is proud to say that she sources fresh ingredients from local vendors.

Her cooking classes are interactive experiences.
You will learn cooking techniques for creating simple, and fresh meals
Concierge-style class, you will prepare your meal at an outdoor garden station with everything you need provided
Enjoy what you have created with a complimentary glass of wine while listening to live music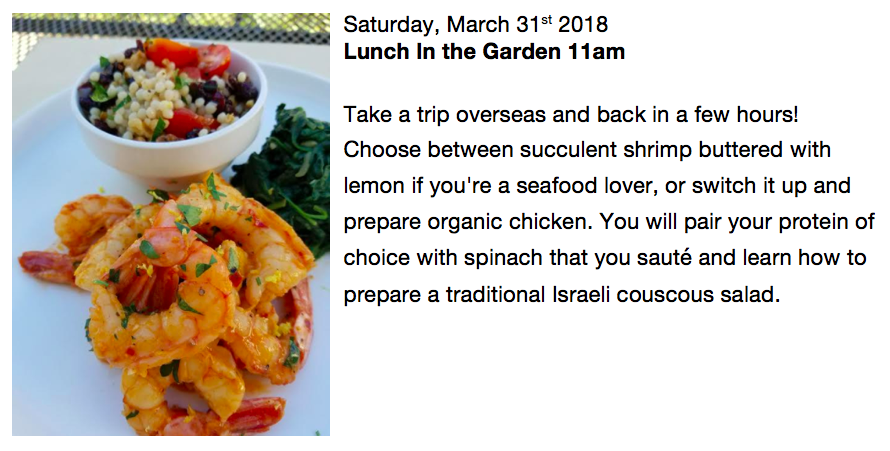 Saturday, April 28th, 2018 Healthy Lunch 1 pm
Q&A
What do I need to bring?
Everything you need will be provided!
I want more than one glass of wine, may I bring my own?

Of course! You can keep it classy or get crunk by bringing your own bottle to enjoy.
How do I learn more about Chef Peggy?
You can visit her website by clicking here.
How do I learn more about the Zen Zone?
Please visit our website by clicking here.
Where do I park?
Street parking is free at the Zen Zone, we also encourage sustainable transportation options like taking Lyft.