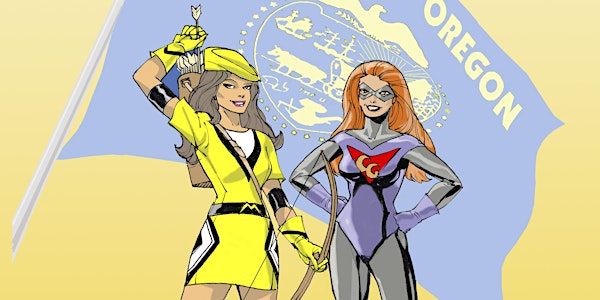 Meadowlark Comic Con
When and where
Location
Ramada Medford Hotel and Conference Center 2250 Biddle Road Medford, OR 97504 United States
Description
Meadowlark Comic Con presented by Colossus Girl Entertainment LLC is a pop culture and comic convention coming to Ramada Medford Hotel and Convention Center in beautiful Medford, Oregon, May 12th, 2018.
Meadowlark Comic Con brings fans of pop culture the ultimate fandom experience with a flavor of community. Comic books, celebrity guests, toys, video games, cosplay, and more. We also support the Western Meadowlark, the original State bird of Oregon.
Meadowlark Comic Con is a full-scale pop culture and comic convention celebrating all kinds of fandoms from comics to anime to video games to movies and TV shows, and bringing an array of celebrity guests from different genres of entertainment to Rogue Valley:
Mindy Sterling, known for her role as Frau Farbissina on Austin Powers: The Spy Who Shagged Me, Austin Powers in Goldmember and Austin Powers: International Man of Mystery. Mindy Sterling's film and television credits also include Friends, How the Grinch Stole Christmas, Justice League Unlimited, Curb Your Enthusiasm, Robot Chicken, Desperate Housewives, iCarly, The Legend of Korra, Minions, Voltron, and her Emmy-nominated performances in Con Man and Secs and Execs;

Keone Young, who has hundreds of on-screen and voice over credits to his name including Men in Black 3, Crank, Crank: High Voltage, Teenage Mutant Ninja Turtles, Star Wars Rebels, Kaijudo: Rise of The Duel Masters, Sons of Anarchy, True Blood, Naruto: Shippûden, G.I. Joe: Renegades, Deadwood , G.I. Joe and Transformers;

Joe Ochman, who gave his voice to characters in Gundam Origins, Mobile Suit Gundam F91, Patlabor 2 The Movie, Cowboy Bebop, Transformers: Robots in Disguise, The Little Polar Bear, Digimon: Digital Monsters, Naruto, Duel Master, Bleach, Pokemon Origins, and Bobobo-bo Bo-bobo.

Alison MacInnis (Pink Ranger) and Sasha Craig (Yellow Ranger) from Power Rangers Lightspeed Rescue;

Jackey Neyman Jones who starred in the cult classic that many label as the 'worst movie ever made' — Manos: The Hands of Fate;

Chris Marrinan who worked on classic titles like Excalibur, Wonder Woman, Nova, Doctor Strange;

Matt Haley whose credits include The Defenders, Superman, Wonder Woman '77.
Attendees will also be able to shop from various exhibitors and creators, play video games, meet local cosplayers and fan groups, attend celebrity guest panels, and compete in a cosplay contest for a trophy and a cash prize.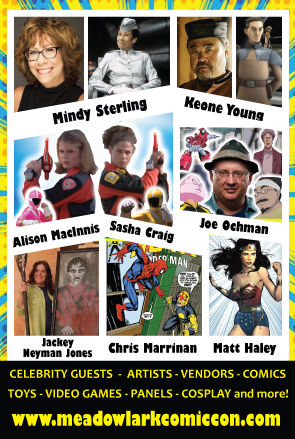 To learn more about us please visit www.meadowlarkcomiccon.com, Facebook.com/meadowlarkcomiccon and Instagram @meadowlarkcomiccon