BANDS2FOR1 applied. Ticket(s) unlocked.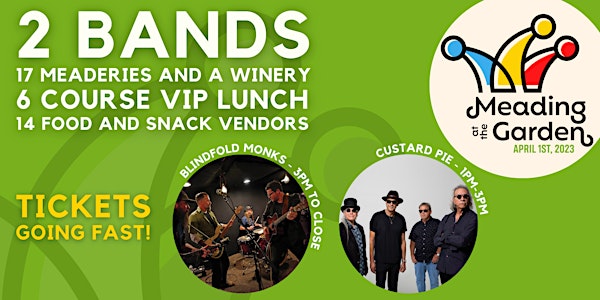 Meading at the Garden 2023
COME JOIN US ON SATURDAY, APRIL 1, 2023 AT ALTA VISTA BOTANICAL GARDENS IN VISTA, CA. FOR THE LARGEST MEAD FESTIVAL ON THE WEST COAST!!!
By Alta Vista Botanical Gardens
Location
Alta Vista Botanical Gardens 1270 Vale Terrace Drive Vista, CA 92084
Refund Policy
Contact the organizer to request a refund.
Eventbrite's fee is nonrefundable.
About this event
UPDATE!!!! This year, Meading at the Garden has changed our unlimited drink policy to provide 10 drink tickets ($10 value) with each admission. Additional drink tickets are available for purchase at $1.00 each at two separate kiosks during the festival from 12pm-4:45pm. Tasters are priced at $2.00 (4 oz beer/2 oz mead) and full pours are priced at $5.00 (12 oz beer/6oz mead).
The board of directors at Alta Vista Botanical Gardens wants everyone to know that this change is a logical progression of the festival after eight years, and one we feel is prudent. This change will not spoil the spirit of the festival or change the basic format. We want to assure you that every guest will still be getting a great value as in years past with unlimited tasting. Admission is cheaper this year, and we've set beverage pricing at a modest amount with $2 tasters and $5 full pours.
We hope that this change is going to be good for everyone involved. As one of our valued guests, rest assured that we are committed to providing you a very unique festival that is fun, safe, and reasonably priced each year. Thank you for your continuing support!
Cheers,
Dave Nichols, Event Coordinator, AVBG
-----------------------------------------------
The 8th Annual Meading at the Garden is being held on APRIL 1, 2023 at the Alta Vista Botanical Gardens in Vista, CA. This year the event falls on April Fool's Day, so come be a fool with us and have some fun!! As always, 100% of all proceeds are donated to the Alta Vista Botanical Gardens. General Admission begins at 12pm. VIP Admission begins at 10:45am. Admission includes one (1) 12oz taster glass and ten(10 ) one-dollar drink tickets. Admission does *NOT* include unlimited pours. Each guest receives ten (10) one-dollar drink tickets with admission and must purchase additional tickets at AVBG ticket kiosks located throughout the festival. Tasters can be redeemed at every booth for 2 tickets ($2.00 value) and full pours can be redeemed for 5 tickets ($5.00 value).
The largest mead festival on the west coast, Meading at the Garden features over 17+ meaderies, cideries, and breweries. Come join hundreds of mead enthusiasts, homebrewers, afficionados, and local residents to sample modern versions of the world's oldest fermented beverage -- Mead! There will also be plenty of beer on hand from some of SoCal's finest breweries. Enjoy food from local restaurants and eateries!! Listen to live music! Win raffle prizes! Check out the meadmaking demonstration and honey tasting!
Join us for a very special gourmet Hawaiian-themed VIP Mead Pairing*** at 11AM! Enjoy a delicious 6-course luau-inspired pairing featuring primer, starter, appetizer, entree, dessert, and digestif. Mead Made Mod and Chef Samantha from The Privateer will be on hand for a guided pairing of tropical-themed flavors and exceptional local mead. ***VIP ticket required for entry to the mead pairing.
Enjoy live music on the main stage with Custard Pie 1-3pm and the Blindfold Monks from 3-close.
Explore the renaissance of the Viking Village. This viking-themed mini-village features axe-throwing, live blacksmithing and leatherworking.
Buy raffle tickets and win valuable merchandise! With dozens of prizes donated by breweries, homebrewers, meadmakers, and local establishments, the raffle is your ticket to valuable goods. With every raffle and drink ticket purchase, you directly support the gardens! Your donation helps pay for much-needed improvements and maintenance, education, and natural resources like water and power.
Experience meadmaking firsthand at the mead brewing demonstration with the North County Homebrewers Association. Experience honey up close! There are periodic honey tastings throughout the day from Temecula Valley Honey Company. Check out the live bee hive presented by The San Diego Beekeepers Society.
Enjoy many other fun activities including an Easter egg hunt, plant sale, and much more!
Prohibited Items:
No illegal or illicit substances.
No weapons of any kind including, but not limited to, pocket knives and self defense sprays
No flammable items including aerosols and fireworks
No open containers of any kind. Sealed water bottles are permitted.
No markers, pens or spray paint
No bottles, cans, canteens, flasks, thermos, or coolers.
No bicycles, skateboards, hover-boards, scooters, or personal motorized vehicles other than authorized handicapped transportation equipment.
No drones or unmanned aerial vehicles
No animals except for service animals assisting an individual with a disability. "Comfort," "therapy" or "emotional support" animals do not meet the definition of a service animal and are not permitted entry to the festival.
No water guns, squirt guns, nerf guns, or any other projectile launchers.
No noisemakers or air horns
No professional cameras or professional video and audio recording equipment, camera poles, or selfie-sticks.
No confetti, streamers or loose glitter (wearable cosmetics are acceptable)
Additional items may be prohibited at the discretion of security officials.
About the organizer
Meading at the Garden is the largest mead festival in the western US. This year in 2023, the day falls on April Fools Day, so dig out your shenanigans and come join us for some fun times! We'll have jugglers, joke tellers, and live music for your entertainment. This springtime mead festival features over 35 booths serving mead, cider, beer, seltzer, and kombucha. Local craft vendors will also be on hand sharing their products. Visit the Viking Village and throw hand axes in the Viking axe range! Watch the blacksmiths shaping steel in the forge and on the anvil! A Viking leatherworker will be on hand showing off his handcrafted wares. Join the gourmet Mead Pairing at 11am in the VIP rose garden for an amazing luau-style pairing featuring Chef Samantha from The Privateer coal-fired kitchen. NOTE: The VIP pairing requires a special VIP admission ticket on sale at: https://meading.eventbrite.com
The gift shop will be open all day selling a wide variety of plants, and other items. Snack vendors will be available throughout the event vending coffee, chocolate, popcorn and beef jerky to hungry guests. In addition, five local gourmet food vendors are here all day selling delicious meals at the food court! Come join the fun! Meading at the Garden is a benefit for the Alta Vista Botanical Gardens, and 100% of all proceeds are donated to help keep the garden operating and growing for everyone in our community!
Thank you!
Dave Nichols, AVBG Event Coordinator
info@altavistabotanicalgardens.org
https://altavistabotanicalgardens.org
https://meading.org