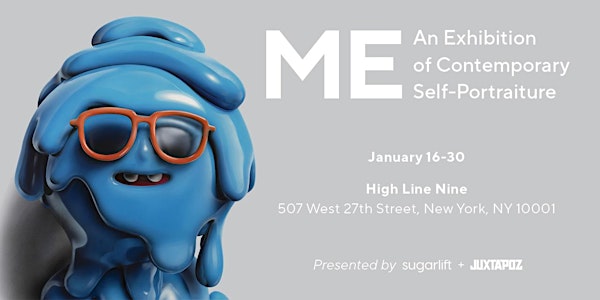 ME: An Exhibition of Contemporary Self Portraiture
Contemporary artists answer the question "Who are you?" in art form.
When and where
Location
High Line Nine 507 West 27th Street New York, NY 10001 United States
About this event
Opening Reception
Thursday, January 16th, 6:00-9:00PM
High Line Nine
507 West 27th Street
New York, NY
About the Exhibition
Who are you? Is your inner character revealed, like the ancient Greeks believed, by the composition of your features? Or does the answer have nothing to do with your face? Twenty-three artists explore the question in ME: An exhibition of contemporary self-portraiture highlighting the intersections between psyche, mirror and other.
Curated by Sugarlift and Juxtapoz's Sasha Bogojev and presented at New York's High Line Nine, the exhibition runs January 16–30th, 2020 and will feature paintings and drawings by 23 international artists as well as a series of events exploring self-portraiture throughout art history and contemporary culture. Opening reception refreshments provided by New Belgium Brewing.
Artists: Adam Lupton, Aleah Chapin, Cesar Piette, Christian Rex van Minnen, Colin Chillag, Danica Lundy, Deng Shiqing, Dina Brodsky, Esiri Erheriene-Essi, Esteban Ocampo-Giraldo, Guno Park, Hiba Schahbaz, Jean-Pierre Roy, Jenny Morgan, Justin Liam O'Brien, Koichi Sato, Marcelo Daldoce, Maya Mason, Nicolas V. Sanchez, Paco Pomet, Prudence Flint, Sean Norvet, Tony Toscani