Maryland SHRM's 2021 State Conference is the largest HR event in MD! Join over 300+ professionals for 3 days of development & networking!
About this event
MDSHRM 2021 State Conference- I'm a Survivor
Join Maryland SHRM's 2021 State Conference for our largest HR event in Maryland! We'll be reminiscing our survivorship and resilience from over the past year over three exciting days filled with dynamic speakers, relevant breakout sessions, fantastic sponsors, and professional networking with hundreds of HR's top Professionals! Don't forget you earn your SHRM and HRCI Credits for attending! Break out of your home office and into our conference! You can't afford to miss out on this fun and exciting event!   
MDSHRM 2021 Keynote Speakers!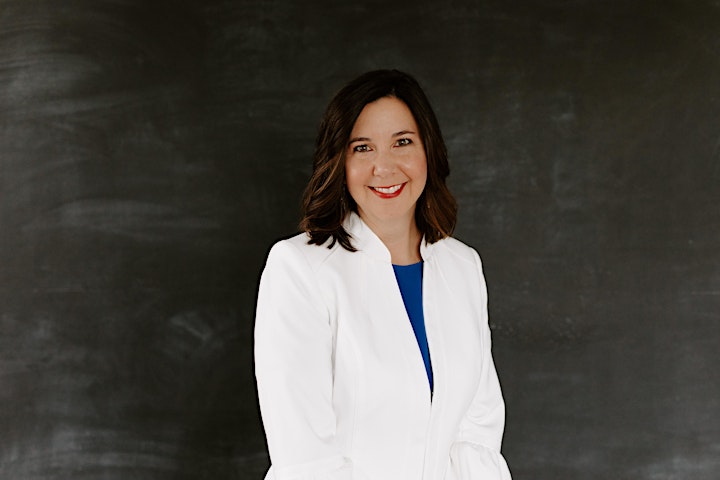 Sarah L. Sladek
Speaker, Author, and CEO
XYZ University
Sarah Sladek is the leading researcher and foremost authority on Generations X, Y and Z. Audiences rave about her ability to deliver information in entertaining and provocative ways, blending pop culture with best practices, trend forecasting, research and strategy. She brings her expertise to 40+ events a year to audiences worldwide.
Early in her career, Sarah was often the youngest person in the room. Organizations were struggling to engage younger generations and Sarah's research proved the problem would only worsen with time. She was inspired to create the solution, and since 2002, her life's work has been dedicated to helping organizations engage future generations of members, employees, leaders, and volunteers.
Sladek has authored more publications on the topic of generations than any other consultant. With two bestsellers for Association Management Press: "The End of Membership As We Know It" (2011) and "Knowing Y" (2014), Sladek is proud to debut her fifth book, "Talent Generation," on sale now. Sladek launched one of the nation's first generation-focused companies in 2002. Today, XYZ University remains the only company in North America specializing in the engagement of Generations X, Y and Z.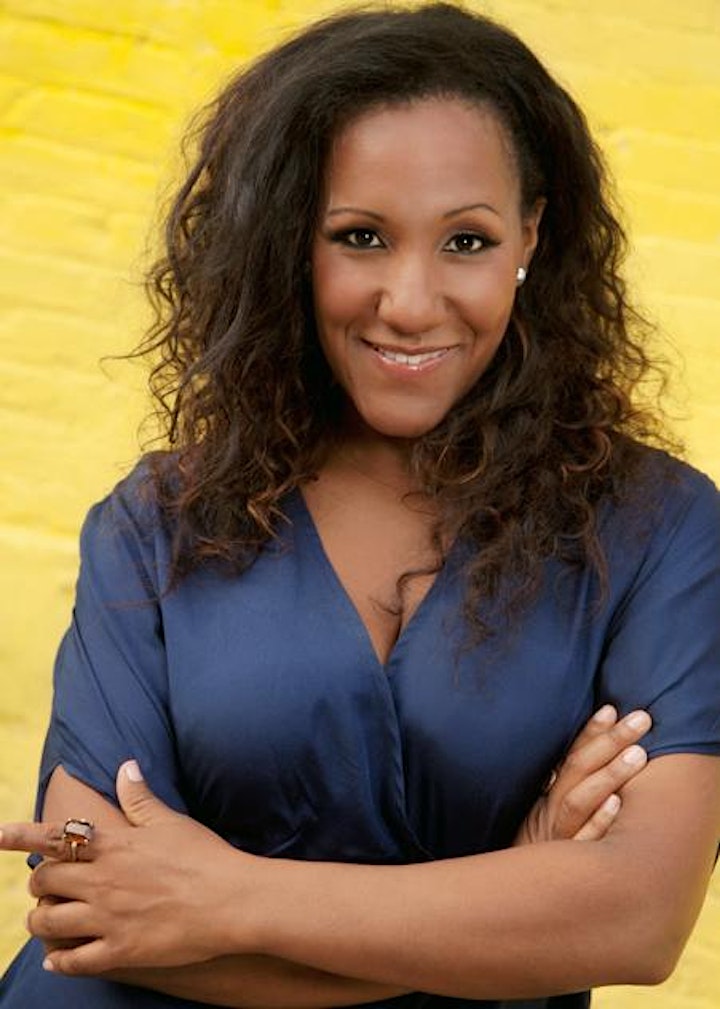 Karith Foster
CEO and Founder
Foster Russell Organization
For over a decade Karith Foster has taken her passion or entertaining and critical thinking nationwide- from the airwaves to organizations; from universities to corporations creating a seismic shift in mindsets when addressing issues of true diversity and inclusion. This former co-host of controversial radio personality Don Imus and former Fortune 500 human resources executive administrator brings the perfect blend of knowledge and experience when conveying the ever-present need to address diversity, inclusion and effective communication. Karith leaves her audiences feeling inspired and encouraged to commit to the journey of mutual respect, acceptance and a greater sense of belonging. If you can laugh at it you can get through it," is not only her motto, but the invaluable lesson. Karith Foster seeks to instill in others. As a humorist, speaker, TV & radio personality, author, entrepreneur, wife, and mother whose sense of duty, service, along with her riotous sense of humor, have made her a positive force of change. The words "no" and "impossible" are not in her vocabulary as evidenced by her career path, life challenges, chosen adventures and desire to help others. Karith is Diversity Engagement Specialist whose signature programs "Stereotyped 01TM", "You Are E.N.O.U.G.HTM", "The Humor InitiativeTM" and "You Can Be Perfect...OR You Can Be HappyTM" are impacting lives at academic institutions, organizations and corporations across America in a time when humor, understanding, acceptance and respect are so desperately needed. She is one of the featured comedians in the 2016 hit documentary about comedy and outrage culture, "Can We Take a Joke?" which garnered accolades in The Washington Post and TIME Magazine. She most recently founded the Foster Russell Family Foundation, a 501(c)3 non-profit, whose mission is to inspire free speech, social change and empowerment through education and mentorship: www.FosterRussell.org. Karith is an alumna of Stephens College(Missouri) and Oxford University. In March 2017, Karith joined one of the highest echelons of the speaking world when she delivered her TEDx Talk "The Art of Defying Stereotypes: Learning to be True to Your Voice" at the TEDx LincolnSquare Risk Takers and Change Makers in New York City.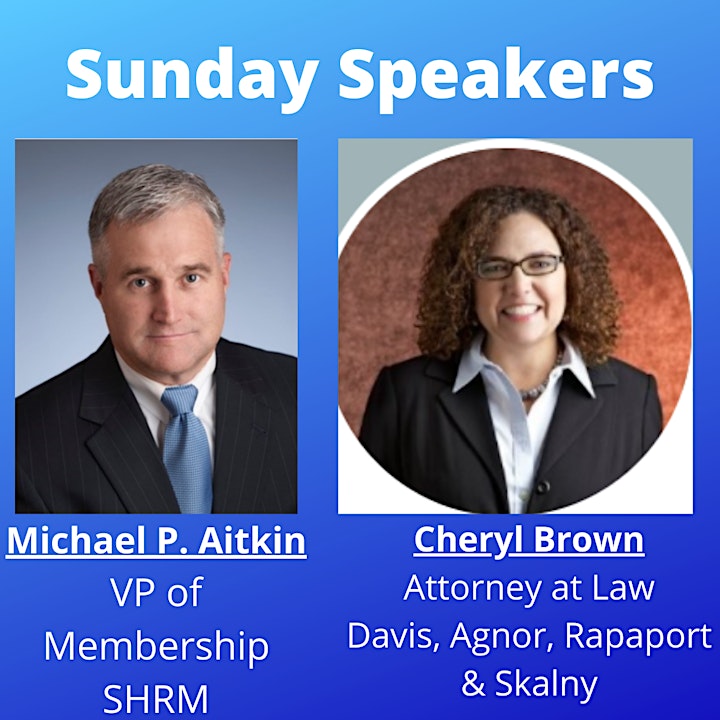 Conference Details
Sunday Sessions:
MD Legislative Update
Cheryl Brown, Attorney at Law Davis, Agnor, Rapaport & Skalny
Cheryl represents employers and management in a variety of labor and employment related matters such as federal, state and county claims.
Our New Normal Workplace?
Michael P. Aitkin, Vice President of Membership, SHRM
Mike Aitken is a leading authority on the issues important to the human resource profession and drives SHRM's membership vision, ensuring excellent member experiences, and implementing the organization's newly developed business strategy.
The entire conference will be split into two tracks to support social distancing and smaller group sizes for breakout rooms. Each track will get to select from the same breakout sessions. Breakout Sessions will be on Monday and Tuesday.
Breakout Sessions:
• Network Beyond Bias: Making Diversity a Competitive Advantage for Your Career-Amy C. Waninger is the CEO of Lead at Any Level
• Upward Bullying in the Workplace- Dr. Jerry Bolling authored 'Upward Bullying in the Workplace: A phenomenological study' for the e-Journal of Social and Behavioral Research in Business.
• Emerging Trends in Employee Financial Wellness and Well-Being for HR Leaders- Josh Itzoe is the Founder & CEO of FiduciaryWor(k)s and Founder of FeeMetri(k)s
• Increase Your Impact: Managing Up from the HR Business Partner Role- Bethany Adams experience includes HR, training and development, OD & education. Heather Cluley has worked in various project management roles in health.
• Courageous Conversations: Removing Stigma on Mental Health- Amy Arnold has been the Director of Workforce Health Consulting in Strategic Customer Engagement at Kaiser Permanente of the Mid-Atlantic States since 2013.
• The One Purpose Team; Survival Strategies for Virtual, In Person, and Hybrid Teams- Gregg Gregory has worked with HR practitioners in over 400 companies, non-profit associations, and government agencies including over 300 Fortune 500 companies.
• Transformational Goal Achieving: Pledge, Practice, and Pleasure- Frank Ingraham is the author of Your HR Goal Achievement Pocket Guide & Personal Branding Life Planning Mastery.
• How to Coach Your Employees For Success: Solving The Coaching Puzzle- Margi Bush, ACC, ICF Certified Coach, Certified MBTI Master Practitioner does leadership coaching and team coaching, and health and wellness coaching using MBTI and EQ-i assessments when appropriate.
• Pandemic Leadership: Engaging Employees in 2021- Don Rheem is an author, TEDx speaker, and the CEO of E3 Solutions.
• Emotional Intelligence: Does Your HR Have It? - Dr. Reba Businsky provides Human Resource expertise with employee relations, succession planning, recruiting, and onboarding best practices.
• Employee Engagement and Retention- Colleen Denston has a background of 25+ years in the fields of management, finance, and human resources.
• Building a Kinder Kind of Workplace- David Shar is a consultant and speaker helping organizations improve their leadership and culture, combat burnout, and design meaningful work.
• What the Pandemic Did FOR Us: Leadership Lessons from 40 Top Executives- Michael Couch SPHR, HCS has more than 35 years' experience improving the performance of leaders, teams, and organizations.
• Surviving Racial Unrest and Learning About True Inclusion- Dr. Pratibha Kumar provides trainings & coaching to organizations on D&I and communication issues.
• Confidence to Connect: The 5 Generation Challenge- John Parker Stewart has coached, trained, and studied human behavior for 40 years, across 6 continents, in many business, government, and educational organizations.
• Culture of Engagement: Why/How to Build Passionate, Engaged Teams- Joshua M. Evans is a #1 best-selling author in Leadership/Management Training, a TEDx Programmer, an organizational engagement specialist, international speaker, and the leading expert on company culture.
• How Visionary Organizations Are Redefining How They Work and Achieving Greater Success- Sarah Sladek is the leading researcher and foremost authority on Generations X, Y and Z.
• I Survived - How to Manage Conflict Now that Employees are Returning to Their Offices- Karen Snyder is a speaker, thought leader, author, and facilitator on corporate culture, building teams, and attracting and retaining the right talent.
• Keeping HR Out of the Courtroom- Tim Hudec specializes in a variety of criminal, educational and employment background search services.
And Don't Forget the Best Part (besides getting to hang out with people outside your house)!! It's pending pre-approval by HRCI & SHRM for over 11 Credits, including Business Credits! WOW!  
Conference Agenda and more information will be shared on our Conference App, Whova!
Whova app information will be sent prior to the conference to those who have registered.
Registration Options:  
Early Bird Registration (Until July 15th): $480/person  
Regular Registration (After July 15th): $605/person  
Sponsorship Opportunities & Exhibitor Booths are Available!
Please see our website for more information
Bethesda North Marriott Hotel & Conference Center
Address: 5701 Marinelli Road, Rockville, Maryland 20852 USA
Phone: (410) 962-0202 
Hotel Website: https://www.marriott.com/hotels/travel/wasbn-bethesda-north-marriott-hotel-and-conference-center/
Pricing:  Room Type: Standard Room Sunday 10/3 – Monday 10/4 rate for Single Room: $179.00/night**    **Room Reservations must be completed by using the MD SHRM conference link below. The special discounted rates will be provided for Saturday – Monday nights.   RESERVATION CUTOFF: 5:00PM, Friday, August 6, 2021 to obtain the discounted rate.
Important Notice – Guaranteed Reservations:  All reservations must be accompanied by a first night room deposit or guaranteed with a major credit card.  Hotel will not hold any reservations unless secured by the above method.
 #MDSHRM2021
Thank you to our sponsors! 
 FAQs 
What are my transportation/parking options for getting to and from the event?
On-site parking garage: daily fee of $19, or hourly at $2.50 for non-hotel guests
How can I contact the organizer with any questions?
Please contact: mdshrm.conf@gmail.com
What's the Cancellation/Refund policy?
*Refund Policy if registered before July 15th, 2021 for Conference Early Bird Registration Fee: Price Paid : $480/Registration Only:
Refund of Early Bird Rate if Cancelled By: July 30th, 2021 $398.05; August 31st , 2021$292.30; September 10th, 2021 $125.70
*Refund Policy if registered after July 15th, 2021 at Full Conference Registration Fee: Price Paid: $605/Registration Only:
Refund of Full Conference Rate when registered after July 15, 2021, if cancelled by: July 30th, 2021 $502.15; August 31st , 2021 $369.05; September 10th, 2021 $157.30
**Regardless of refund amount listed the amount refunded will never exceed the amount paid.**
Organizer of MDSHRM 2021 Annual Conference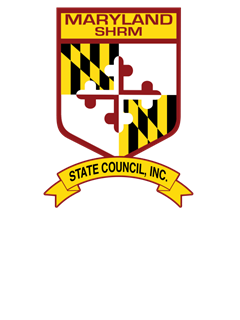 We are an affiliate of the Society for Human Resource Management. Whether you are new to the HR field or have many years of experience, we are a local starting point for networking, information, professional development and continued support of excellence in Human Resources.
The Society for Human Resource Management (SHRM) is the world's largest HR professional society, representing 285,000 members in more than 165 countries. For nearly seven decades, the Society has been the leading provider of resources serving the needs of HR professionals and advancing the practice of human resource management. SHRM has more than 575 affiliated chapters within the United States and subsidiary offices in China, India and United Arab Emirates.
We welcome your use of this site as a resource, and encourage you to check back frequently for updated information. We also encourage your involvement and suggestions about all of our activities, on the web and off.
We look forward to seeing you at an upcoming meeting or event!