Description
The Mobile Developers & Designers Of Toronto (MDOT) User Group is dedicated to helping nurture the skills and competencies of mobile developers and designers in Toronto. (Learn more about MDOT here.)
Join us on Thursday, December 6, 2012 from 7 PM to 9:30 PM as we talk tech and creative around AR & Mobile Gaming. Space is limited! Please register for this event.
AGENDA
7:00 - 7:20 Free pizza & pop, networking

7:20 - 7:50 Andrew Roth, York University

Augmented Reality on Mobile Devices: Qualcomm Vuforia & Unity 3D - The Augmented Reality Lab at York University has been building augmented reality experiences since 2006 including collaborations with the Toronto Museum Project, the Ontario Science Centre, and with the Harriet Tubman Centre for Research on the African Diaspora. In the last two years we've seen a dramatic change in the tools we can use to build augmented reality experiences. We've witnessed a shift in focus from desktop and web applications to mobile apps and a shift from black and white markers to imperceptible markers. Currently, we are building applications for use on mobile devices using Qualcomm's Vuforia and the Unity Game engine. We encourage others to look to augmented reality as a medium for artistic expression and education by sharing what we've learned from our experiences.
Andrew Roth is technology manager of the Future Cinema Lab and lead developer in the Augmented Reality Lab at York University in Toronto. As an artist and researcher, he has collaborated in interactive installations, augmented reality experiences, and the creation of tools for digital media artists at institutions across Canada. Personal Website: aranarproductions.com
7:50 - 8:20 Adam Clare, Professor of Game Design & Advanced Digital Design, George Brown College
Adam will talk about mobile-specific design issues that arise in the game making process. Mobiles permit some core functionality that other platforms don't provide. We'll explore what these are and how to best incorporate them into a game. Game design for mobile has limitations as well and those too will be adressed. Mobile gaming continues to grow in popularity and it is still a great time to get on mobile!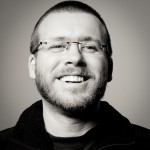 Adam Clare is a professional game designer with a specialization in serious games. He is a professor at George Brown, where he teaches in the post-graduate game design program. Adam produced Rock Mars, Wero Creative's flagship serious game which has been praised by teachers for its pedagogical approach.
He is active in many aspects of game design, he has worked on games for the real world, online, Facebook, as well as games designed for in-classroom use. In 2010, Adam co-founded Board Game Jam which is a weekend-long event about making board games in 48 hours. Adam holds a Master's degree in Education from the Ontario Institute for Studies in Education. As a hobby, Adam runs Things Are Good, a website dedicated to good news, and his research blog Reality is a Game.
8:20 - 9:00 Networking