MDMC18 Data Visualization Seminar with Professor Kaiser Fung
Description
You are invited to a special seminar hosted by MDMC featuring renowed data visualization speaker Professor Kaiser Fung.
This session is limited to the first 150 that register. Light food and beverages will be provided.
WORKSHOP DETAILS:
When: Wednesday, November 1, 2017 12 PM - 1 PM
Where: University of Missouri - St. Louis, JC Penney Conference Center, Summit Lounge
Workshop Title and Description: Making Effective Data Visualization is a Key Marketing Skill
Data visualization is a key tool for the marketing profession in the age of data explosion. The best information graphic succeeds at illuminating the essential structure of a complex data set, telling an engaging story, holding interest through an attractive visual design, and persuading the audience to its point of view. When done poorly, data visualization can be distracting, confusing, and misleading.
In this talk, Professor Fung will introduce a set of guidelines for producing effective data visualization that synthesizes lessons from running one of the most successful blogs on data visualization over the last decade and more. The talk is saturated with real examples of published information graphics. You will be inspired by amazing work created by the best pros; you will be amused by occasional gaffes that overcame even experts.
About Professor Kaiser Fung: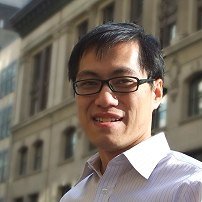 Kaiser Fung is best known for creating the premier blog on data visualization, Junk Charts. He has taught data visualization courses at Columbia Business School, and New York University. He is founder of Principal Analytics Prep, an intensive, 12-week training program for new professionals in analytics for business units, such as marketing and operations. He was founding director of Columbia's Master of Science in Applied Analytics. In his corporate career, Kaiser built and managed data teams at SiriusXM Radio, Vimeo, American Express and [X+1] (now part of Rocketfuel).
Kaiser is also author of two popular books on statistical thinking, Numbers Rule Your World, and Numbersense, both from McGraw-Hill. His commentary on business analytics and data visualization have appeared in Harvard Business Review, Slate, FiveThirtyEight, The Daily Beast, Financial Times, Wired, American Scientist, and other outlets.