Description
MDCID is hosting a Wine Tasting event just in time for the Holidays!
This will be a wine tasting / food pairing event. Attendees can order bottles of wine at wholesale prices. Pick-up and payment will be at a designated liquor store a couple weeks after the event. We will announce the location of pick-up at the event. Our sommelier will talk discuss which foods pair with each wine. Food and wine samples will be available for attendees.
LOCATION:
Sub-Zero / Wolf Showroom by FRETZ
9204 Berger Road, Columbia, MD 21046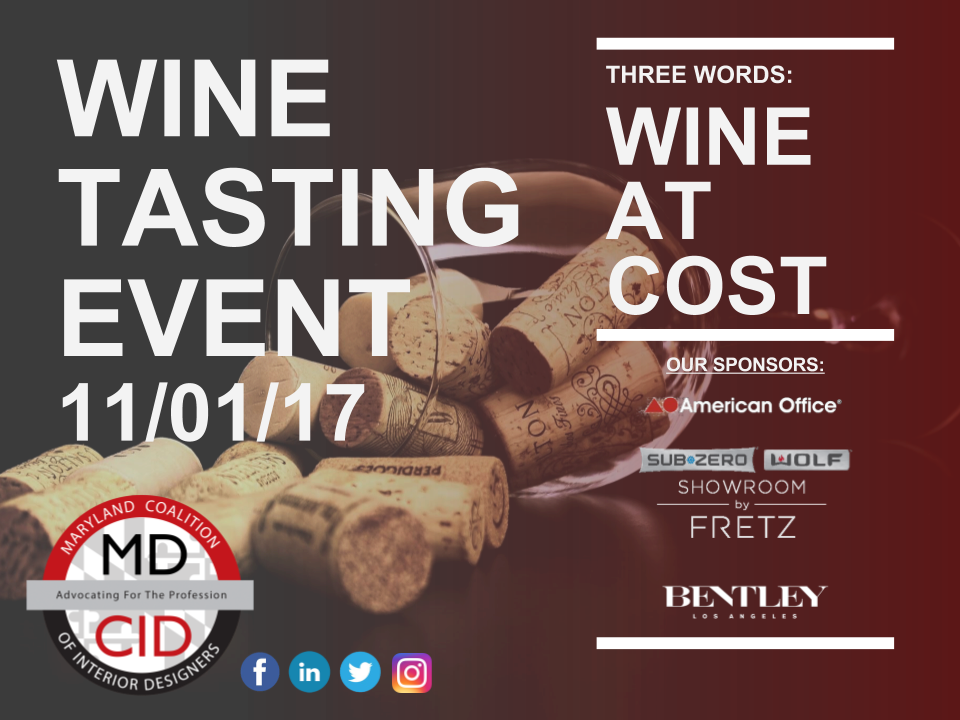 Tickets are limited, Parking is plentiful.
There will be a chance to win a raffle item! One raffle ticket comes with the purchase and proof of a ticket. Additional Raffle tickets can be purchased at the event: 1 additional ticket for $5 / 5 additional tickets for $20.
All proceeds go to advocating for the Interior Design Profession in Maryland with the help of our lobbyist who fights for fair legislation and the right to practice.
---
Alcoholic beverages will be served at this event. You must be 21 years of age to consume alcoholic beverages. By registering for this event, it is expressly understood that the Organizer(s) assume no responsibility for any occurrence from or related to alcoholic consumption. IDs are required at the door.