Description
Join us for an evening of learning and get those credit hours taken care of in one fell swoop!
MDCID invites you to join us for a CEU speed-dating session, hosted by Price Modern. In this special CEU session, 3 CEU's will be presented. You may attend one or all CEU sessions. The evening's seminars will be worth 1 hour/1 CEU credit each and are approved by IDCEC and/or AIA HSW.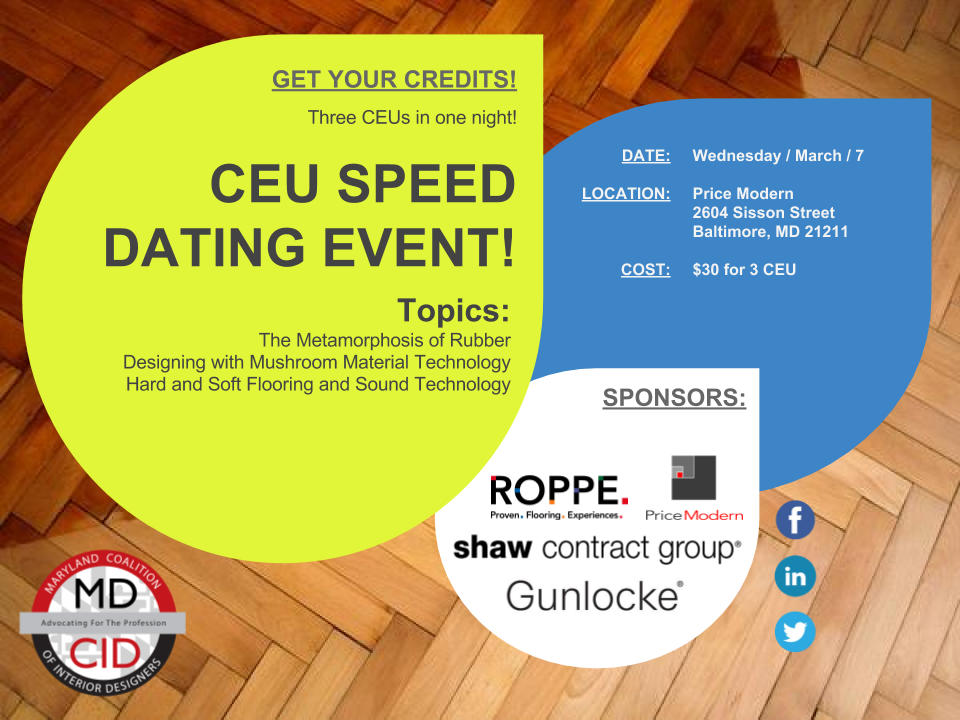 Schedule of Events:
5:00 - 5:30 - Arrival / Snacks / Networking
5:30-6:15 - Session 1
6:30:-7:15 - Session 2
7:30:-8:15 - Session 3
NOTE: Seminar topics will be presented each session, to accommodate various attendee schedules.
Free parking is available on site in Price Modern's parking lot.
Light fare and drinks* will be served.
*Alcoholic beverages will be served at this event. You must be 21 years of age to consume alcoholic beverages. By registering for this event, it is expressly understood that the Organizer(s) assume no responsibility for any occurrence from or related to alcoholic consumption.
---
CEU #1: The Metamorphosis of Rubber
Presented by: ROPPE
Course Description: This course is designed to explore the many options available in rubber resilient flooring and how they may be used to benefit educational spaces. Learning Objectives:
- Explain how Life Cycle Assessments work and how they differ from EPDs.
- Identify the six steps of rubber flooring life cycles.
- Name the raw materials included in the process of rubber manufacturing.
- Understand key Life Cycle Assessment environmental impacts as shown in EPDs.
---
CEU #2: Designing with Mushroom Material Technology
Presented by: Gunlocke
Course Description: When you think of mushrooms, you are most likely thinking about the edible kind. Who doesn't like a good Shiitake mushroom soup? What if I told you mushrooms could be used for packaging or even as a replacement for engineered wood and it can do so without the use of glues, resins, harmful chemicals or off-gassing. Find out how and where you could incorporate this innovative material into an interior design or architectural project. Learning Objectives:
- Explain the current state of mushroom material technology applications and its value proposition.
- Explain how this natural bio-based resin can utilize agricultural waste and wood fibers to replace formaldehyde based particle board or plywood materials.
- Explain the environmental, sustainability and human health benefits of mushroom material technology.
- Understand mushroom material technology and how it can be incorporated into interior design, acoustics, and innovative applications
---
CEU #3: Hard and Soft Flooring and Sound Technology
Presented by: Shaw
Course Description: A discussion of carpet backing systems and hard surface and how these materials affect IIC and NRC ratings in a healthcare environment. Including demonstration of a new sound testing tool.