About this Event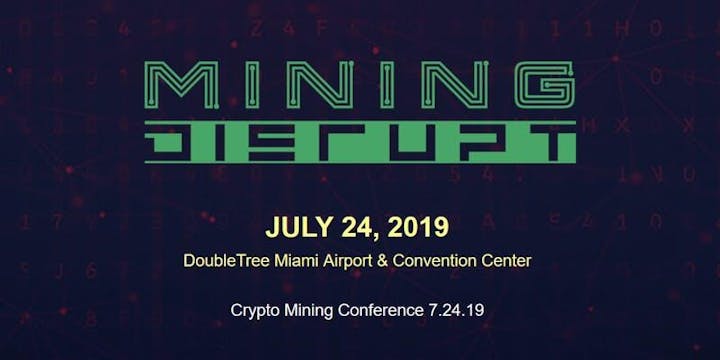 Meet the pioneers, the early believers, highly influential and established opinion leaders. MDC will welcome more than 1,000+ top experts, influencers, and strategists from across the world. These entrepreneurs, investors, builders, developers, industry enthusiasts, and global media will embark onto Miami for a two-day experience.
Super Early Bird Special ONLY $99 (expires March 31)
Early Bird Special $199 (expires May 31)
Last-Minute Call $299 (expires June 31)
Regular Admission $399 (expires July 22)
At-Door Admission $499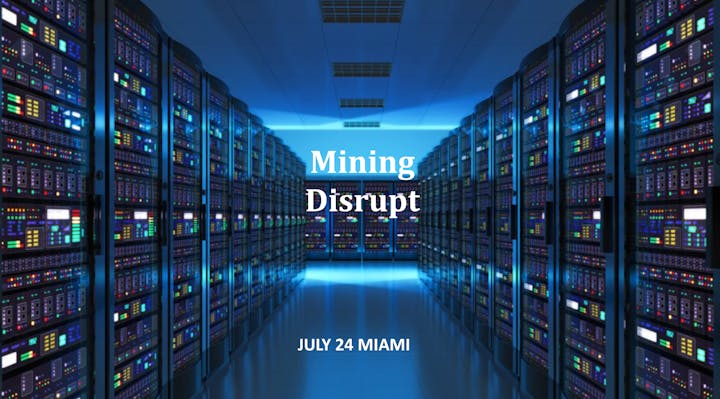 MDC organizes the premier digital asset event in the US on 23-24 July, 2019 in Miami, Florida, where we explore the mining and disruptive blockchain economy in-depth. We are shining a light on the global developments of this new asset class, while taking a unique and widening perspective on the mining and token industry and its opportunities.
Visit our official website www.miningdisrupt.com or join the discussion before the conference begins at www.t.me/MiningDisrupt.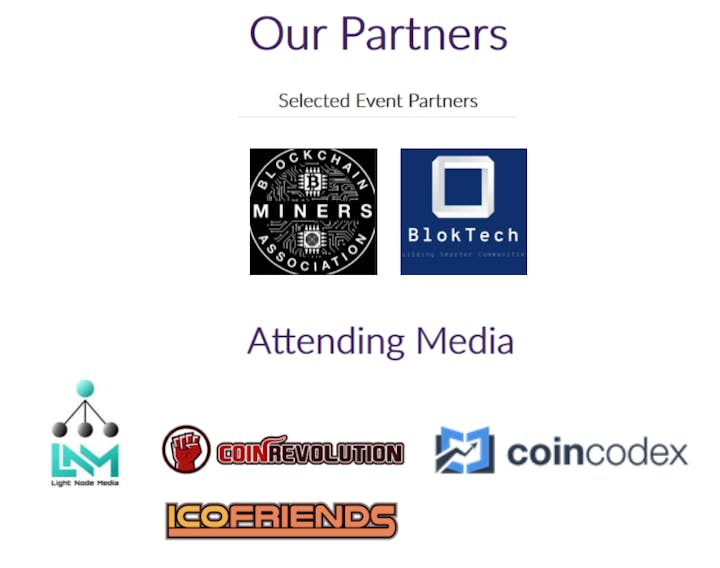 SCHEDULE*
23 July - Tuesday (Opening Ceremony)
6:00p Miami Blockchain Hackathon (details)
9:30p Cocktails and Crypto Ceremony in Art District
24 July - Wednesday (Conference Day)
8:00a Doors Open | Registration | Networking
9:00a Opening Remarks
9:10a Introduction to Bitcoin
9:30a Rise of Cryptocurrency by Original Cypherpunks
9:45a Introduction to Mining
10:00a Mining and Enterprise
10:15a Premined vs Mineable Coins
10:30a The Need for Bitcoin Alternatives
10:45a Tokenization of Local Economies
11:00a Legalities of Mining
11:10a Coins, Tokens, and STOs
11:20a Lessons Learnt from Mt. Gox
11:30a Value of Cryptocurrency Beyond Price
11:45a Introduction to Smart Contracts
12:00n Lunch
1:00p Blockchain Shaping Nonprofits
2:00p Difficulties of Mining
3:00p Blockchain Startups and Funding
4:00p Proof of Work vs Stake vs Merit
4:30p Introduction to Masternodes
5:00p Cryptocurrency Protocol & Platform Debate
6:00p Closing Remarks
8:00p Afterparty Area 31 Rooftop @ EPIC Hotel Miami
*subject to change
Meet us in Miami, the financial hub of the South and window to the Central & South America for a world-class experience at an unparalleled venue. With the pride of Miami near the vibrant waterfront, the DoubleTree Hilton Hotel (part of the Hilton Group) boasts the largest hotel meeting and event facilities in the city.
Guests will be swept away by views of famous Miami Beach to the west and the urban center of Brickell skyline to the south, as well as a world-class art collection and designer interiors in Wynwood and the Design District, respectively.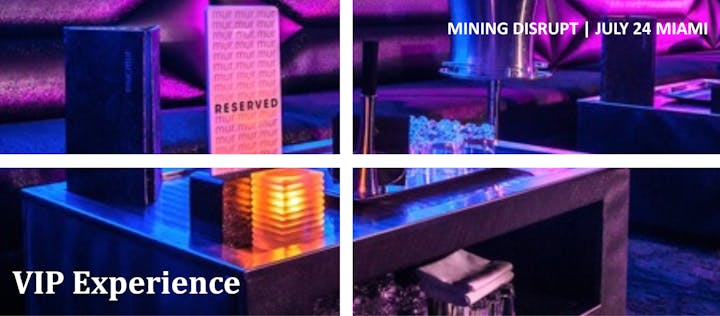 Experience. Engage. Enjoy.
Access to VIP-only lounge
Access to backstage
Complimentary VIP table at rooftop afterparty
Complimentary bottle service
Access to investor club at private after-afterparty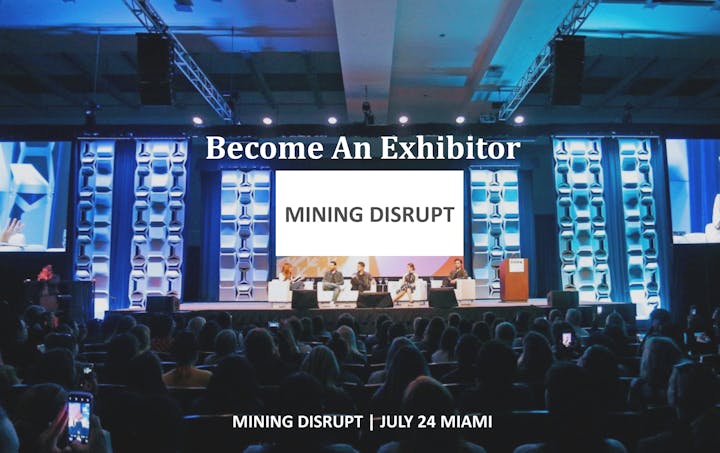 Exhibition Opportunity
MINING DISRUPT offers a number of bespoke sponsorship packages tailored to your company's marketing needs and budget, including exhibition space, networking opportunities and onsite branding.
Whether you are an mining hosting service, graphics distributor, established blockchain project, young service provider, global enterprise, or somewhere in between, our offerings can be designed to achieve your goals.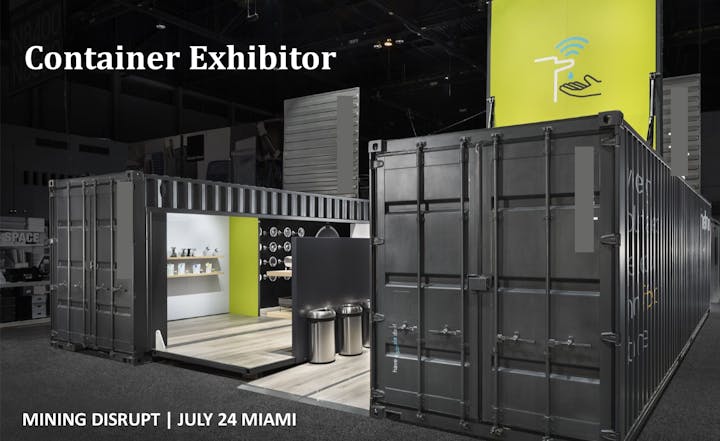 Container Exhibition Opportunity
MINING DISRUPT is the premier mining and disruptive blockchain event in the US, drawing 1,000+ participants, including hundreds of C-Suite Executives and founders from across the global mining and token-based ecosystem.
Providing esteemed partners with a platform to engage with targeted audiences, MINING DISRUPT provides attendees with the opportunity to meet with senior decision makers, form new strategic partnerships, promote brand awareness or launch new products on a stage viewed by top-tier media and industry leaders.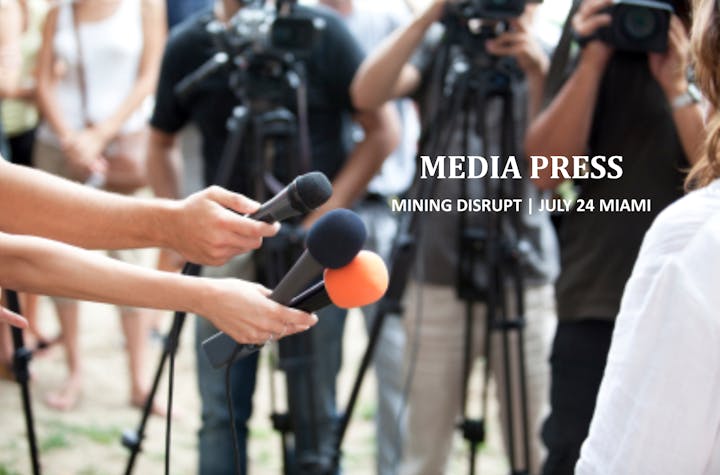 Apply For Media Accreditation
Top-tier mainstream media, as well as leading technology and blockchain trade publications, will be in attendance, covering the latest trends, topics, and takeaways from MINING DISRUPT.
Email us at conference@miningdisrupt.com