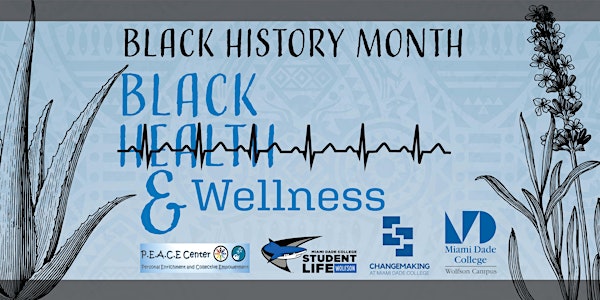 MDC-Black History Month: Raw Vegan Soul Food Cooking Demonstration
Enjoy a Raw Vegan Soul Food Cooking Demonstration by Nzingah Oniwosan, holistic health consultant and plant-based chef
When and where
Location
Miami Culinary Institute 415 Northeast 2nd Avenue Miami, FL 33132
About this event
What: Vegan Cooking Demonstration
When: Monday, February 7th, 2022 at 12:00 Noon
Where: Miami Dade College, Wolfson Campus
Location: Miami Culinary Institute 415 NE 2nd Ave Miami, FL 33132 (Building 9) - 3rd Wine Theater
Event Phone Contact: 305-237-3044
Complimentary Parking: 500 NE 2nd Ave, Miami, FL 33130 (Building 7)
Who: Nzingah Oniwosan
Enjoy a Raw Vegan Soul Food Cooking Demonstration by Nzingah Oniwosan, holistic health consultant and plant-based chef behind the brand "Yes Baby I Like It Raw". Chef Oniwosan will share her journey to a plant-based lifestyle and how to make some of your favorite foods healthy & plant-based.
Please arrive 10 minutes early to check in.
Once the event has sold out, Virtual Tickets will be available. To watch the demonstration virtually, please RSVP for a Virtual Ticket to receive a Zoom Link
MDC strongly encourages wearing a tightly fitted mask while indoors. MDC continues to closely monitor local COVID-19 conditions and follow the guidance of the Centers for Disease and Control and Prevention (CDC) to ensure the health and safety of students and employees. If you are feeling sick, the most important thing you can do right now is to stay home, if possible, to help prevent the spread of COVID-19.
MEET YOUR CHEF
Bio
Yes baby I Like It Raw was founded by a Nzingah Oniwosan, a holistic health consultant and plant-based chef, as a means to help people tap into their raw potential and "process the unprocessed life." Nzingah who is also an interdisciplinary artist approaches cooking as an art form, she states, "The plate is my canvas which I transform into an art piece by mixing and blending different vegetables, fruits, herbs, and spices."
Her Haitian Heritage and her love of different cultures influence her culinary portfolio. Her mission is to inspire people to take charge of their health through nutritional therapy. "At 19, I was sick and tired of being sick and tired. I was seeing five physicians on a regular basis and was condemned to be on a prescription drugs for the rest of my life. Through research, I learned a plant-based diet could alleviate my conditions and 16 years later I can testify to that effect.
Through a plant-based diet and a herbal protocol I am able to keep my autoimmune disorder in remission, as well as overcome the challenges associated with having a prolactinoma and PCOS. Food is your first medicine, my kitchen is my laboratory, and my goal is to make sure that your medicine always taste good."
To find out more about her work, visit her website
https://www.yesbabyilikeitraw.com/
Contact Information:
E-mail: info@yesbabyilikeitraw.com
Instagram: @yesbabyilikeitraw